LANDSCAPE AND LAWN CARE ADVICE FROM THE PROS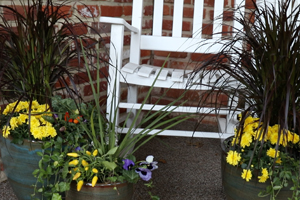 VIDEO: PRO TIPS TO PLANT A CONTAINER GARDEN
Learn how to plant a colorful container garden like a professional. Watch Here.
WONDERING IF THAT LANDSCAPE PROJECT IS WORTH IT?
Homeowners looking to tackle a remodeling project should head outside according to a report from the National Association of Realtors® and National Association of Landscape Professionals. The 2016 Remodeling Impact Report: Outdoor Features shows that not only can outdoor remodeling projects add value to a home on resale, they can also bring advantages to homeowners planning to stay in their homes. 
It's no secret that homeowners are bringing the indoors outside with increasing regularity. Yards, patios and decks are now often primary foundations for entertaining, cooking, playing, and simply relaxing. For those who have admired a friend's landscape and questioned whether the investment was "worth it," take confidence in knowing the survey says "yes." So go ahead and dream big. Your investment will be rewarded. Contact a landscape professional to bring out the best in your outdoor living space.