7 WAYS TO ENHANCE YOUR HOME'S CURB APPEAL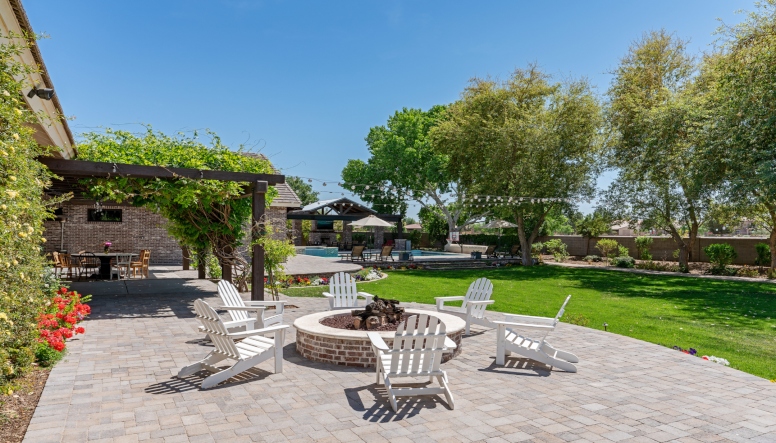 Whether you're getting ready to sell your house, or just want to make a great impression on your neighbors, having a well-designed and maintained curb appeal is essential! With these seven tips, we'll help you make your landscape the envy of the neighborhood.
1. Green lawn
A lush, green and healthy lawn is the first thing to catch the gaze of passer-byers. Whether you are starting from scratch or choosing a grass seed to enhance your existing lawn, picking the right grass for your region is essential. Once you have selected the right grass type, you need make sure you're giving your new lawn the water and nutrients it needs to stay strong, healthy and beautiful.
2. Shrubs
Adding some shrubs to your lawn and walkways can transform your curb appeal from weak to sleek. With hundreds of options to choose from, shrubs can help frame your lawn and house while adding color and height variation. Just remember to prune your shrubs regularly so that they don't become unsightly or take over your walkways.
3. Flowers
Planting variations of flowers can add vibrancy and color to your curb appeal. Flower boxes can be added under windows and near railings as accent pieces or you can add potted plants to decks and walkways to guide people to your front door. With a large range of flowering options, from flower bushes to potted plants, the possibilities are endless to add a customized palette sure to attract attention.
4. Clean walkways and patios
We get it. Walkways and patios get stepped on, so they're expected to get dirty. Some seasonal maintenance goes a long way in helping your house and yard sparkle. A clean walkway looks great and can even prevent mildew and mold from forming. Your guests will be able to admire the rest of your beautiful yard features if they're not distracted by the grime and dirt.
5. Outdoor lighting
If you're spending time making your house and lawn gorgeous, your hard work should be seen at all times of the day. Outdoor lighting not only accentuates the beautiful house and all of it features, but it also can help guide people so no one's stumbling into your rose garden. With lighting options big and small, it will give your house the spotlight treatment it deserves.
6. Mulch planting
Not only does mulching add great colors and textures to your lawn, but it also helps trees and flowers grow. Mulching adds moisture and nutrients to your plants while helping to prevent soil compaction. It comes in a variety of types and colors, which can add great contrast to your flower beds and a pop of color to your trees and lawn. It's a quick and easy addition to spruce up your landscape.
7. Seasonal features
A great way to enhance your curb appeal no matter the time of year is to coordinate your yard for each season. Matching the color schemes of pots and lawn ornaments to the seasons will make your house a spectacle year-round. There are variations of flowers that will pop in the spring and summer, and trees add to the seasonality of your yard as their leaves change in the fall. A well-thought-out color scheme is certain to attract attention and help enhance your curb appeal.
These seven ways are sure to enhance your home's first impression but doing it all yourself can be daunting. Fortunately, there are local landscape professionals willing to provide expert recommendations to give your home the curb appeal you deserve and your neighbors desire.