HELPING YOUR TREES WEATHER THE STORM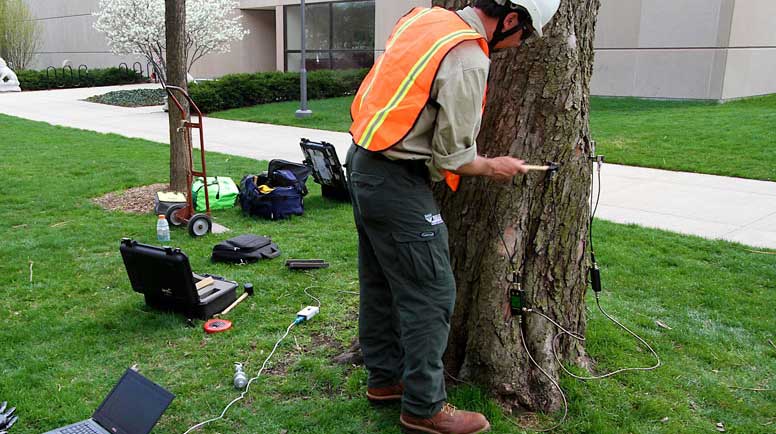 Did you know that healthy, well-tended trees stand up better against severe weather? In fact, proper maintenance of your landscape investment can help reduce the risk of irreparable damage as well as extend the life and health of your trees.
Keep reading for a list of 6 steps you can take right now before the storm comes. 
Inspect
Check your trees for peeling bark, chips or cracks in their trunks, heaving soil at the base of tree trunks, holes or cavities, dead branches, and/or leafless twigs or budless branches. These are all signs of a weakened tree, which may need pruning or removal, depending on the extent of the damage.
Prune
Cut away and remove dead, weak, diseased or insect-infested branches and twigs. This not only helps protect your trees, property and you, it opens up tree canopies, letting in light and air for a much healthier tree.
Support
Add flexible steel cables or braces to shore up weaker trees. Cables and braces help transfer trees' weight from weaker branches to stronger ones, thereby preventing bends and breaks to improve tree longevity.
Protect
Install a lightning protection system to help direct storm-related electricity through conductive cables and into the ground. These systems can help keep trees from taking the brunt of a lightning strike.
Maintain
Water, fertilize and mulch. These routine maintenance chores are a very important part of keeping trees healthy. Consistent and proper watering and feeding, as well as protective mulching, can give trees what they need most¾a head start on health and wellbeing.
Treat
There are a variety of treatment options to take care of pest problems, disease and fungus. To help assess the health of your trees and treat for problems of concern, contact an arborist, a trained tree care expert, for assistance.
Photo courtesy of Bartlett Tree Experts