MAXIMIZE YOUR PARTNERSHIP WITH YOUR LANDSCAPE CONTRACTOR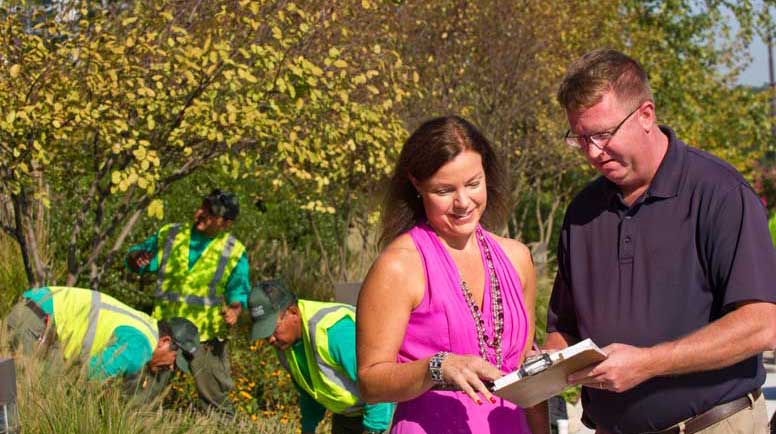 With the many pressing issues that often arise with building management, it can be easy to take your landscaping for granted. But your landscaping is a valuable investment, one that should not be left as an afterthought. There are proven business, economic, safety, and mental-health benefits that can be gained from healthy landscapes surrounding commercial properties. 
For instance, some of the economic benefits of commercial landscapes include:
Seven percent higher rental rates for commercial offices having high-quality landscapes.*
Shoppers claim that they will spend nine to 12 percent more for goods and services in central business districts having high quality tree canopy.*
Shoppers indicate that they will travel a greater distance and a longer time to visit a district having high-quality trees, and spend more time there once they arrive.*
A well maintained landscape around a building can also reduce heating and cooling costs, reduce street noise, improve safety, and provide emotional benefits and stress reduction.
With such a valuable component of the overall property at stake, it is important to maximize your relationship with your landscape contractor and take advantage of the knowledge the firm can bring beyond basic landscape maintenance.
Water Management and Sustainability
One way that landscape companies provide added value is in suggesting ways to save money through smart water usage and other sustainability practices. Many landscape companies have water-management specialists and professionals educated in sustainable landscape practices, like the use of drought tolerant, low-water native plants; composting of green waste, and installation of water-saving irrigation systems. Companies can also assist with the goals of LEED certified buildings.
Safety
Safety is another focus of good landscape contractors.  Ask them to advise you about how your landscaping, outdoor lighting, and hardscaping is impacting the overall safety of employees and visitors to your building.  They can help you address anything that needs to be fixed. 
Snow Removal
Many landscape contractors also do snow removal in the winter.  Talk to them about how your snow and ice treatment and removal can be carried out to minimize the impact to your landscaping.
Construction
If you want to make changes to maximize your client's enjoyment of the building, like adding outdoor seating, eating or relaxing spaces, your landscape contractor can consult and design spaces that fit seamlessly into your current landscape.
Landscape professionals have a passion for the outdoors and they want their clients and customers to maximize full benefits from the spaces they manage, certainly those that are aesthetic but also those that fulfill safety and business needs.  Talk with your landscape professional about ways you can work in partnership to take further advantage of your relationship.
Source: University of Washington's Urban Forestry/Urban Greening Research