THE BASICS OF GOOD COMMERCIAL LANDSCAPE DESIGN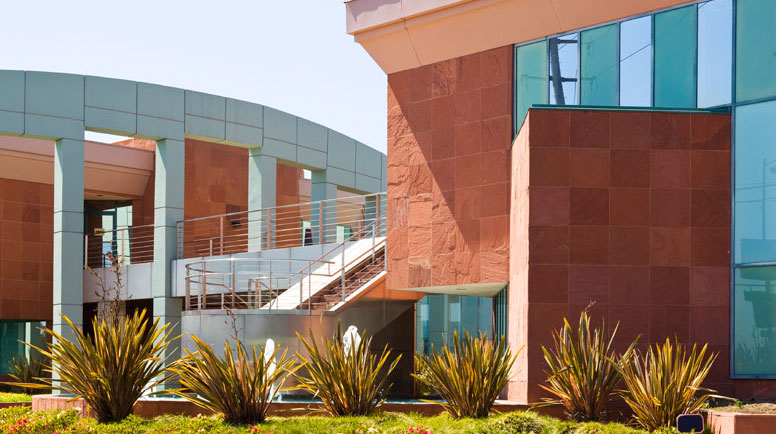 Good commercial landscape design is part form and part function. The design should enhance the overall look and image of your building but the design elements should also serve a functional purpose. In order to make the landscape work for you, think about how you want people to interact with your property and what you want them to think about your business.
Professional landscape design can do the following:
1. Convey the right message. Your business or your building has a brand and your landscape can speak to that. If you want to convey an image, whether it be soothing, healing, sustainable, fun, professional, or edgy and forward thinking, there are landscape elements that can translate that message. Examples include Zen features for soothing spaces; dancing fountains for fun outdoor spaces; native grasses and wildflower plantings and green roofs for sustainability focused buildings, or minimalist geometric plant designs for edgy businesses. 
2. Help people engage with your business. Your landscape design can either encourage people to stay longer and linger or it can keep them moving along. If you add benches, tables and chairs, fountains and low walls for seating, people will stay and enjoy the outdoor space. Many businesses and hospitality venues have found success creating more elaborate outdoor lounge areas with fire pits and lawn games to encourage people to stay longer. 
3. Direct the flow of traffic. Most businesses want to direct people to entrances and that can be done by highlighting the entrance points with plants and trees, by creating paths and walkways lined with shrubs or trees, or by using brick or stone wall features. Those elements make bold visual statements in addition to performing an important function. 
4. Attract clients. If your landscaping makes a bold statement, or offers places to sit that feel inviting, you can attract people to your business. The opposite is true too; if there is little to no shade or there is no pizazz to your landscaping or things aren't well maintained, you can turn customers away. 
5. Accentuate the architecture. So much time and thought is spent on the architecture of a building, but the story shouldn't end there. You can really accentuate your building with the landscaping. Add drama to the front entrance with careful color and texture choices and accentuate the driveway with lines of trees and shrubs. Don't forget the beauty plants can bring inside; interior plant design, including green walls, can add drama to courtyards and atriums. 
6. Conserve water and energy. You can also design your landscaping so that it contributes to energy savings by shading your building in the summer and blocking harsh winds in the winter. Adding a green roof to your building helps control water run-off and reduces heating and cooling costs.
When thinking about design, consider how your landscape will look at maturity, taking into consideration the placement and scale of trees and shrubs. Have an understanding of the level of maintenance that will be required with the design you choose. Ensure that you will be able to keep it healthy and looking good or consider a maintenance contract and leave the routing care to the pros. A landscape professional can also advise you about lower maintenance plants and trees and ones that will help provide the functional benefits you desire.