LANDSCAPE EQUIPMENT REDUCES NOISE AND CARBON FOOTPRINTS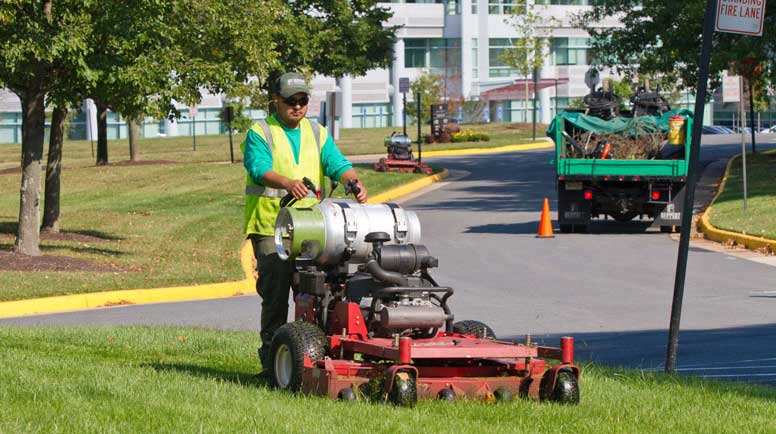 Reducing our carbon footprint has become a way of life.  We recycle, drive more fuel-efficient cars and illuminate our world with energy-efficient bulbs, to name a few ways homeowners and property owners practice sustainability.
Landscape professionals also work to reduce their carbon footprint and protect the environment while creating and maintaining green spaces for their clients. In doing so, they take advantage of new technologies that reduce both noise and emissions. Here's how they do it:
Fuel-efficient vehicles and better routing with GPS.
Low-noise and low-emissions blowers reduce both noise and air pollution.
Employing battery-powered trimmers, edgers, and even walk-behind mowers has added to their repertoire of environmentally friendly tools.
Electronic fuel injection (EFI) engines for riding mowers reduce emissions and operating costs.
Propane-powered mowers significantly reduce greenhouse gas and carbon monoxide emissions.
Traditional fuels such as gas and diesel are much cleaner today compared to a decade ago.
Renewable fuels and more environmentally friendly engine oils help reduce carbon emissions and conserve fuel.
New technologies and the use of alternative-fueled vehicles and equipment have made it easier for landscape professionals to make sustainable choices and reduce their carbon footprint. But no single technology or fuel will fit every property's needs and requirements.  It's up to your landscape professional to match new technologies, alternative fuels, and newly designed and manufactured equipment to the application at hand. Talk with your professional firm about the choices they are making and learn more how they are caring for your property – and the environment – with their environmentally-friendly practices.