HIRING A PRO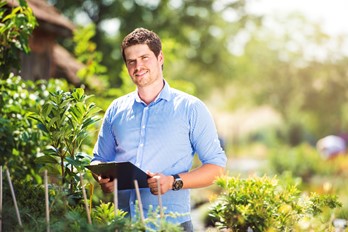 A well-kept yard and tasteful landscape increases the value or your home and provides a relaxing space to interact with friends and family. A well-maintained landscape around office buildings and commercial establishments provides a favorable impression to your customers and the community. 
With increasing frequency, homeowners and business managers are hiring professional lawn and landscape experts to save time, take away the guesswork, and enhance their investment. 
To find a landscape or lawn care professional near you, use our database. 
How to Hire a Professional
Here are some helpful tips you can use to select a quality landscape or lawn care company:
Seek companies that are members of a national, state, or local industry association. These companies have access to the most up-to-date information on best practices, trends, and technical know how. In addition, affiliation indicates that a company is interested in excellence, safety, and best practices. Ask the firm for a list of references and professional affiliations or check its website.
Ask friends and neighbors to recommend companies they have used successfully.  
Ask how long the company has been in business and the experience level of its staff. Professional landscape companies should have employees with either a secondary education in the field or several years of experience.
Consider a landscape company that is licensed, accredited, or certified. If required by state law, the company should be licensed. This license will assure you that the contractor is accountable, and that the company is operating legally. Ask them if they have staff who are Landscape Industry Certified. A certified individual has proven experience, skills, and knowledge. Continuing education is necessary to maintain their certification.
Check their work. Visit a job in progress. Ask to see a project that will be similar to the work you want to do. You want to hire a company that does good work, and reflects professionalism and integrity. Examine the quality of the job, and see if the crew's appearance and job presence are acceptable.
Ask the company to provide a written plan and/or contract. Prior to making any agreement, have the landscape contractor, designer, and/or architect prepare the details in writing. This plan can include the design, plant material to be used, all costs, a time table, and the terms of payment.
Search for a member of the National Association of Landscape Professionals in your area.