INTERIOR PLANTSCAPING 101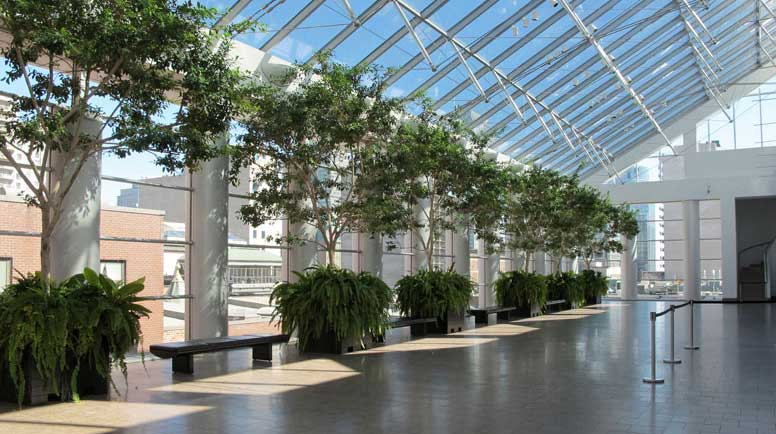 When it comes to constructing a new building or completing a renovation, the main focus is most likely on the architecture and design of the space. Interior plants are often overlooked or added as an afterthought, but they shouldn't be. Plants have been shown to reduce stress and create a more inviting shopping or work experience and they can enhance the overall image of your building. 
Interior Plant Design
A well-planned interiorscape design can warm up a building lobby and breathe life into an otherwise stark and cold space. It helps create that first impression to visitors or potential tenants. Decorative planters and interesting plants can complement a building's architectural features, soften corners, direct traffic, cause shoppers to linger, or draw a person's eye to a directory.  
There is a lot to know when it comes to interior plants. Their design and maintenance is different than the exterior landscaping and requires specialized knowledge.  An interior plantscape professional can be an important collaborator; he or she can create a design that complements the overall look and image of the building, as well as having the knowledge to select the perfect plants that are well suited to a building's light and climate conditions.
So what does a property manager need to know when it comes to interior plant contracting? First decide whether you want to own your interior plants or lease them.
Owning vs. Leasing Plants and Containers
Property managers and owners have the option of purchasing plants and their decorative containers or leasing them. Each option has advantages and disadvantages.
The biggest advantage to purchasing plants and decorative containers is that it is often more cost effective in the long run to purchase them outright. It normally takes 18 to 24 months to recoup the purchase price of the plants and decorative containers as opposed to renting them.
The advantage to renting is that there is no upfront investment and you have flexibility to make changes in the future without incurring large costs.  Of course, your monthly costs will be higher if you choose to rent your plants and containers, but it may be worth if you do not have it in your budget to purchase them upfront.  Note that some companies will let you purchase them in the future at a discounted rate.
No matter whether you choose to rent your plants and decorative containers or purchase them upfront, the service and replacement guarantee should be exactly the same. 
Choosing the Right Interior Plantscape Firm
Before talking with potential firms, be prepared to outline exactly what you are hoping to achieve with your interior plants; whether you want to create a luxurious/high-end atmosphere, support your sustainable or LEED certified goals, or just create an inviting, relaxing space. Also consider the different types of services you might need. Many companies will install seasonal plants for added color, or install holiday decorations in addition to their regular contracted work. 
When selecting an interiorscape contractor, ask how long they have been in business, and how long they have been doing interiorscaping specifically.  Ask for references and portfolios of three projects that are similar in scope to your project. Ask how long the designer has been in the interiorscape field; what their background is; and how long their technicians have been employed by them. Ask what certifications their staff holds and what professional industry organizations they belong to; both are evidence of commitment to continuing education. 
What Can You Expect from a Good Interior Plantscape Firm?
A good firm will keep your plants looking healthy and will replace them when they are not. Maintenance schedules vary, but expect them to send technicians every week to two weeks to care for your plants. They will also work with you to meet your cost and design goals.
Building managers and owners who hire a qualified, professional interiorscape firm will find a partner who adds value to their property and adds to the experience of customers by making their buildings more inviting.