TECH TAKEOVERS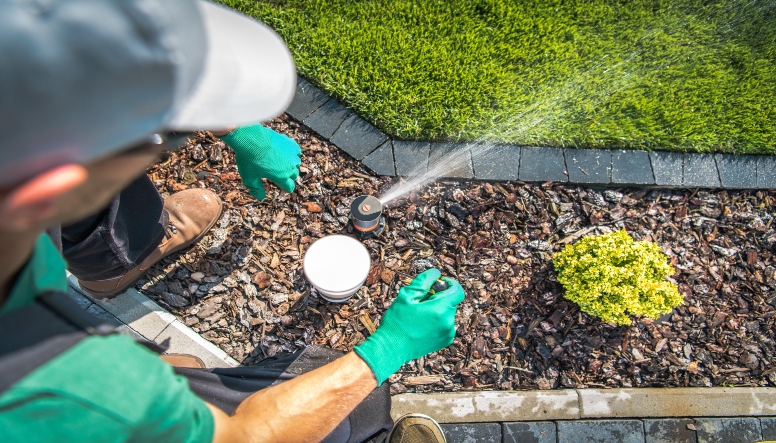 Peak outdoor entertaining season is here. With wireless speakers, string lights and WiFi for live streaming, you may think your backyard is ready for entertaining – but think again. Today's yards can be stocked with even more technology to help homeowners entertain with ease, maintain their lawns and landscapes, and protect their family. Homeowners are increasingly transforming their outdoor spaces with the help of a professional to include the latest technology that brings their favorite indoor features outside. Whether you're looking for lifestyle gadgets or high-tech tools, here are three ways to transform your backyard with the help of technology.
High-Tech Entertainment
Summer brings endless opportunities to entertain outside. Amp up backyard movie nights by inviting guests to enjoy a screening with a blow-up screen, portable projector and speakers or if you are ready to make this a regular tradition, consider having a permanent screen and sound system installed. To extend the life of your space, add umbrella halogen lamps or patio heaters for more comfort. And don't forget to make sure your lawn is ready to withstand the wear and tear of viewers planning to sprawl out on a carpet of green.
Good outdoor sound isn't just for movie night; there are excellent quality sound systems that are designed to weather whatever Mother Nature throws their way and even solar powered ones. You can steam music to any part of your yard and do so unobtrusively thanks to products that hide these sound machines and even underground systems.
If all this outdoor technology has you scratching your head about how best to connect and charge, have no worries. Landscape professionals have become well versed in incorporating USB ports and charging stations into your outdoor design because, though we head outside to destress and unwind, it's not always easy to unplug.
Automatic Maintenance
Robotic mowers, one of the hottest trends in lawn care, allow homeowners to relax and enjoy their outdoor space without having to lift a finger in its care. A lawn mowing robot (yes, they exist!) consists of a docking station, blade, electric motor, battery, and tons of sophisticated software. They quietly trim the lawn at designated times, including at night, and remain out-of- sight and out-of-mind. Perfect for a quarter acre or more, robotic mowers differ by model and can be trained to handle a variety of lawns.
Up to 50 percent of the water used for outdoor irrigation in America goes to waste. By installing either a weather based or soil moisture based smart irrigation system, homeowners can help the environment and save money. As an added feature, many irrigation systems are even controlled from your phone. In fact, technology apps are increasingly making their way to backyards as people look essential conveniences (and even non-essential ones) at the click of a button.
Safety and Security
The latest in lighting technology certainly adds visual appeal to a landscape but it is also important for safety and security as well. Functional lighting to line walkways and spot lighting to cast a glow allow homeowners to navigate the dark and ward off intruders. High powered solar lights now make lighting solutions easier. With a collection of models, styles and functions, solar lights are a practical option for those looking for a high-tech and well-lit property.
App controlled, smart technology also adds a layer of security. Whether installing automatic rolldown screens to save your family from disease-carrying insects or retractable canopies to protect friends from the elements, both features are controlled by your phone so you can conveniently create the perfect environment for entertaining.
Technology is at our fingertips, so it's time to incorporate more into your outdoor space. A local landscape professional can help you create a stunning space that utilizes technology to fit your lifestyle.