LIGHTING UP AND DOWN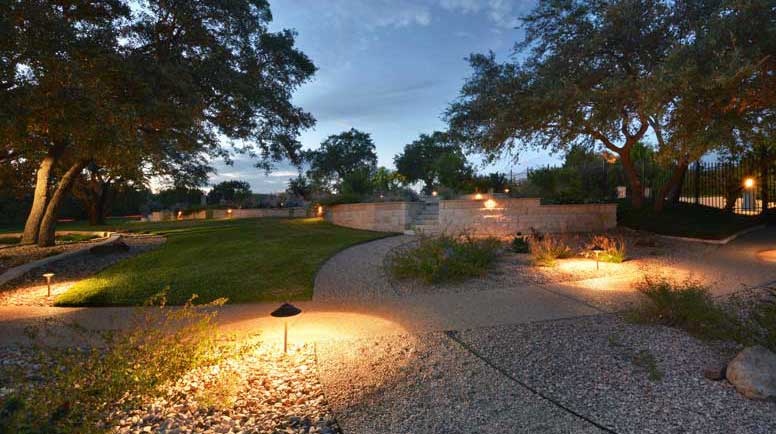 Enjoyment of your landscape does not need to end once the sun goes down. Strategic use of lighting can transform your trees and shrubs into stunning nighttime landscape features.
When choosing a lighting plan, your options are plentiful.
Lighting Options
Flood lights are designed to bathe whole sections of your property with light, while spotlights focus on more specific areas. Spotlights allow you to draw attention on features you wish to highlight – perhaps a sculpture or favorite tree.
Down lighting disperses light downwards from an elevated position. This lighting style  is particularly useful for showcasing low growing plants whose ornamental features are on the top, patios, outdoor seating and for safety lighting. Generally, the higher the light is, the greater an area it will illuminate. Conversely, uplighting fixtures are installed on the ground and shine upward. Uplighting is ideal for showcasing delicate features of trees and garden features, like fountains or statues. It can be particularly helpful to draw people's eyes to special focal points in your landscape.  
 A silhouette effect can be created by placing lights behind a piece of landscaping, while lights positioned in front of the object can cast ornate shadows.
In most medium-sized to larger yards, a variety of lighting types should be used to fulfill both dramatic and practical illumination needs. It's important to note that effective lighting is truly more of an art than a science.
Safety and Security
While landscape lighting adds a huge amount of visual appeal, there are also practical benefits to consider. Steps and walkways can be difficult to navigate after dark. The installation of welcoming ground lights along walkways ensures that your family and guests can safely and easily find their way to your front door. Security is another added benefit of outdoor lighting. A well-lit property discourages intruders by giving them little room to hide.
As you consider outdoor lighting options, the main question you need to answer is what specific contribution you want this new installation to make to your property. Do you want to light up a specific tree or area? Should the effects be primarily ornamental? Would you like to make an outdoor living area more hospitable after dark? Is the goal to maximize curb appeal or to brighten your back yard? These are all questions that will help determine the best options. If you want guidance on how to light your property to make the most of aesthetic and safety options, a landscape professional can present ideas based on experience to help with this process and put together a plan that matches your goals and your budget.