ADDING WATER DESIGN TO YOUR OUTDOOR LIVING SPACE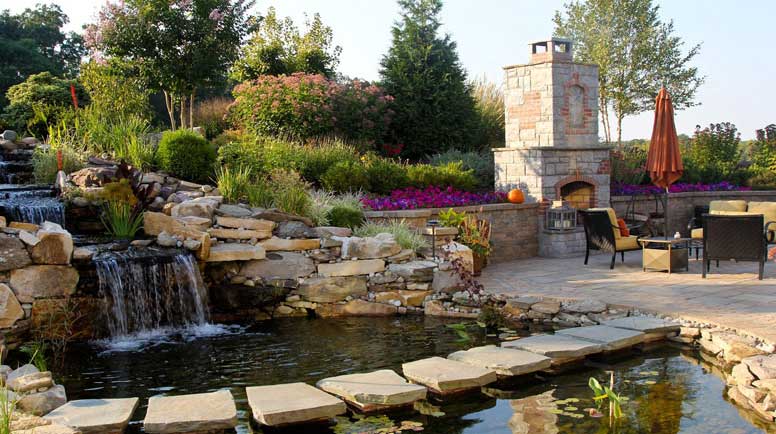 For many, the soft sounds of gently-flowing water immediately trigger feelings of peace and serenity. If your landscape is your own personal sanctuary, your spot to get away from it all, adding a water feature to your outdoor living space may offer the ideal finishing touch. Here's what you need to know. 
Natural Settings
The thundering crash of a waterfall will block out neighborhood noise, but it doesn't meet many homeowners' definitions of tranquil. That's not to say that you can't create a natural oasis with water as a key component. A small garden pond with a bubbler/aerator on a pump will provide serene ripples and just a little bit of splash. You can even add to the effect with fish and water plants, if you like.
A streambed running alongside your outdoor living space is another option for those who want to feel surrounded by nature. A waterfall gets louder the higher you raise it above the water below. Conversely, creating a streambed with a few small drops will give you a peaceful, calming retreat. You can also control the amount of sound by deciding, during construction, how quickly you want the grade to drop from one end of the stream to the other.
Formal Settings
You may wish to consider more formal water features. Instead of an in-ground pond, a raised basin or bowl can be filled with water and given a little movement and splash with a bubbler or aerator. Any vessel that will hold water can be used, even a metal stock tank.
If you're looking for your water source to also be a focal point, there are many decorative options from which to choose. There's the traditional tall, bubbling vase, a millstone or other large piece of stone, or a birdbath-style fountain. From there you're only limited by your imagination and budget. There are companies that offer graceful metal water features, and companies that use glass, concrete or stone as well.
Maintenance
A water feature is hardly relaxing if it's adding extra work to your week, so it's important to be able to maintain it easily. Here are some tips:
Have your electrical source (GFCI outlet) installed by a qualified professional.

Be sure the pump is accessible. If you live in a region where winter temperatures drop below freezing, this is even more critical as you'll want to remove the pump and store it for the winter.

Use high-quality components to reduce the likelihood of failure.

Where practical, have a way to adjust the water flow. In many cases a ball valve between the pump and the exit of the pipe into the feature will work.

Talk to your local garden center or pond supply store for the best way to maintain water quality. Pea-soup green water is hardly calming at the end of a busy week.
When planning a water feature for your outdoor living space, consider your personal style. There's a way to add water to your space that will suit any taste and most any budget, and with a little planning it will add years of enjoyment to your outdoors. If you're unsure where to start, your local landscape professional can help.
Photo courtesy of Sunrise Landscape & Design, Sterling, VA.