OUTDOOR ENTERTAINING ALL YEAR LONG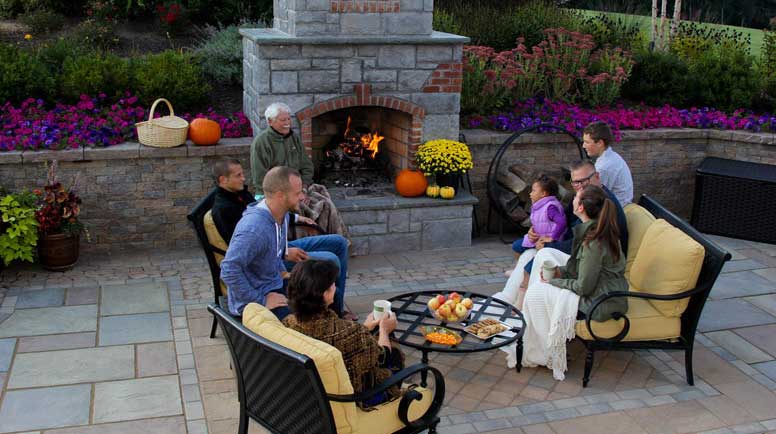 People who live in warm, sunny climates are generally good at creating beautiful outdoor living spaces since they spend so much time outdoors. But even if it gets colder for part of the year in your neck of the woods, it doesn't mean you should put away the outdoor furniture after Labor Day and lock the back door until spring.
Here are some ways you can enjoy fall and winter in your yard.
Add a fire feature. Many patios, decks, and outdoor living spaces have fire features such as fire pits, chimineas, and stone or brick fireplaces that come in all price ranges and are great focal points for outdoor entertaining in the fall and even into the winter.
Add an outdoor kitchen. This addition creates a great space for fall-themed entertaining or a s'mores and hot cocoa party.
Add some shelter. Pergolas, gazebos, and covered patios create shelter and warmth in the winter, in addition to providing shade in the summer.
Choose plants with fall and winter in mind. Most of us are probably guilty of choosing plants, trees, and shrubs for our yards with spring and summer in mind. If you begin to use your outdoor living space in fall and winter, you will want to think about how you can incorporate plants and trees that add pops of color and texture in the cooler months. It is easy to create gorgeous fall color in your yard with maple trees, birch and oak trees and Japanese maples, but it is sometimes harder to envision your landscape in winter.
One way to think about winter landscapes is in terms of "bark and berries."  Add color to winter landscapes using plants with berries like holly trees, viburnums, and beauty berries. Birds are attracted to berries, so these plants may attract winter wildlife. Trees with lighter colored or papery bark such as river birch trees, crape myrtles, dogwood trees, and Japanese maple trees add texture and interest. There are also a variety of evergreen trees that come in different shades that can add visual interest.
Using, designing for, and appreciating your yard year round can extend your entertaining options, help you connect with nature, get you outdoors for fresh air and help you create memories with friends and family.
Photo courtesy of Sunrise Landscape & Design, Sterling, VA.