WHICH FIREPLACE MATERIALS ARE BEST?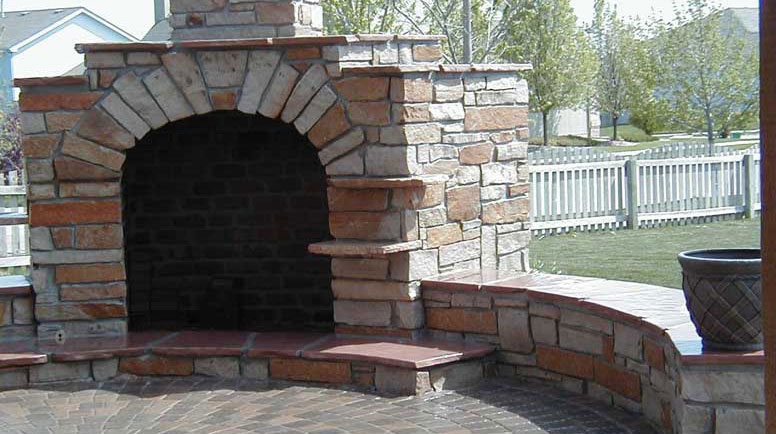 One of the first decisions to make after deciding to add an outdoor fireplace to your landscape is what material to use. Every outdoor fireplace starts with a firebox and a chimney as its foundation. What you choose to surround these essential components with determines what your finished product will look like. Will it be modern, traditional, maybe even Colonial-era in appearance?   Let's explore the various material options to help guide you in what will work best for your hot spot.
Brick
Brick goes in and out of style when building outdoor fireplaces. In places like the Mid-Atlantic or the Midwest, where there are many brick homes, brick fire structures can integrate beautifully with the architecture of many homes. Brick also works well in the landscape of mid-century, modern homes. Clay brick is a material that has been around for centuries. Installed by a skilled mason, brick is suitable for the entire fireplace, even the hearth and mantel.
Natural Stone
Natural stone is incredibly versatile as a design element in outdoor fireplaces. You can choose a rough, rubble or fieldstone look for a rugged, natural style or stone quarried into more regularly-sized and shaped pieces for a more traditional look. Natural stone is even available in thin, saw cut pieces to provide a modern, contemporary style.
Natural stone is an excellent choice for the hearth and the mantel. Both can be made from either rough slabs of stone or more graceful flagstone pieces. You or your landscape professional can select hearth and mantel stone to contrast with, or complement, your veneer stone as your design requires.
Manmade stone veneers
Just as there are numerous options for natural stone fireplace veneers, manufacturers have created manmade stone veneers with a myriad of shape, style, and color options. Because of their lighter weight and more standard sizing, manmade stone veneers can go up a lot more quickly than natural stone, making for easier and often less costly installation. The best veneer stones are quite convincing and will provide many years of service.
You can also use manmade stone for your hearth and mantel. An advantage to this approach is that you can be confident all of your color selections will work together if you've selected everything from the same manufacturer and the same color family.
Stucco
Stucco is a common material for outdoor fireplaces in the Southwestern United States. It is also an excellent material for modern and contemporary settings. Stucco comes in a range of colors and finishes. The smoother the finish, the more skill it takes to apply, so be sure to choose an experienced contractor.
These are among the most commonly used materials for outdoor fireplaces but of course, there is no one best option. You selection should be influenced by your style, your budget, and the overall vision for the space in which you're building the fireplace. An experienced landscape professional can help you consider your options and bring your outdoor fireplace to life.  
Photo courtesy of Sun Valley Landscaping, Omaha, NE.