DESIGINING OUTDOOR FIREPLACES AND FIRE PITS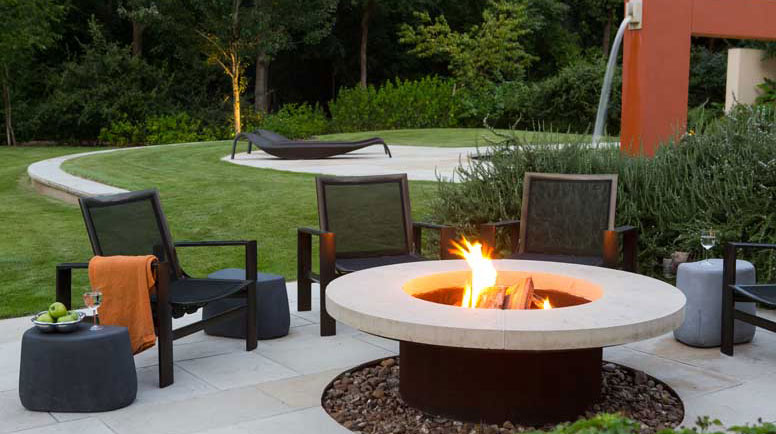 Maybe the the thought of s'mores with the kids or dreams of a gorgeous backdrop for an elegant outdoor dinner party have you considering adding an outdoor fire feature to your landscape. If so, you are not alone. Fire pits and fireplaces are one of the hottest trends in landscaping as homeowners look to maximize their enjoyment from their outdoor living spaces. But what's the best option for you? And once you make the decision on what type of fire feature to add, the decisions don't end. Consideration must be given to what type of heat you want, material selection, and seating options. Rest assured, the anxiety over such decisions will be long forgotten when you are enjoying the welcoming glow of your outdoor fire! 
The following guide can help you get started in determining what options are best for you: 
Fireplace or Fire Pit?
This is your biggest decision and most important one. Fireplaces and a fire pits lend themselves to very different outdoor activities. If you want something typically less formal, around which your family and friends can gather and controlling smoke isn't a huge issue, a fire pit is likely the best option for you. If you want something to act as a visual anchor at the end of a space or if you are working within a covered area and managing smoke is critical - you most likely want a fireplace.
Of course these are broad generalities. Here are a few other considerations:
Crowd side – Fireplaces lends themselves to smaller gatherings as you can only gather so many people in front of the warm glow; a fire pit will generally accommodate more people as it offers 360 degrees of seating.
Young children –If your home consistently welcomes small visitors, give some thought to your comfort level of young children and the open flames offered by fire pits.
Views – If you want to showcase an expansive landscape, a low-to-the-ground fire pit can make that a reality as visitors can enjoy unobstructed views.
Costs – Fire pits are generally significantly less expensive to install than fireplaces, but there are certainly rule breakers to this rule-of-thumb. 
Gas or Wood Burning?
It's hard to beat the convenience of a gas-fire feature, whether it's propane or natural gas. When you want a fire, opening a valve and flipping a switch is all you need to do. When you're done for the evening, the fire is instantly off. Gas also eliminates the worries about cinders and sparks, especially if homes are nearby or if you live in areas with heavy winds. Some localities have banned outdoor-wood fires in response to air quality or wildfire dangers, in which case gas is your only choice.  There are a host of attractive features for gas fire features – things like crushed glass and lava rock can be used instead of replicated logs.
Despite the ease of gas, many homeowners want a real wood fire. There's a smell and a sound and a feel that you don't get with gas. When selecting a wood fireplace or fire pit, make sure local ordinances allow it and you're locating it at a safe distance from combustible objects like trees and roofs. You'll also want to consider where the firewood will be stored.
Gas fire features are generally more expensive to install due to the need for gas lines to be added
Seating: fixed or moveable?
If you've spent any time around a campfire, you've experienced the ritual of getting too cold and needing to move your seat closer, then getting too warm and scooting away. For this reason some homeowners prefer moveable seating, like patio furniture around a fireplace or fire pit. Others want the ability to quickly go outside and use their fire feature without having to gather furniture; for these convenience- minded entertainers, a permanent seat wall or hearth is the right choice.
These are just a few of the important considerations when working out the details of an outdoor fireplace or fire pit. Once you have made your decisions, you are one step closer to enjoying a beautiful, functional centerpiece in your outdoor living space.
Photo courtesy of McDugald-Steele Landscape Architects and Contractors, Houston, TX.