SELECTING THE RIGHT MATERIALS FOR YOUR OUTDOOR KITCHEN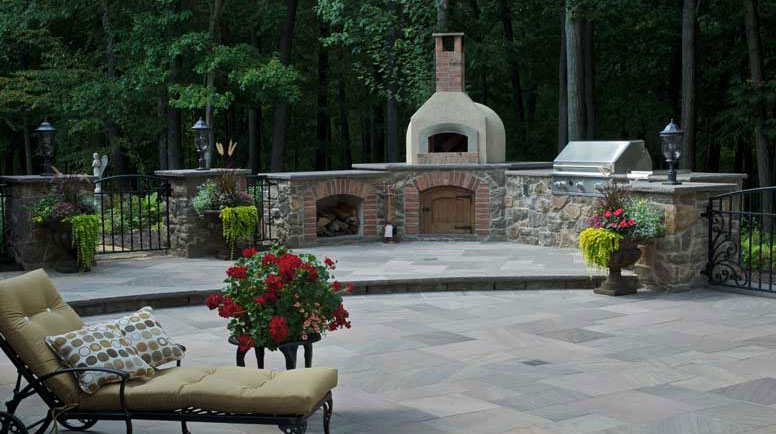 Once you have made the decision to create an outdoor kitchen, the fun begins in planning how you will entertain outside. Will you have lots of backyard barbecues for large groups or more intimate soirees?  Who's on the guest list? Will you primarily entertain kids, teens, or adults?  How do you want to use the space? Do you picture everyone gathering in the kitchen area or chatting in nearby seating areas?  All of these considerations will help determine product selection for how you will entertain. 
Flooring Surface. The surface of your outdoor entertaining area will be one of the most important considerations in your design process. Each possible surface has pros and cons that should be evaluated. Brick, cement, stone, wood, and tile all offer viable options. The following chart offers a brief look at the pros and cons of each: 
| | | |
| --- | --- | --- |
| Material Consideration | Primary Advantage | Biggest Concern |
| Brick | Attractive; fairly low maintenance | Can become uneven over time; cost |
| Cement | Versatility; cost | Difficult installation; limitations in colder regions |
| Stone | Attractive finish | Cost; absorbs grease and oil |
| Wood | Easy to use; cost | Requires cleaning and sealing, shorter life span |
| Tile | Versatility; Cost | Limitations in colder regions; slippery when wet |
Final considerations should include safety, what matches or blends with the style of your home, cost, amount of foot-traffic expected on the surface, if you expect guests who would be challenged by uneven surfaces, and the material's ability to withstand outdoor temperature spans for your region. 
Hardscaping. Your outdoor kitchen will be an artistic focal point of your exterior living space and the hardscaping that adorns the kitchen area will be largely responsible for the aesthetics to be admired. You will want to support its design with a material finish that matches or compliments the exterior of your home or that blends with other features of your yard. Some of the most common finishes for outdoor kitchens include stone, brick, and stucco. Each has its own merits, though blending with the architecture of your home may be the most determining factor as will, cost. 
Cabinet Surfaces. Selecting countertops for your outdoor kitchen can be just as overwhelming as it is for indoor kitchens. There are so many options, allowing you to customize the space and end up with a kitchen that is reflective of your personality. Granite is one of the most commonly selected options as it is porous and water resistant, though if you go this route, stay away from dark colors which absorb heat and can make outdoor countertops too hot to touch. Other stones, like marble, are indeed beautiful but they can easily absorb stains and fade over time. Stainless steel is a popular option and can be a nice blend with stainless appliances. If you are worried an all stainless kitchen may look too industrial, warm up the look with a coordinated blend of surfaces. Concrete offers a variety of looks and is an affordable option but it can crack if not installed correctly. And lastly, tile is another economic option but it is not recommended for regions of the country that experience significantly cold temperatures because of the risk of cracking.
Ideally, all material selections should be made with consideration for what features and appliances will be used so that you can get an overall feel for the entire look of your outdoor kitchen. Your landscape professional can help you with each of these choices and then help you visualize what your material selections will look like with design renderings.  Don't get stuck between one material and another. You are creating your outdoor masterpiece of sorts and accordingly, there can be few wrong choices!  Have fun with the process and know that you have even more fun with the finished space.
Photo courtesy of GoldGlo Landscapes, Millersville, PA.