MATERIAL OPTIONS FOR DECKS AND PATIOS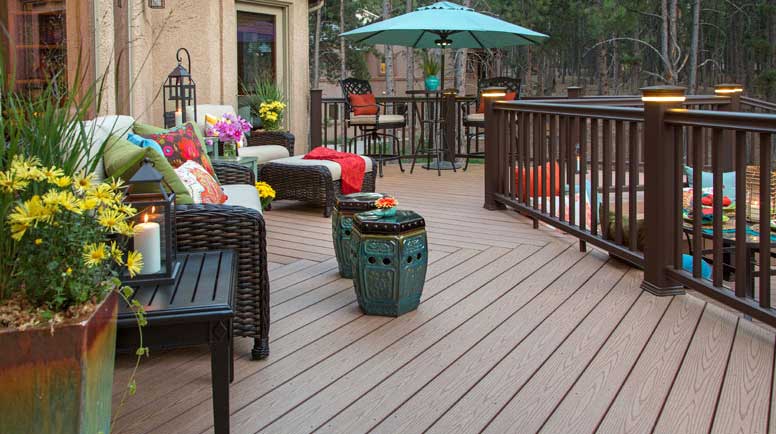 It's time to take your living room outside! No, there's no need to call a moving company to carry your furniture outdoors, but if your yard doesn't already have a deck or a patio, it's high time to think about installing one to create an outdoor living room. Deck and patio living adds a spark to entertaining, fun to family dinners and extra calm to an afternoon of relaxation. If you are considering enhancing the way you enjoy your home with a deck or patio, you may be surprised to know how many options there with today's building materials. Here's a look at some of the options you should consider:
Decks
Gone are the days of standard wooden decks. Options now are almost limitless, but each type offers some special considerations.
Cedar Decking
Durable and versatile, cedar decking has a color range from light browns and tans to pink. It does not transfer heat, so you can walk barefoot no matter the temperature.
Pressure-Treated Decking
Primarily due to cost, pressure-treated is the most popular choice of deck materials in the U.S. About 80 percent of pressure-treated wood is southern yellow pine. Most pressure-treated decking comes with a warranty against decay and termite damage.
Composite Decking
Composite decking is made up of a combination of wood particles and plastic. It can be embossed with a wood-grain pattern. Typically the color will lighten over time. Consider buying one that contains preservatives to extend its life.
Vinyl Decking
If you live in a hot climate, vinyl can get very hot underfoot. It is more expensive than wood, but it requires less maintenance. Cutting vinyl is just as easy as cutting wood. It does not absorb stains.
Patios  
Just as decks no longer need to be lumber, patios no longer need to be perfectly-shaped stones.
Concrete
Whether poured or assembled from precast modular slabs, a concrete patio can be plain, smooth gray or tinted and textured to resemble one made from brick or stone. For an existing patio in need of a face-lift, a thin concrete overlay with a pattern can spruce up the surface without the expense of replacing the patio.
Colorful Squares
Precast concrete slabs in terra cotta, charcoal, and soft gray give patios a checkerboard look. For a new installation, purchase slabs that are already tinted. Or to liven up existing monotone slabs, you can brush, trowel, or squeegee on a thin layer of concrete resurfacer.
Gravel
Gravel is inexpensive and easy to install, making it a no brainer for budget-minded homeowners. It's a top choice for anyone seeking an informal patio that easily accommodates curves and requires little more than the occasional raking to maintain. It comes in a wide array of colors, including white, black, yellows, browns, and reds.
Bricks and Pavers
Baked clay bricks and interlocking concrete pavers are small, modular, and lightweight enough to easily fit into place single handedly. Both result in a smooth patio that you can sweep clean. Clay brick is usually red, but you can also get yellow or gray. Pavers come in gray and muted shades of red, yellow, brown, black, or green.
Stone
The oldest paving material, natural stone gives a patio timeless appeal. Pieces that are cut into uniform shapes look tidy, while jagged, irregular edges result in a casual look. Dense stone, such as bluestone and granite, resists flaking in freezing weather and isn't likely to sprout a crop of slippery moss. But softer, more porous limestones and sandstones are good choices for warm, dry climates.