3 REASONS YOU SHOULD CONSIDER A PERGOLA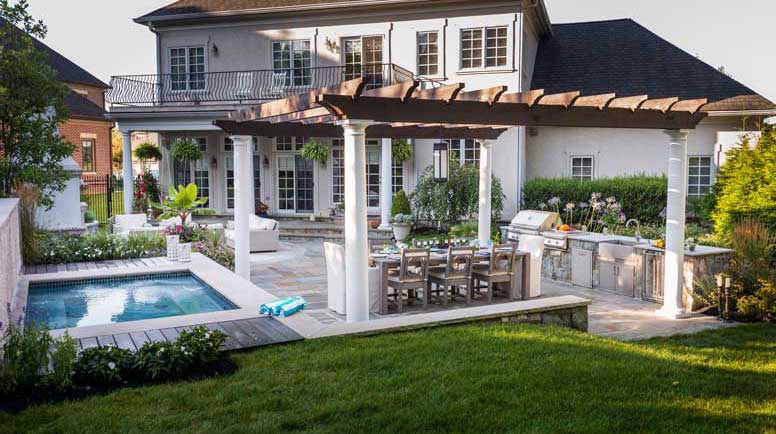 Homeowners who have discovered the merits of relaxing and entertaining in their backyards are often considering the next enhancement they can add to their outdoor space. Backyard enthusiasts crave continued improvements, as each adds beauty, visual appeal, and an opportunity for enjoyment. Landscape enhancements help create a mood or personality for your home and they extend your family's warmth and hospitality. If you are considering the next addition to your landscape, consider installing a pergola. Here's why:
Pergolas (further) Extend Your Living Space
If you have already installed a deck or patio, you likely added it to extend your living space beyond the walls of your home. If you have found that you love your outdoor living area but that it's not quite so useful on a summer afternoon when the sun is beating down or if you wish you had protection from inclimate weather, a pergola may be for you. A pergola extends your living space and increases the amount of time you can spend outside. Designed and oriented correctly on your lot, a pergola can cast enough light shade to make even a warm afternoon enjoyable or if you still need additional protection, you can install a retractable shade cover for more shade. Some shade covers will even protect you from a light rain, perfect for those unpredictable summer storms.
Design Options Abound with Pergolas
When you decide to add a pergola to your landscape the first thing you'll need to decide is, "custom or kit?" A local landscape professional can help you design a pergola from scratch and can custom build it right in your backyard or you can purchase a kit from one of the many well-known manufacturers in the U.S. You won't have the same design flexibility—you're typically limited to rectangles and fixed dimensions—but all the parts will be delivered to your home for your landscape professional to assemble and install.
Your next decision will be materials. There are a variety of materials to consider and all come with advantages and disadvantages:
Pressure-treated wood: A pressure-treated wood pergola is often your least expensive option. They'll have a reasonable lifespan but pressure-treated lumber can warp, crack, and check over time. This type of pergola generally looks best if painted or stained.
Cedar wood: Cedar (typically Western Red Cedar) is a popular choice for pergolas. It's naturally insect resistant and looks beautiful right from the sawmill. You can leave it untreated to turn a soft silver gray, or stain and seal it to hold its color. A cedar pergola is more expensive than a pressure-treated pergola, but you'll typically get a longer serviceable lifespan from cedar.
Vinyl: If you're looking for a pergola that requires very little maintenance, vinyl is certainly worth consideration. You cannot easily paint a vinyl pergola, however, so your color choices are limited. 
Fiberglass: Fiberglass pergolas are generally the most expensive way to go, but they come with significant benefits. Because fiberglass is so strong, you can span much longer distances without posts, (in some cases, about 20 feet) giving you a cleaner look). Fiberglass can be painted any color you want, and the paint will hold up better than on wood. Finally, fiberglass pergolas are perfect for adding to either a deck or existing patio. Due to their light weight, fiberglass pergolas don't require the same deep footers as other materials dictate.
Pergolas Are an Entertainer's Dream
The real magic happens on many a pergola once the tools are packed up and it begins providing both form and function to your outdoor living space. Pergolas provide support for everything from chandeliers and ceiling fans (check with your landscape designer first, please!) to small speakers, strings of lights, even fabric. You're only limited by your imagination.
Pergolas extend your outdoor space, offer a variety of design options, and can be tailored to fit even a modest budget. If you're in search of a way to create an outdoor oasis, one that offers energy or tranquility (or both), a pergola might be the perfect enhancement to your deck or patio.