12 IDEAS FOR EFFORTLESS OUTDOOR ENTERTAINING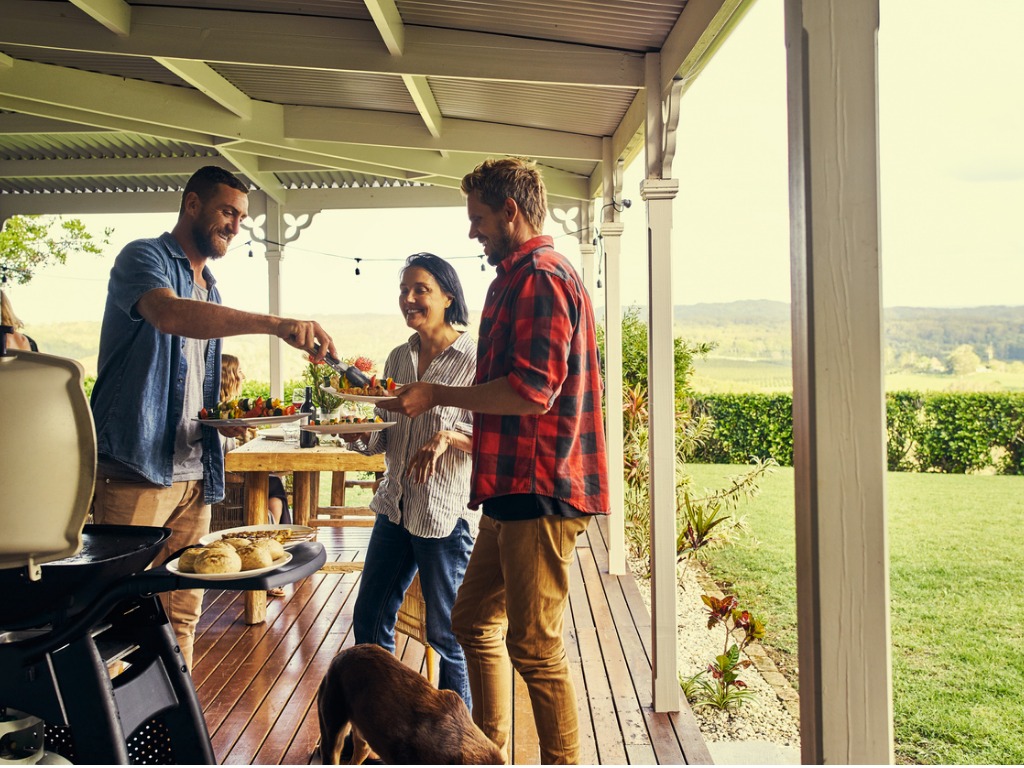 Summer is all about unwinding and having fun -- and that should include your outdoor entertaining. The key to creating a festive vibe, is to keep things easy and relaxed, leaving you free to kick back and enjoy spending time with your guests. Read on for tips to keep the party going all summer long.
Simple Set-Ups for Your Outdoor Party
Setting the stage for your outdoor entertaining does not have to be stressful. It's OK to have a casual approach. Just focus on the basics and remember, your relaxed, welcome smile and good conversation are the most important elements of a successful event.
Comfy Seating All Around. Add comfortable cushions to your outdoor chairs if you want your dinner guests to linger at the table. Or create separate sitting areas by grouping chairs for more intimate conversations (kids and teens often appreciate a table of their own.) Adirondack-style chairs have arm rests that do double duty as built-in trays for food and drinks.
Repurpose Indoor Furniture. Don't worry about matching – it's all about function. If you have a deck or patio, bring out your dining chairs, ottomans, or folding chairs. You can even turn a cot into a settee if you position it against a wall and add pillows.
No-Fuss Centerpieces. What could be easier than floating flowers in water? You can even get the kids involved by asking them to help gather colorful blooms, then just cut off the stems and place in bowls or dishes full of water.
Put Old Things to New Use. You don't have to invest in the latest outdoor entertaining gadgets to have a successful party. Get creative with what you have! Upend a wire-mesh colander and place over food to keep bugs away. Write on wooden ice pop sticks to label the doneness of cooked meats. Or, just add ice to one of these for an instant cooler: a galvanized bucket, an old sink or tub, or a child's wading pool. Innovative solutions will lend a touch of whimsy to your party and can make great conversation starters to boot!
Feeding a Crowd with Ease: Cater to the Simple Tastes
You can serve up a rave-worthy spread in summer and still have time to enjoy the party. Here are some ideas that will let you keep your cool while satisfying a crowd. 
Simple Starters. Start with easy, weather-proof snacks: set out dishes of nuts, pretzels, and party mixes so your guests have something to nibble on before the meal is served – and throughout the party.
Go Local. For the main meal, serving up a nutritious, mouth-watering spread is easy-peasy when you take advantage of the abundance of fresh, local, in-season produce available this time of year. Just pair burgers on the grill with a selection of salads, fresh fruit, crispy vegetables, and fresh-squeezed juices. If you enjoy edible gardening you won't even have to take a trip to the farmer's market to impress your guests!
Happy-Go-Pot-Lucky. Everyone has that favorite go-to recipe they like to make. Asking your guests to contribute something cuts your work load and brings more variety to the table.
Keep Cold Foods Cold – and Safe. It's easy to keep dairy-based foods cold and prevent spoiling: fill a large bowl or deep tray with ice and sprinkle with kosher salt. Place serving bowls on top.
Set Up a Mobile Drink Station – or Two. Offer alcoholic and non-alcoholic drinks on separate carts. Stock them with glasses, cups, ice, a cocktail shaker, swizzle sticks, and straws. It's easy to wheel them back to the kitchen when you need to replenish.
Encourage Mingling and Self-Service. Serve the food and drinks from different tables set up as self-serve stations around the entertaining area. As they walk back and forth, your guests will cross paths with someone new. Don't think of it as being lazy; you're just being a strategic and thoughtful host!
Keep Bugs at Bay
Nothing ruins an outdoor party faster than swarms of bloodthirsty mosquitos, nasty yellow jackets, or pesky flies. Here are some ideas to keep bugs from crashing your party.  
Be aware that bugs are most active at dusk and dawn, and mosquitos love to dine around dusk. Set out citronella candles and circle the entertaining area with citronella oil-filled torches, lanterns or incense sticks.
Essential oils in certain plants also help deter insects. Place potted plants where brushing or crushing their leaves releases the oils to help repel pests. Try planting one (or several) of these aromatic herbs for keeping bugs at bay: lavender, basil, thyme, lemon balm, rosemary, parsley.
If flies are a problem, purchase an inexpensive screen tent to enclose your buffet or cover dishes with attractive mesh toppers.
It's easy to make a homemade trap for yellow jackets: just cut off the top of a plastic soda bottle and invert it into the bottom half like a funnel. Leave an inch or two of soda at the bottom; the yellow jackets will enter to get at the sweetness and drown in the liquid below.
Lighting for Lingering into the Night
Ease into that special time of day when the sunlight dims and the first stars begin to shine. There are so many options here; your only limitations are style and budget. Start with candles for a warm and enchanting glow. If you're worried about open flames or hot wax, go with battery-operated candles or lanterns. You can also hang strings of white or colored electric lights for a magical twinkle.
Or, if you plan to do a lot of outdoor entertaining, you may find it worth the investment to install an outdoor lighting system with the help of a professional.
Above All, Focus on the Fun!
With these tips and a little advance planning, you'll be prepared for effortless outdoor entertaining all summer long. Just focus on having fun and spending quality time with friends and family; the rest will take care of itself!  After all, backyards are where the best memories are made.