9 ON-TREND WAYS TO LIGHT THE NIGHT IN YOUR BACKYARD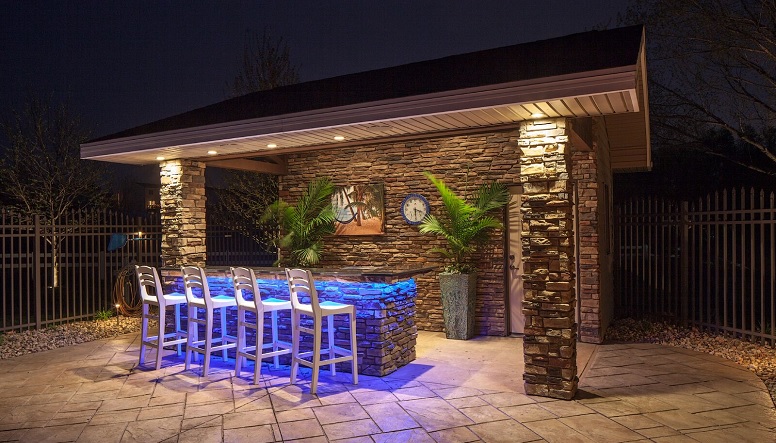 Adequate outdoor lighting after dark not only keeps friends and family safe, but makes your guests feel welcome from the moment they arrive at your home, even for late night gatherings. And fortunately, lighting your yard has never been more affordable, energy-efficient or inspired by creativity. Whether you want to add lights for safety, to set a mood, or support your favorite sports team, the options available to you are...well, bright.
Let's explore nine on-trend ways to light up your landscape this season.
Walk This Way
Good news here for those who want to create a unique lighting ambiance: forget the old standard row of low-voltage stake lights: today's options for inventive outdoor walkway lighting are inspiring and almost endless. Here are several styles to consider when choosing the best solution to fit tastes and needs.
Rope Lights – These flexible light strands come in various colors and lengths, are easily placed into your landscape, and add instant light and design lines along walkways or borders. You can even attach them to handrails on stairs and decks.
Solar LED Lights – The main benefit of solar lights is their easy installation. There are no wires so you can place them directly in the ground, on a fence, or the side of the building -- as long as the solar collector is exposed to sunlight during the day. The solar-powered LEDs use less energy and last longer, but only provide accent lighting where needed.
LED Step and Path Lights – These bright lights are usually tubes or short LED arrays installed on or around steps and garden paths. They provide bright, long-lasting light while fitting into small spaces.
Things are Looking Up
Outdoor rooms have become more popular over the past few years. And why not? They let you spend more time outside while still enjoying many of the comforts of the home. New trends in overhead illumination for your deck, pergola or outdoor room reflect this benefit by taking cues from indoor lighting trends.
Designers have come up with many creative – and often whimsical – outdoor lighting solutions. Take your pick of these trending ideas to complement your outdoor room.
Chandeliers – With so many choices available at home furnishing stores or antique shops, adding a chandelier to a covered outdoor room certainly adds a "wow factor" to any entertaining space. Will you go rustic, romantic, or total bling?
Pendants – Again, so many choices await: color, shape, size, die-cut, finish, and style. From clean and industrial to exotic and moody, hanging pendant lights will light up the night and express your individual design sense at the same time.
Portable Floor Lamps – Another increasingly popular lighting choice for a covered porch or deck is portable floor lamps. They can be positioned wherever extra light above table height is needed, just as they can indoors.
Show Your Colors
Another exciting trend in outdoor living spaces is colored lighting. Again, it's all about setting a mood or making a statement. Here's how some people are showing their colors with their outdoor lighting.
Team Colors – Light up your nighttime landscape with the colors of your favorite college or professional sports team. Let your neighbors know where your fandom lies by changing out some of the white bulbs in your landscaping for colored LEDs. You can also install fixtures that allow you to change your colors by adding colored disks on top of the white bulb as the seasons (or teams) change.
Multi-Color Landscape Lighting with Remote Controls – Some people are adding remote-controlled, multi-color accent LEDs to highlight an area of their yard and create their own light show. Now you can light up a water feature, wall, or sculpture garden in your back yard like the pros at Disney World or Longwood Gardens.
Pond Accent Lighting – Adding lights to your pond or water feature brings a new enjoyment to this element of your landscape after dark. You can install lighting around the edges or behind waterfalls, in the colors you prefer to match the sounds and mood of the flowing water.
Go ahead, stay outside after the sun goes down. Extend the time spent in your outdoor living space by working with a landscape professional to install lighting that fits your family's budget, style and needs. When you light up the night in your own backyard according to your personal taste and style, you just may find yourself outdoors as often as possible.