Simple Landscape Projects that Make a Big Difference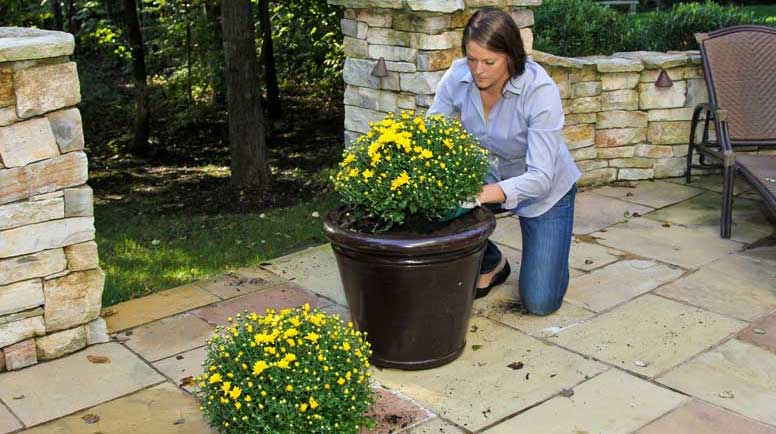 Some homeowners determine it's time to begin developing their landscape upon overriding boredom with the basic shrubs installed by the home's builder. For others, when they feel their yard has become "that one" on the block that causes others to laugh or mock. Regardless of the trigger, there are several quick fixes that can be done in a weekend to make your yard instantly more attractive.
Clean It Up!  It sounds basic, but if you haven't spruced up your yard in a bit, the first thing you need to do to begin appreciating your landscape is to clean it up. This means finding the rake and pruning shears to give an immediate face lift to what you already have.  Remove lingering leaf debris in your planting areas and trim back overgrown bushes that have lost their shape or block views from your windows. Then, let the real fun begin.
Start by selecting a defined area to beautify. Don't try to tackle everything at once. As you begin your landscape improvements, identify a specific project or two that can be the most easily implemented and will make an immediate impact.
Add a Splash of Color with Flowers. Your landscape will look instantly better with color. In general, when it comes to plant selection, you are the artist. Select plants that have hues and tones that appeal to you. Be careful, though. Many first time planters choose flowers based on color or look alone and soon find their yard doesn't offer the right growing conditions for the plants selected. Don't make that mistake. Rather, determine how much sunlight your garden spot receives so that you can choose plants that will thrive in that space. Pansies, geraniums, sunflowers, California poppies, sweet peas, Veronica, asters, yarrow, peonies, and daffodils are all good considerations for novice planters. Choose a combination of perennial plants – those that will last for an infinite period of time and annual plants – those that will only last for the season.  
Don't Forget White Flowers. White flowers help illuminate garden areas in the evening as the sunlight hits their petals and can add beauty to your yard at night.  Hydrangeas, impatiens, lilies, and dozens of others are excellent options.
Consider Ground Cover. Adding flowering ground cover is an easy weekend project that makes an immediate – and long term – impact. There are endless options for ground covering plants that will fill space with color, textures, heights, and design. Consider Lamium, Thyme, Lilly-of-the-Valley, Vinca, Pachysandra, lamb's ears, and brass buttons, of course focusing on what will be most effective for your growing conditions. Pachysandra
Shrubs are a Must. Shrubs are an essential ingredient for your landscape. They can be used to hide undesirable spots in your yard, add visual focal points, offer fragrance that can be enjoyed, and transition large displays in your yard to smaller ones. There are hundreds of options to choose in selecting shrubs, including those that add vibrant green throughout the year and those that flower; tall and short ones, and thin and wide ones. As with flowers, it is important to select the right plant for the right space. Make sure the shrubs you choose will thrive in your yard. Some hearty plants to consider include: hydrangeas, boxwood, forsythia, lemongrass, lavender, and red oleander. Remember shrubs will grow. Locate them based on the size they will be at maturity, not the size at planting.   Pachysandra
Add Mulch. A fresh layer of mulch makes any landscape look better. It's not just an aesthetic feature; mulch helps trap moisture and channel water into to plant roots. It helps regulate soil temperatures and discourage weeds. Note: keep mulch approximately 18 inches from the foundation of your home to help prevent pests, especially termites, from taking up residence.  Finish your weekend landscaping project by edging, which provides a strong, attractive boundary between the planting area and your grass and can help improve the health of your landscape.
Plant a Tree. It doesn't have to Arbor Day to plant a tree. Create a lasting legacy on your property by adding a tree that can provide shade, privacy, and beauty.  As with flowers and shrubs, there are seemingly endless considerations for tree selection as well. Be sure to select a tree that can grow into the identified space and be sure to give the sapling plenty of attention for the first two years to ensure it has the foundation to grow into the future.
Small Touches Add Fun. If you don't have a lot of time to invest in your landscape and are looking for a quick fix or two to help enhance it, add small pots of flowers, whimsical yard décor, a birdbath, or some other small feature to help you enjoy your outdoor space a bit more.
Taking on one or several of these easy activities will help jumpstart your ho hum landscape. For additional ideas and to bring out the best in your outdoor living space, contact a landscape professional.