CREATING THE PERFECT CONTAINER GARDEN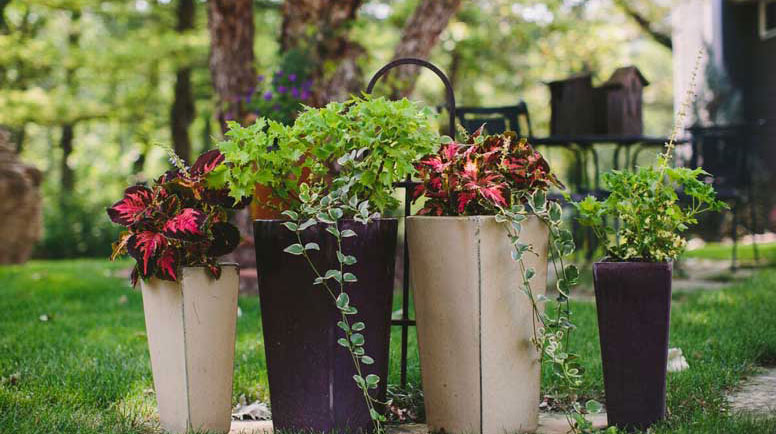 Want to have more flowers and plants in your life but don't have much space or a lot of time?  Want to test out your green thumb before diving into full-fledged gardening?  Container gardens might be your answer as they offer a perfect way to test the gardening water so to speak or add color and interest to your outdoor space, no matter its size.
Container gardens consist of flowers and plants or fruits, vegetables, or herbs that are grown in pots or containers, instead of grown in the ground. The containers can be showpieces themselves or grouped together to create an attractive garden effect. 
Here are a few tips to help you get started.
Think About the Container
We tend to focus on the flowers and plants first, but don't forget the role that the containers play. You can choose whimsical containers like barrels, watering cans or urns or standard pots; just make sure the container is large enough for you plant – larger is always better than having a container that is too small and make sure your container has a hole at the bottom for some form of drainage.  Think about the material you choose; for instance clay and ceramic may be prone to chipping and may break when they freeze and thaw.  If your containers will be outside all year, consider whether they will stand up to the heat, cold or sun in your area.
Choosing the Plants
Color, height and texture are all considerations in selecting plants.  If you are creating a container with multiple plants, then mix together taller plants with plants that will grow low and hang over the sides of the container.  Or you can put one flower or plant in each pot and then group the pots together in different heights. Herbs are a great choice, because they look great and they are also functional.  Get creative! You can also design a very stylized look using things like succulents, or even native grasses, or bamboo, or choose small shrubs and evergreens for an elegant structured look. Most people prefer annuals, but you can also use perennials and enjoy them longer. 
Prep your Containers
Use a good quality potting soil mix in your container.  Place your plants and then tamp the soil down to firm it up around the plants and then water well.  Don't fill the soil the whole way to the top of your pot; leave room for watering.
Care
Container plants need to be watered regularly; making sure that the soil never completely dries out.  They also benefit from fertilization thought the season.  Keep a close eye on them in summer, in extreme heat many need every day watering.
Whether you use container gardens for ease, space considerations, or just as compliments to the rest of our landscape, they can offer both beauty and functionality to your outdoor living space. 
Photo courtesy of Sun Valley Landscaping, Omaha, NE.