3 Sizzling Color Palettes for Summer Gardens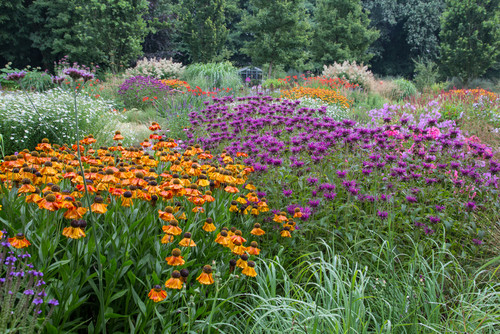 Presented by the National Association of Landscape Professionals in partnership with

By Lauren Dunec Hoang
Color palettes can be powerful tools for creating a harmonious look among different areas of the landscape and setting a mood for the garden as a whole. Most hot-colored planting palettes that rely on deeply saturated reds, oranges, purples and pinks are considered energizing and have the bonus of being favored by pollinators. Have a look at the following three warm-season color palettes and tell us: Which one's your favorite?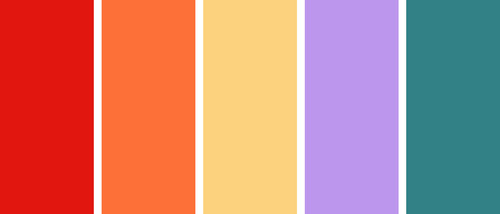 By Lauren Dunec Design Palo Alto
1. Mediterranean Sunset
Color palette: Bright red, coral-orange, butterscotch, lilac, blue-green
Let a palette of rich jewel tones and vibrant sunset hues like red, coral-orange, butterscotch, lilac and blue-green inspire the plantings for your summer garden beds. Together, these hot colors really shine in the evening, when the late sunshine illuminates the color-saturated blossoms, making them glow.
In this perennial meadow surrounding a farmhouse outside of Amsterdam, the designer planted varieties of flowers and ornamental grasses in loose clumps, mimicking the way they would grow and spread in nature. Flame red crocosmia (Crocosmia sp.) grows alongside orange sneezeweed (Helenium sp.) and purple-blue giant hyssop (Agastache sp.). The gray-green and blue-green foliage of the perennials and young ornamental grasses forms a cooling counterpart to the fiery blooms.
Photo by Jeffrey Gordon Smith Landscape Architecture
This vibrant low-water garden in San Luis Obispo, California, also relies on a sunset-hued planting palette. Here we can see orange red-hot poker (Kniphofia uvaria) in the foreground, yellow yarrow (Achillea sp.) growing around the patio alongside bright purple 'Rozanne' cranesbill (Geranium 'Rozanne'), and red-flowering sage (Salvia sp.) in the background.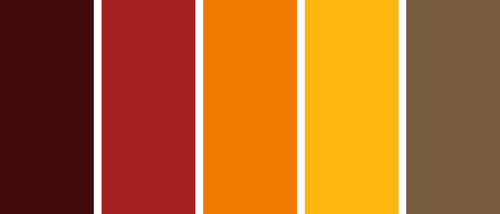 By Lauren Dunec Design Palo Alto
2. Rich and Earthy
Color palette: Dark russet, brick red, orange, mustard, tawny brown
Perennial flowers and ornamental grasses with earthy tones like russet, mustard gold and buff brown are reminiscent of North American prairies in high summer or the colors of a weathered red barn. Use flowers with these rich, somewhat subtle tones to complement the soft greens of meadow grasses or pick up the shades of building materials such as aged wood or rust-colored Cor-Ten steel.
Photo by Nilsen Landscape Design, LLC
This low-impact, environmentally friendly home in Little Compton, Rhode Island, is surrounded by a drought-tolerant meadow garden of perennial flowers and grasses. The mix of tickseed (Coreopsis sp.) in red-brown and bicolored gold and maroon blooms complements the weathered wood and barn-red color of the home's exterior.
Photo by Adam Woodruff + Associates, Garden Artisans
This meadow garden in Missouri has a similar color palette of rich, earthy tones. The layered planting of yellow-petaled, dark-centered coneflower (Rudbeckia sp.) and red daylily (Hemerocallis sp.) looks particularly stunning backlit.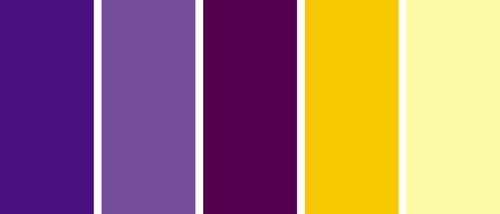 By Lauren Dunec Design Palo Alto
3. Summer in Provence
Color palette: Amethyst, lavender, deep eggplant, gold, lemon
This classic combination of yellow-gold and purple will remind you of fields of fragrant lavender and golden sunflowers in the south of France (or your favorite film set in the region). On the color wheel, yellow-gold and purple are directly opposite from each other, making them perfect complements. In terms of your garden, this means that flowers in yellow, gold, purple and violet will make winning companions.
In this farmhouse garden in Richland, Oregon, the homeowners planted a combination of dark-centered golden sunflowers (Helianthus sp.), low-growing petunias in both deep violet and pale lavender, pale pastel hollyhocks and other flowers. At twilight, the luminous colors of the blossoms practically glow against the backdrop of rolling hills..
More from Houzz
Bring Mediterranean Style Indoors With a Burst of Teal
Yard Statues to Decorate Your Garden