CREATIVE OUTDOOR ENTERTAINING SPACES ON A BUDGET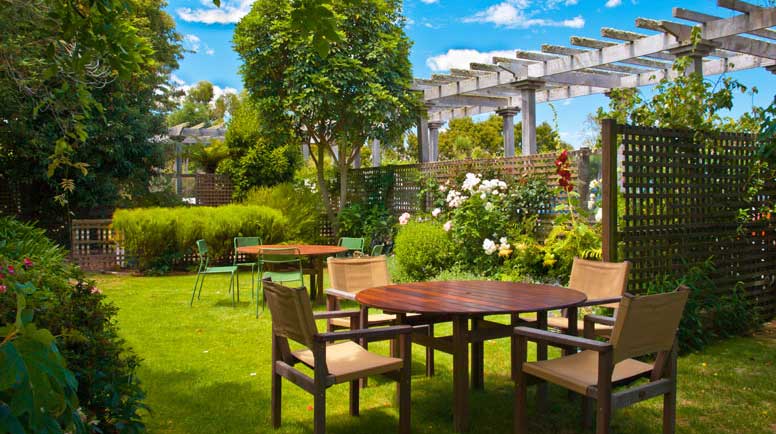 There's nothing better than having friends and family over and enjoying a warm night in your backyard. But how do you take your yard from ho hum to the talk of the town, particularly if you have limited resources to help it shine?
Some simple additions—a hanging swing, mood lighting, a vintage find or two—are all it takes to transform an ordinary outdoor space into an open-air living room that is ready to welcome guests and add comfort to your home year-round. Here are a few things to consider for adding some immediate impact to your backyard:
Décor
If you have a deck or patio built against an exterior wall, try hanging a mirror on the wall to reflect light and create the illusion of a window into another room.
Grow climbing vines, such as grape, over an existing pergola or railing to introduce color into the area and provide extra protection from the sun and rain.
Turn a patio or deck into a jungle oasis with potted plants. Low-water options, such as sedum and Russian sage, require little care. Look for colorful and unique pots in consignment stores.
Many seldom used items inside your homes make creative planters. Put a potted plant in a child's old dump truck toy or on an artfully painted tricycle that is no longer in use.
Really want a water feature – but don't have the space or the funds for a full scale fountain or pond? Add a small, bubbling, portable fountain. These conversation starters add peaceful energy to your outdoor space and they won't break the bank.
Lighting
Do you have low tree branches or beams across your porch or deck where you could safely hang candle lanterns? Lanterns create a subtle light that will let your guests see their food and drinks without being blinded. They're also easy to move where you need them and require no wiring.
Place floating candles in your backyard water feature for a look straight from a fairy tale. While the lights might not give off too much glow, they'll alert your guests to avoid falling into the water.
Simple white lights or fairy lights are very popular, and inexpensive, décor enhancements.
Seating
If your deck is low enough not to require a railing, build a bench around the perimeter to provide seating and a sense of enclosure.

Conversely, if your deck has a high railing, lay some boards perpendicularly across the top railing to create a bar-type seating option.

Top an existing built-in banquette or a storage trunk with cushions and throw pillows to create relaxed and comfortable seating. Look for weatherproof fabrics so that you won't have to bring everything inside at the threat of rain.
Dining
Place a piece of plywood or some deconstructed pallets across two sawhorses to create an easy, customizable table.
Check out yard sales, flea markets, and going-out-of-business sales to find unique pieces for your yard.
Think outside the box – an old hutch could be a great serving station near the grill, and a wheelbarrow filled with ice is the perfect cooler for drinks.