American Businesses Suffering as Government Limits Work Visas
With unemployment at record-low levels, a cap on H-2B visas is crippling American companies, and slowing economic growth
It's the height of landscaping season and Shayne Newman, founder and president of YardApes, Inc. in New Milford, Conn., is grappling with the biggest challenge he's faced in his 28 years in the business. YardApes is being forced to operate without a whopping one-third of its workforce after the company was denied H-2B visas for 15 returning seasonal workers expected to arrive April 1.
Newman says his company has applied for 15 H-2B visas every year for the past five years and all were approved until this year, when none were. "We got the rug pulled out from under us," Newman says. "All of a sudden, fifteen hard-working employees are not here."
It's a situation that is being faced by landscape companies across the United States, as well as businesses in industries like seafood, tourism and entertainment that rely heavily on seasonal employees. 
The H-2B program, established by Congress in 1986, was designed to allow U.S. employers to bring foreign nationals to the United States to fill temporary, seasonal nonagricultural jobs when exhaustive efforts to recruit U.S. workers are not successful. But due to an unprecedented volume of applications, more than 60 percent of seasonal businesses have been unsuccessful in obtaining workers through the H-2B program so far this year. H-2B workers generally make up one-third to one-half of landscape companies' field crews during late spring, summer and early fall. Without these workers, companies are losing contracts, being forced to turn away business and in worst case scenarios, going out of business completely. 
For Newman, the workforce shortage has meant he is working 80-hour weeks, including 6 hours per day in the field. The company's managers are working in the field, too, then extending their shifts to cover their regular duties. Recruiting efforts have ramped up like never before. Yet even with all the extra energy expended, Newman says customer complaints are rolling in daily and several clients are on the verge of firing his firm.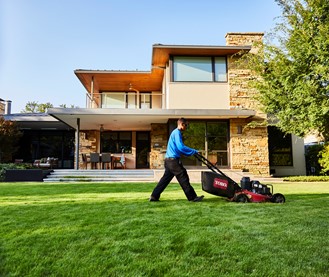 "It's pretty much a living nightmare right now," says Newman, whose company specializes in high-end residential landscapes. "My managers are taking one customer complaint after another. We've always done top-quality work, so we've never been in this situation before."
Sadly, his story is not unique. Chris Lee, president of Earthworks, Inc., in Johnson County, Texas needed 120 employees to meet the demands of his business. Despite exhaustive efforts to recruit American workers – including advertising in local English and Spanish language newspapers, placing signs on all offices and trucks, reallocating a field manager drive around all day, talking to people on the streets trying to hire those interested, and instituting hiring bonuses, referral bonuses and retention bonuses – Chris was only able to add 15 people to his company's workforce, forcing Earthworks to cancel approximately $2.1 million in contracted work.
Despite the hard times these companies have experienced, their doors have remained open, at least so far. LMS Greenhouse and Nursery in Hampton, Pa. had to close its door last week after 50 years, laying off 10 employees. Like many other small businesses, they just have not been able to withstand the challenges and unreliability of the guest worker program and as a result, Americans have lost their jobs.
What's diFFErEnt about H-2B this yEar?
The drastic drop in visa approvals many longtime users of the H-2B program are experiencing stems from a sharp increase in demand due to a U.S. unemployment rate of just 3.9 percent.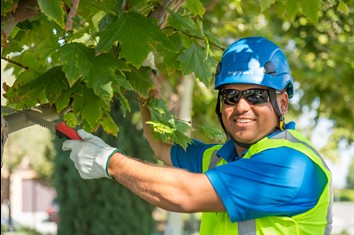 The law caps the number of visas at 66,000 per fiscal year, making 33,000 visas available in October and another 33,000
available in April. Due to the demand, for the past two years, Congress authorized the U.S. Department of Homeland Security to release up to 69,320 additional H-2B visas if it determines that seasonal labor needs cannot be met with U.S. workers. So far this year, only 15,000 additional visas have been released. 
The landscape industry says this number is far too low to provide significant relief. The Department of Labor has already certified the bona fide need for more than the 142,000 H-2B visas this year.
Todd Chambers of Brightview, the country's largest landscape services provider, noted the government's choice of a lottery system of awarding visas ends up determining which businesses thrive and which ones will suffer – and in some instances, which companies are forced to close their doors.
"The government's lottery granted 100 percent of requested visas to some companies and awarded others none, making the process completely unpredictable" Chambers said.  "Those who don't receive the guest workers for which they were certified are often being forced to cancel contracts, cancel equipment orders and lay off American workers. In contrast, those businesses who do receive their workers, sometimes just down the street, are thriving. This arbitrary system is wrong and not the way American businesses should be treated." 
MispErcEptions and landscapE industry rEcruiting EFForts
There are many misperceptions related to the H-2B visa program – that it's a cheap form of labor, lowers U.S. wages and steals jobs from American citizens. Consider these facts:
Employers have to pay H-2B workers the prevailing wage for the area and position, and the average in 2017 was $14 per hour.
Research shows every H-2B visa approved sustains 4.7 American jobs, allowing businesses to maintain or expand their American workforce.
While in the United States, H-2B workers pay taxes and contribute to Social Security and Medicare. They also support local economies by eating in restaurants and buying local goods and services.
Before a company can receive H-2B visas, they must prove they have exhausted efforts to recruit American workers for the same positions and any qualified U.S. worker must be offered the job.
"Landscaping companies have done everything imaginable to recruit Americans for these seasonal, temporary jobs, but with employment at historic lows, it's proven nearly impossible to fill these roles," says Sabeena Hickman of the National Association of Landscape Professionals.
"Recruiting has been a lot of work, a lot of hours, and we're pretty much hiring anybody we can," Newman says.
Being denied H-2B workers is a double whammy for many landscape firms. Not only do they lose workers they were counting on to meet contractual obligations to clients, but they lose workers who were already trained.
MEssagE to Washington
Newman's company, like many landscape companies that didn't receive all or most of their requested H-2B visas, is having to rank clients and decide which ones to keep or prioritize.
"Who will it hurt if these temporary, seasonal employees come here?" Newman asks. "Nobody. And them not coming here hurts so many things: us, our employees, our clients and local, state and federal economies."
Companies were already under contract for spring, summer and fall work when they learned they wouldn't have enough employees this year. Many smaller companies are already closing because they've lost too many clients and their costs and structures have become unsustainable, Hickman says.
It's a spiral Newman fears. "I feel like lot of my managers are ready to throw in the towel," he says. "When that happens, things will really snowball out of control. We're basically in survival mode, just trying to keep the business alive."
Newman also worries about the message the U.S. government is sending American companies that legally hire foreign workers and to workers who follow the rules when coming to the United States. He says his company takes all the steps to hire legally in an industry that has been viewed as a magnet for those in the country illegally. "Now we're the people getting penalized," Newman says.
The landscape industry argues the H-2B visa program is a win-win situation for everyone involved, but says the way it's being administered is clearly hurting American companies and workers. Their message to those in Washington: "This is something that has to get fixed. It has to be predictable so that companies don't go out of business on account of it."
NALP, impacted landscape professionals and professionals from dozens of other industries are urging Congress to help by providing permanent cap relief that will offer reliant businesses a predictable source of legal seasonal labor when efforts to recruit American workers fail. As for this year, "NALP will continue to push for the release of more visas," Hickman says.