Magical Fall Mums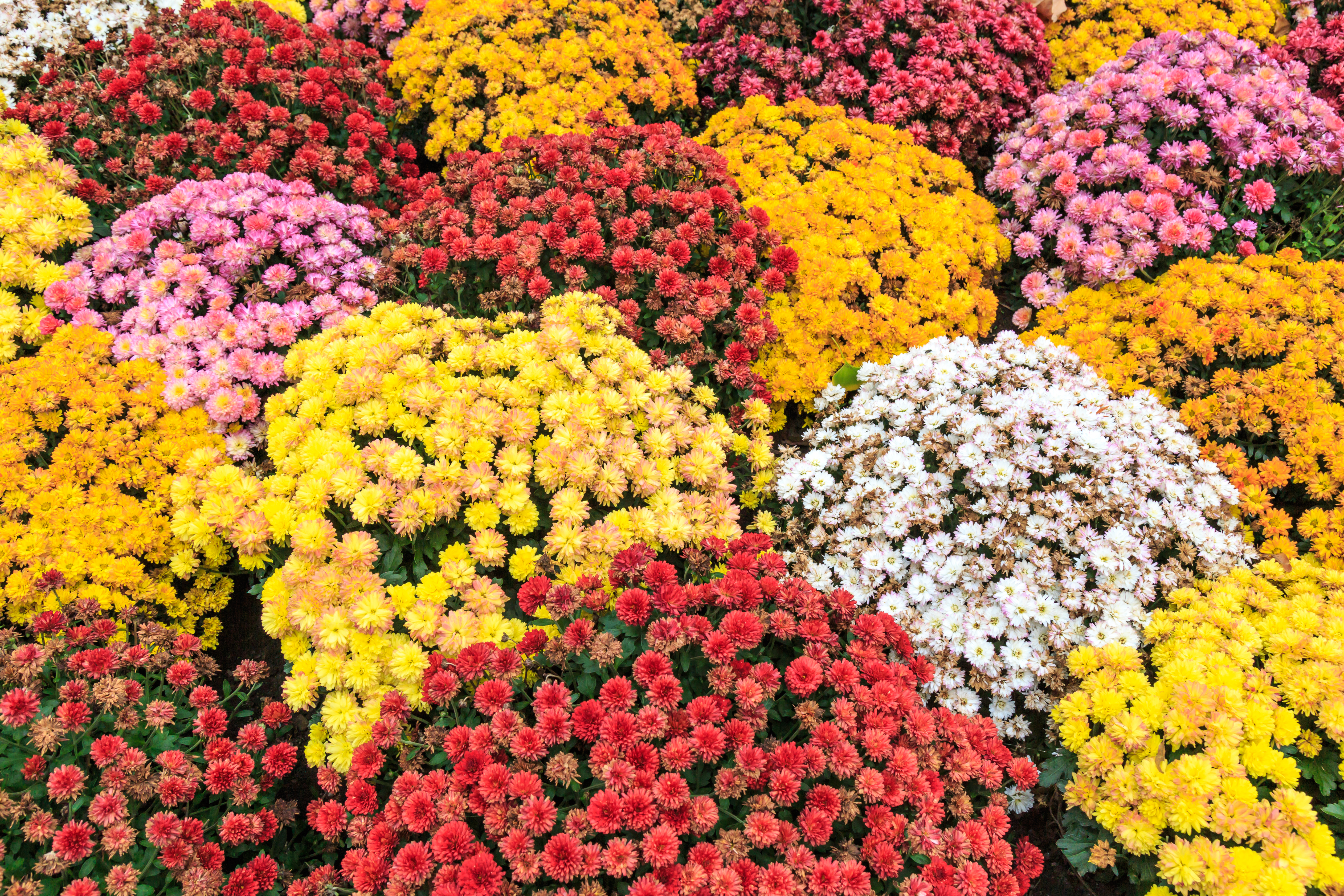 Keeping your landscape basking in color during the year's cooler months doesn't have to be wishful thinking. Chrysanthemums, also known as "mums" are our favorite fall flower because, not only do they come in an abundance of colors that can complete most seasonal design palates, they are frost tolerant and require little maintenance. Ready to take the mum plunge? Here are some professional tips to get you started.
How to Buy
Selecting the right mums can present many first-time buyers with option overload. Do not worry because there are few bad choices when it comes to purchasing mums. You will find a variety of selections including:
Single: One of the most common varieties, these have a flat center and rows of petals
Pompom: Rounded with several small blooms per stem
Cushion: Bushy, low growing plants that yield arrays of mid-sized blooms
Anemone: Short petals surround a raised cushion-like center
Spider: Characterized by long, curled petals that droop resembling the look of spiders atop stems
Spoon: Spoon-like petals surround the center
With color options from pinks to rusts, it can be tempting to pick a mum in every color to adorn your fall landscape, but an overabundance of assorted colors may look a little haphazard to your landscape design. Consider selecting plant colors to complement the rest of your landscape. For instance, if you have a lot of greenery, consider mums that will add pops of color. If your yard has brightly blooming trees, you may want to complement the trees' color scheme.
Many novice plant buyers are tempted by the plants laden with flowers. Resist the appeal of purchasing the most colorful plant of the bunch and instead look for the plants that have more buds than blooms as those will generally thrive longer in your landscape.
If you are planting late in the season, note that not all mums are created equally when it comes to surviving the cold weather. Hardy mums and garden mums are better options than less cutting mums or non-hardy mums if you are ushering in the season later than others.
A local nursery or garden center can help with plant selection.
How to plant
Because of their decorative nature, many homeowners treat mums as annual flowers, those utilized once for their burst of color; however, most mums are actually perennial plants, meaning if planted and cared for correctly, they will bloom every year. If you want to enjoy their beauty annually, plant mums in the late spring through early fall so their root systems can grow strong and stable before fall frosts – the earlier the better to help ensure overwintering success. Early planting will also prevent a condition known as frost heave, which occurs when the plants are shoved out of the soil due to the winter freeze-thaw cycles.
Mums should be planted about 18" apart, though that spacing can adjust up or down depending on the size and species of the plant. And these plants love sun! At least four to six hours of sun daily will help them produce lush plants and bountiful flowers. They also perform better in well-drained soil.
How to maintain
Make sure your mums stay hydrated by watering them throughout the season. Early in the season mums will require about an inch of water per week and a bit more as they grow. When they are blooming they should be watered every couple of days. In addition to hydration, plants need nourishment, which should come to them in the form of fertilization. Mums will require fertilizer throughout the year, including monthly during growing season. Once the ground freezes, add a layer of mulch at the base to provide insulation and help prevent frost heave. Over time, dead stems will develop but wait until the spring to manicure your mums.
Mums are as synonymous with fall as pumpkin spice lattes! Like the seasonal beverage, these plants are versatile and can be customized to meet individual tastes. So grab a hay bale, a few decorative gourds, a scarecrow and a few varieties of mums to welcome fall!
To create your perfect fall outdoor space and learn more on seasonal plants, find a landscape professional near you.