8 COZY OUTDOOR NOOKS TRENDING TODAY
Presented by the National Association of Landscape Professionals in partnership with

Annie Thornton, Houzz
These photos (shown in reverse order of number of saves) were uploaded in 2017 and saved to the most ideabooks. From a hidden tropical patio to a sunken fire pit, these outdoor areas conjure visions of soothing relaxation and comfortable gathering.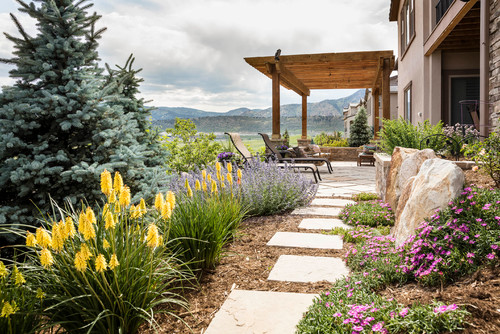 8. Offset pavers meander along the edge of this Colorado side yard, leading to a covered seating area that overlooks a stunning natural vista. While part of the seating area sits right off the house, the pergola and secondary seating nook are sunken and offset from the door, providing more privacy from the house while also maintaining easy access.
A mix of low-water and native plants frame the path, including 'Baby Blue Eyes' spruce (Picea pungens 'Baby Blue Eyes'), red-hot poker (Kniphofia sp.), 'Walker's Low' catmint (Nepeta 'Walker's Low') and ice plant (Delosperma cooperi).
Photo by Svensk Fastighetsförmedling
7. Outdoor nooks can still feel intimate and secluded, even if they aren't all that remote. Check out one of this year's most popular balconies, nestled in an urban Stockholm neighborhood. The cushy pillows and blankets, along with the string lights, create a feeling of cozy intimacy that's sure to go up when the sun goes down.
6. A balcony off the bedroom is one of the most intimate and secluded outdoor spaces, and this one on Guarujá Beach, Brazil, hits the mark. Unfinished Accoya wood, a long-life modified wood product, is used for the decking.
Concrete walls complement the wood's color and the project's simple, modern aesthetic. Perforated panels along the balcony's edge can be closed for privacy and protection.
5. While located in a small backyard of a couple's home in North Yorkshire, England, this small seating area features all the elements of a secluded outdoor nook, including a roaring fire pit, dramatic landscape lighting and high privacy walls.
The gas fire pit is made of reclaimed York stone. Trained English holly (Ilex aquifolium 'J.C. Van Tol') lines the fire pit, underplanted with foamflower. The planters came from a local blacksmith, who fabricated them from powder-coated galvanized metal.
Photo by Craig Reynolds Landscape Architecture
4. Another secluded nook sits at the end of a long garden walkway. The brick walk appears to cut through a mass of Philodendron 'Burle Marx', a tropical ground cover planted on both sides of the walk as if it's carving a path through an overgrown jungle. Epiphytes, palm trees and other lush, leafy plants surround the seating area, creating a secluded tropical refuge.
Photo by Really Nice Gardens
3. Outdoor dining can be cozy and intimate, as we see with this cafe-table setup in a London backyard. The high wood fences are attractive and also create privacy from surrounding neighbors, while a planting bed frames the dining area and separates it from the rest of the backyard.
Photo by ROCHE+ROCHE Landscape Architecture
2. Even though it's often a group activity, gathering around an outdoor fire pit has a feeling of intimacy. This feeling is enhanced in this Sonoma, California, garden with a freestanding fire pit set out in a mass of grasses away from the home. A sculptural rusted steel wall adds a feeling of enclosure around the fire pit, shielding those who sit around it from the surrounding landscape.
1. The element of discovery elevates the appreciation of a space, because it makes you happy to have happened upon such a special, tucked-away treat. While many gardens include seating in their side yards, this one does so in a dramatic way, with a tunnel of trained wisteria covering and enclosing the gravel path that leads to a solitary lounge chair at the very end. Foliage droops down from the vines, and hydrangea flowers are mounded over the path's edge, somewhat obscuring the path and view beyond.
More from Houzz
Set the Mood With Charming Outdoor String Lights