PATTERNED PLANTS THAT MAKE YOUR LANDSCAPE POP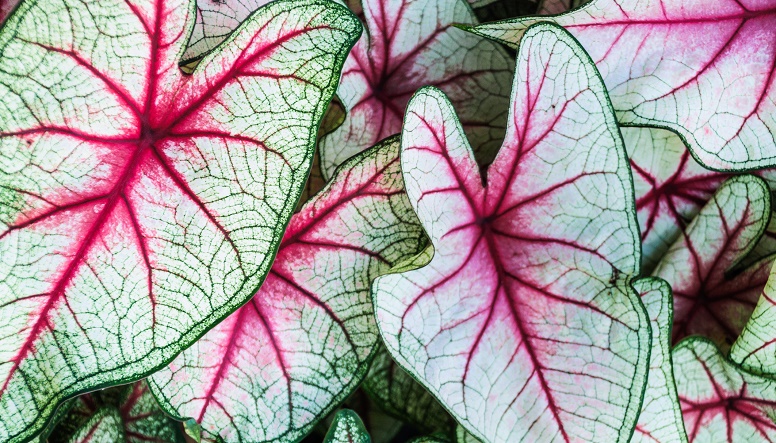 Bold, whimsical, and intriguing: plants with spots, stripes, and patterns of color and/or texture are all the rage this year. Patterned plants are a fantastic way to liven up your landscape—but it can be a little tricky to know just where they'll look their best. Try these artistic suggestions to achieve stunning and sophisticated patterned plant effects in your yard and garden.
Perk Up Shady Spots with Boldly Patterned Plants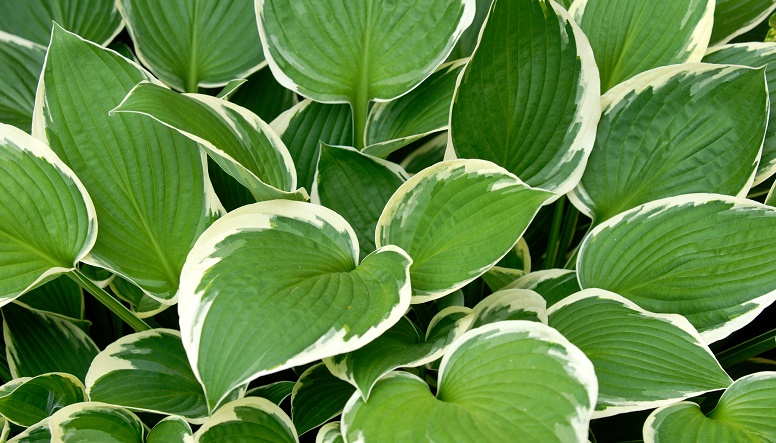 Whether under a tree or in that little corner on the north side of your home, shady spots can be a challenge to fill. When a shade garden contains nothing but shades of green foliage, the eye tends to pass it over—especially in those periods of time between flushes of blooms. Adding a few (or many) plants with bold striped or speckled foliage can make all the difference, mimicking the way sunlight dapples a forest floor and drawing the eye to your shady haven.
Hostas, of course, are well-known and beloved for their seemingly infinite variety of patterned leaves, with dapples, stripes, and edges ranging from purist white to yellow to chartreuse to smoky blue-green. (Don't forget that pattern extends beyond color to texture as well. Consider mixing in hosta varieties like Halcyon for its elegant, smoothly curving parallel veins or Elegans with its unique rugged look.) Coleus; coral bells; variegated lady ferns and/or impatiens; and caladium with their huge, tropical-looking "painted" leaves are more great choices for shady areas.
Give Your Beds a Boost with Patterned Borders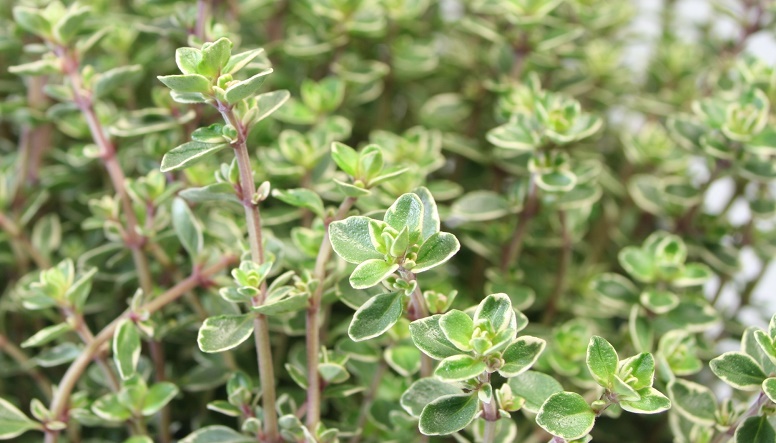 Adding a brightly patterned border plant can introduce a little zing into a garden bed without creating visual overwhelm. Try ornamental grasses such as zebra grass or variegated Hakone grass. If you like daylilies, try a border of the low-growing Golden Zebra ® daylily with its perky, striped leaves. Or, for an edible twist, try variegated lemon thyme or Silver Sabre sage (Salvia officinalis 'Silver Sabre'.)
Choose a Bright Patterned Plant as a Garden Focal Point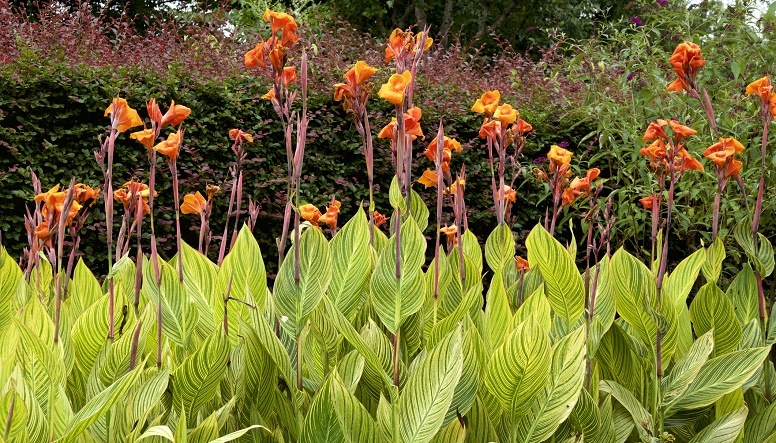 Another wonderful way to spotlight patterned plants in your garden is to make them the star of the show. A single boldly-patterned shrub, or a cluster of taller plants, can create a statement that is truly a garden standout. Try canna lilies (such as Bengal Tiger with its flaming gold flowers and bold, two-toned green-on-green leaves; or the outrageous, rainbow hued Phaison), or Japonica ornamental corn with its green, white, and pink striped leaves.
Another fantastic plant sure to turn heads in your garden is the Persian Shield. This Myanmar native's iridescent, deep-violet patterned leaves bring to mind another 2018 garden trend: the Pantone Color of the Year Ultra Violet.
Add Winter Interest to Your Garden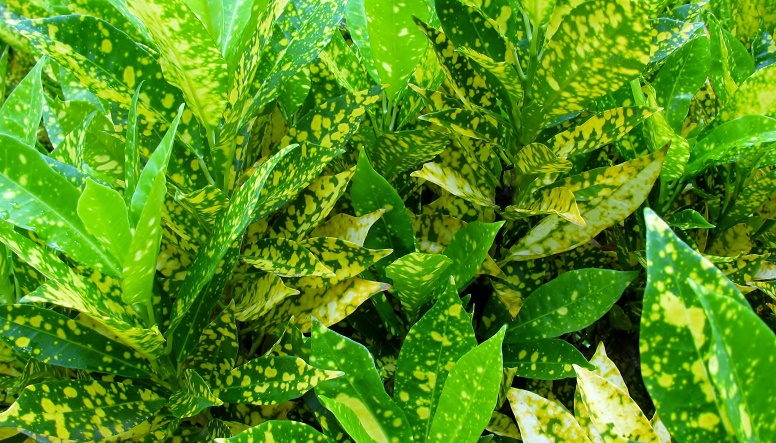 The end of summer doesn't have to mean the end of the line for patterned plants in the landscape. Far from it: there are plenty of winter-hardy plants whose eye-catching color and textural effects will help make your yard intriguing and attractive all year long.
Here are a few winter-interest plants to consider:
Variegated winterberry (Ilex verticillata 'Sunsplash') – Related to the English holly, this North American native sports a similar look without the invasive qualities of its cousin. This shrub is dioecious, meaning it bears male and female flowers on separate plants, so if you want the bright red berries you will also need to plant a pollinator variety such as 'Jim Dandy.'
Variegated spotted laurel (Aucuba japonica) – This shade-loving southern beauty has leaves that look like they have been sprinkled with gold dust, and is tolerant to drought, poor soil, and air pollution.
Any of the striped or variegated bamboos whose patterns extend to the shaft of the plant (be sure to check with your local landscape professional before planting any bamboo; some species can be invasive.)
Many species of birch, such as paper birch, river birch, and Chinese red birch, have beautifully textured or patterned bark that stands out in a winter landscape.
Evergreen lady ferns (Athyrium ) are hardy in zones 4-8; the leaf itself is beautifully patterned, but you can take it a step further and choose a variegated cultivar such as the silver and burgundy Red Beauty.
Harry Lauder's walking stick, or corkscrew hazel (Corylus avellana 'Contorta') is a small tree or shrub whose twisted, contorted branches create interesting patterns not only in the branches themselves but also as cast shadows on turf or snow.
Ready for Some Landscape Fun? 
Whether you want to create an outrageously bold and whimsical look in your garden, or just want to give your yard a little pop here and there, with all the species and cultivars of patterned plants available in 2018 you are sure to find selections that fit the bill. But don't let your imagination stop here. Your local landscape professionals know exactly which plants will do well in your yard or garden. Ask them to recommend the best boldly patterned plants for your area for a show-stopping display in sun or shade!