TIPS FROM THE PROS FOR GREAT FLOWER POT DESIGN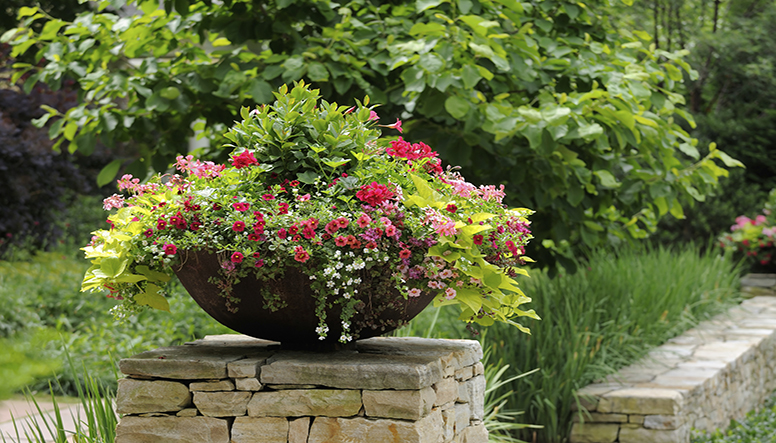 Notice a difference in the flower pots below?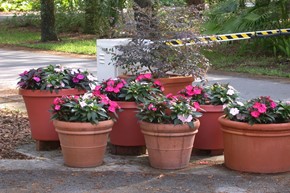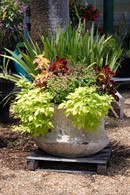 The pots on the left are pretty.The one on the right is spectacular! 
While most any flowers set in a container are attractive, there are a few simple tips the pros use to turn ordinary plantings into extraordinary ones.
The magic behind focal-point planters is the inclusion of three key plant proportions in your pot. Great designs include a "thriller," a tall plant usually with a strong statement of form and color, "filler," plants that fill the space hiding the soil and "spiller" that weeps over the edge of the pot. The result is a three-dimensional arrangement that looks opulent, mature and permanent. The options for plant material are almost unlimited but should match your sun and shade locations, recognizing that most plants with showy flowers require some bright sunlight for at least part of the day and that colorful foliage plants are apt to work better in shaded locations. 
Thrillers
Almost any plant with an upright growth habit can be a thriller - and in some cases you can even provide a support structure and use a climbing vine as your thriller. In selecting your ideal thriller, consider the size of the pot you will use: shallow pots won't demand much thriller height, while larger pots will. Here are some great options to consider for thrillers:
Purple fountain grass
Aztec grass
Flax lily
Iris
Lady palms
Dracaena
Topiary pruned evergreens, or Eugenia
Ferns
Snapdragon
Bromeliad
An interesting piece of drift wood
Filler
The pot "filler" can be a single plant species or a mixture of several different plants. Bright colors tend to make the pot look larger, while darker colors sometimes visually disappear in the shade. The display will last longer if you avoid plants like mums that have a rather short bloom life; instead, choose plants that can be pinched back and will continue to flower or produce more foliage.  Fillers might include:
Pentas
Moss rose
Pansy
Petunia
Polka-dot plant
Alyssum
Coleus
Moss
Various cooking herbs
 Spiller
Spillers can be part of the "fill" of the pot but should have a weeping or cascading growth habit allowing them to cascade over the side of the planter. Plants with interesting color or variegated leaves make a strong statement. You might consider:
Variegated ivy
Sweet potato vine
Trailing begonia
Moss rose
Weeping junipers
Trailing rosemary
Fig ivy
Creeping Jenny
Trailing lantana
A trip to the local nursery will provide a preview of the best options for your climate and location.  Although you might find some great designs ready to go, buying plants and mixing them into your own design can be fun and very satisfying. If you are not sure what will work best for your mix of sun and shade, don't be afraid to ask. Professionals with a passion for plants can help you fill, spill and thrill! Or for a truly professional look, contact a landscape professional to bring your vision to life.