WORKING HARDSCAPES INTO YOUR LANDSCAPE DESIGN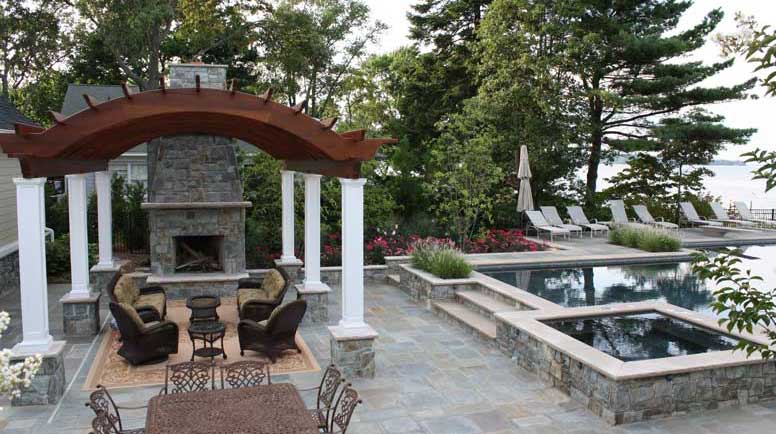 Adding hardscaping to your landscape is an ideal way to expand your home's living area outdoors. For those who are unfamiliar with the term, hardscaping is the addition of non-living materials into a landscape, materials such as wood, stone, metal, and concrete. Hardscape features serve as compliments to your "softscaping," that is the trees, shrubs, and flowers that provide natural beauty. Some hardscaping projects are smaller in scope and others are grand, taking significant planning and installation time. Regardless, each hardscape feature adds beauty, style and value to your landscape. Let's explore a few of the basics that can provide a new dimension to your yard.
Patios – The Foundation for Outdoor Living 
Patios offer delightful places for entertaining, getting lost in the company of a good book and memorable family together time. Not only will a patio increase your outdoor living space, it also increases the value of your home.
Patios can serve as an extension of your home if installed close to an entry in and out of the house, rather than an island in the middle of your yard. Most homeowners want to enjoy some privacy with their patios and so generally situate them in the back of the house; however, some social families are now choosing to install patios in the front of their homes as a convenient gathering spot for impromptu neighborhood socials. Patios in the front allow neighbors to see when the welcome mat has been rolled out and when the grill is open for business.
There are a number of material options to consider when building a patio. Concrete can be poured or assembled from precast modular slabs, and can take on a variety of textures and colors. Gravel is inexpensive and easy to install, and accordingly is a top choice for anyone seeking an informal patio that can easily accommodate curves and requires little more than the occasional raking to maintain. Baked clay bricks and interlocking concrete pavers are small, modular, and lightweight enough to easily fit into place single handedly. Dense stone, such as bluestone and granite, resists flaking in freezing weather and isn't likely to sprout a crop of slippery moss. Softer, more porous limestones and sandstones are good choices for warm, dry climates.
Decks – Rooms with a View
Decks offer the same wonderful opportunities for enjoying your outdoor space as patios do,  but higher up. They provide vantage points from which to appreciate your landscape. When adding a deck, it's best to consider the style of your house so that the addition either blends in with or complements your home. If you are looking to maximize space opportunities in your yard, the installation of a tall deck provides space underneath for a patio, a hot tub or a play area for kids.
There are a host of material options for deck construction. Cedar decking is durable and versatile, and it does not transfer heat, ensuring you can walk barefoot no matter the temperature. Pressure-treated decking is now the most popular choice of deck materials in the U.S., mostly due to cost. Most pressure-treated decking comes with a warranty against decay and termite damage. Composite decking is made up of a combination of wood particles and plastic. It can be embossed with a wood-grain pattern that provides a very natural appearance. Typically the color will lighten over time. Consider buying materials that contain preservatives to extend the color life. Vinyl decking can get very hot underfoot during the summertime. It is more expensive than wood, but it requires less maintenance as it does not absorb stains.
Fire Features – Old Fashioned Hot Spots
Fire features are one of the most common trends in outdoor living today. They offer a warm—both literal and figurative—place for friends and families to gather. They help create a mood for outdoor living, a mood that can be energized, relaxing, or romantic.
Fire places are the ideal option if you plan to entertain smaller groups of people or if you are looking for a strong statement piece for your patio. Fire pits, generally the less expensive fire feature, are ideal for more casual entertaining, particularly of larger crowds.
Either feature should be easily accessible from the house and adjacent structures on the property like a guest house or pool house. If you have a swimming pool or hot tub, think about placing the fire feature nearby for additional light.
There are a lot of material options to consider for fire pits and fire places, materials such as brick, stacked stone, river rock, flagstone, fieldstone, limestone and concrete. In addition to a variety of material considerations, there are also several fuel sources for outdoor hot spots. A wood burning or propane-fueled fire feature can be built almost anywhere in the backyard. They are typically free-standing permanent structures that don't require any utility connections. If you choose a gas fireplace, a gas line will need to be installed which may affect the appropriate placement for the feature.
Water Features – Offering Peaceful Tranquility
Water features offer instant calming effects. Ponds, lakes, fountains, water walls and waterfalls provide statement pieces to any landscape. Understated water features can bring small garden plots to life just as larger water features more readily compliment vast spaces. Small pails and interesting pots of water can be used to house aquatic plants or a small table top fountain can be added if you enjoy the sound of running water. For more bold statements, finish off your outdoor kitchen area with a water wall or koi pond which will undoubtedly keep children occupied while dinner is being prepared. If you are looking for ways to attract wildlife – like birds, frogs, and butterflies - to your yard, a pond may offer just the enticement they need.    
Pergolas, Arbors, and Trellises – Providing Form and Function to your Landscape
These three vertical structures add dimension, height, and beauty to your landscape.
Pergolas are landscape features that provide cover and shade for walkways or sitting areas and offer simple structure to allow vines to train and more elaborate structure to support outdoor speakers, strings of light, fabric or even ceiling fans. They often help define an outdoor living area and can be incorporated into a more permanent structure like a deck or installed as a freestanding accent in a yard.
Arbors and trellises are both architectural structures that provide support for climbing vines. In addition, they offer focal points that make impact statements in your landscape design.   Arbors are generally the smaller of the two structures and most often used to define a garden entry point or provide parameter separation.
There are a host of other hardscape projects, like the addition of retaining walls, stone pathways and fencing that can all add decorative and practical benefits to your landscape. As you consider what hardscaping options will best support the way in which you plan to use your outdoor living space, talk with a landscape professional who will provide guidance and offer ideas to support and enhance your vision.
Photo courtesy of Walnut Hill Landscape Company and Michael-Prokopchak.