CONTAINER GARDENS FOR KIDS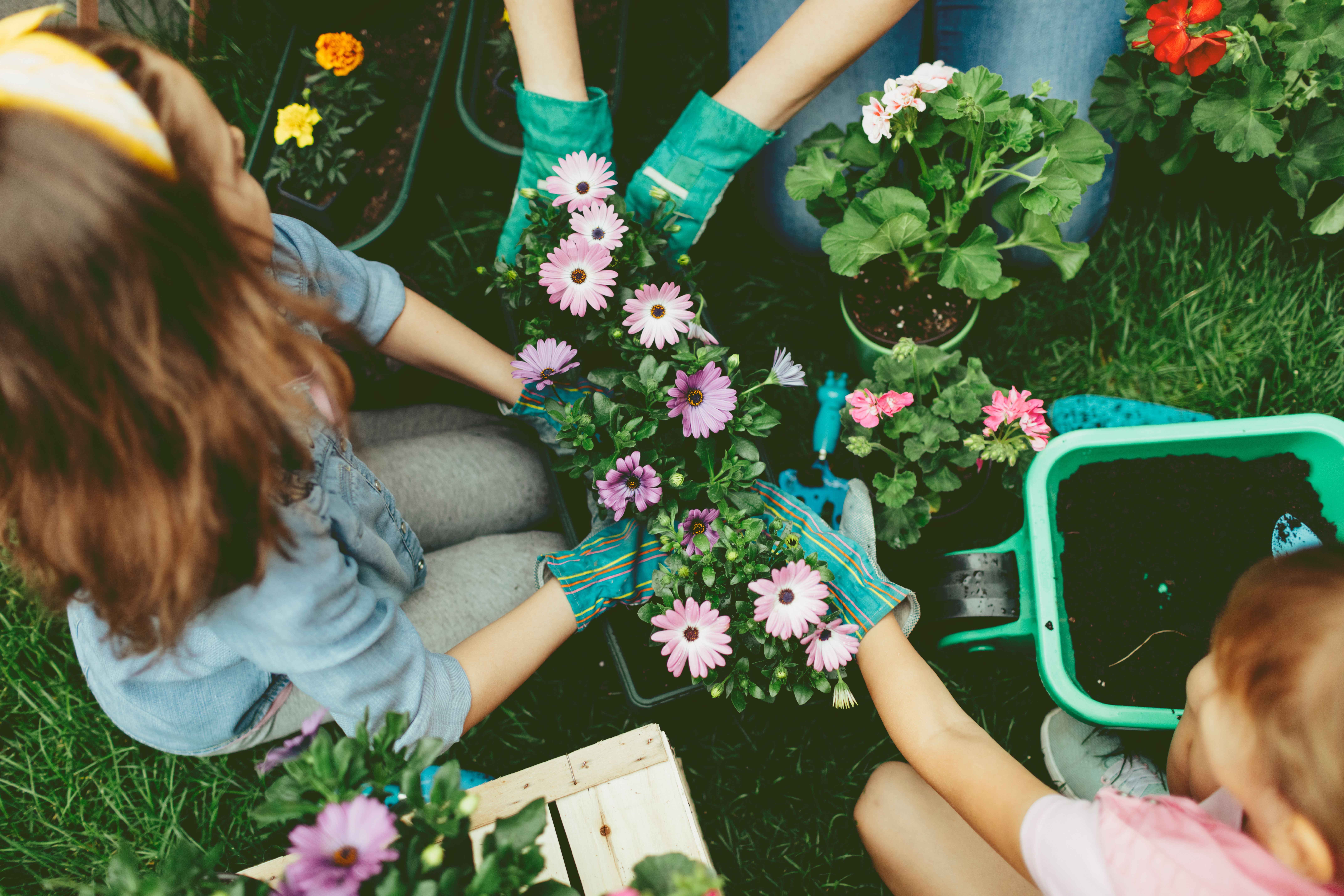 Ever think about giving your child their very own garden? A container garden is a perfect way to get kids interested in gardening by giving them their own domain – without the commitment of a plot of land in your yard. Maybe you're short on space or don't trust your child's budding green thumb enough to feel comfortable handing over a plot of your garden to them. Either way, container gardens are great alternatives to a traditional garden, especially when working with little landscapers. Container gardens include anything that is grown in a vessel rather than in the ground, ranging from a classic flower pot to vegetables grown in a repurposed wagon. They are the perfect size for children to begin their gardening careers and allow for added creativity and fun in the choice of unique and crafty containers.
What to grow in container gardens?
Most herbs grow easily in shallow soil that is less than 10 inches deep, so fair quite well in container gardens. By planting herbs in a container that is close to the house (i.e. on a deck or patio), you'll have easy access to your harvest to use in cooking! Kids will love running outside to pick some fresh herbs for dinner or even to use in teas.
Lettuces also grow well in slightly deeper container gardens and are fun for kids because they grow so quickly! As an added bonus, even picky eaters are often more likely to eat their veggies if they are involved in the growing and preparation of the food.
Potatoes are like buried treasure for children when harvest time comes around. Your child will have a blast digging in the soil for the tubers after having helped them grow. Plus, potatoes can be used in so many kid-friendly meal options that your little ones will be counting down the days until they can make their own mashed potatoes or French fries.
Think you can't grow fruit in a container? Think again. Strawberries (in addition to being delicious) add a pop of color to any garden. Grow them hanging in painted tin cans to make the most of your space and bring your garden "to the next level."
Flowers are an obvious choice but taking them out of a terracotta pot into an outside-the-box container adds some extra fun to your garden! The best types of flowers to plant depends on the season and location of your containers, but tulips, pansies, zinnias, petunias, and hyacinths are all excellent container garden choices to brighten up your yard.
Finding the perfect container: When thinking about the perfect container in which to plant, there are a few things you'll need to consider – size, depth, and drainage. Your plant's roots will need to be able to grow in a container that is the proper depth and drainage is very important so that water doesn't pool at the bottom of the container.
As mentioned above, tin cans are perfect for growing strawberries and an awesome way to upcycle something that would otherwise be trash. The cans should be on the bigger side. Poke holes in the bottom for drainage and at the top to tie the string to hang the cans. Let your child decorate the can to their heart's desire and voila! The perfect strawberry-growing receptacle.
Traditional wooden container gardens don't have to be boring! Repurpose an old wagon or a whiskey barrel to use as larger containers with a rustic feel.
Even many of your child's old toys can be used as containers for planting! Truck beds, doll heads, and even plastic dinosaurs can be used to pot succulents, herbs, and smaller plants.
Rain boots make great spring planters as you celebrate both April showers and May flowers at once! Hang a row of colorful boots on your fence and plant your favorite springtime blossoms. (To get the whole family involved, hang old boots belonging to each family member – the different sizes will add a nice decorative touch, as well as get kids excited to see the progress of "their" flowers in their boots!)
Container gardens can be a fun way to get kids involved in their own gardening project without turning over an entire plot of your yard to their experiments. They can also add an element of pizzazz with the endless opportunities for creativity and decoration. AND they're space savers – sounds like a win-win-win!