MAKING YOUR BACKYARD YOUR HAPPY PLACE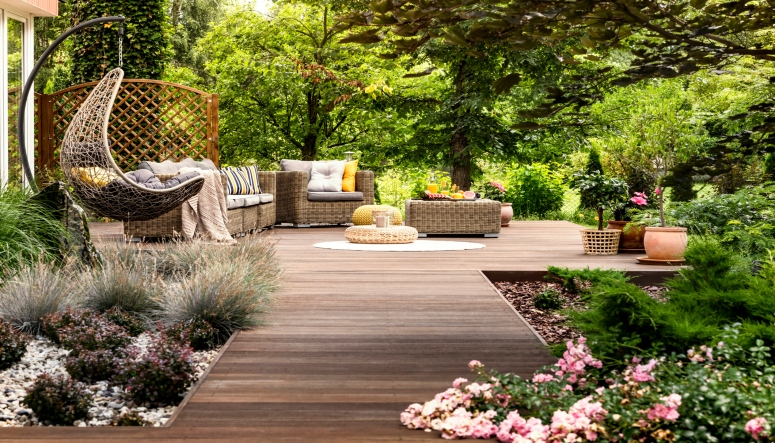 Close your eyes and picture your dream backyard. Does the image invoke a sense of peace and calm? Does it conjure up thoughts of a safe place for your family, including your four-legged family members? Or does it bring to mind images of fun, filled with laughs and memories to be made with friends and family? An ideal backyard is your space to escape from life's stressors and where you can enjoy life, enjoy nature and find your inner joy. While the concept of the ideal backyard is universal, how it plays out and what's important differs from person to person. With the help of a professional, your dream landscape can come to life, either all at once with one massive transformation or you can bring bits and pieces of the vision to fruition over time.
Create Cozy Outdoor Entertaining Areas
Enjoying a night home is easy with an outdoor entertaining space. Perfect for a game night with friends, family cookout or date night, outdoor spaces help you unwind after a long day. Create your ideal entertaining space with comfortable seating paired with a firepit or fireplace for those cozy nights on the patio. To amp up your space, consider lighting options, such as string, spot or colored lights, high-tech sound systems or personalized accessories like a horseshoe pit, bocce ball court or giant Jenga. Outdoor entertaining takes the ho-hum out of a night at home.
Maintain a Healthy, Lush Lawn
A healthy lawn is the foundation for a beautiful backyard. Not only does a lush lawn provide children and pets with a safe space to play, but research shows that a 50-foot by 50-foot lawn produces enough oxygen for a family of four – meaning a healthy lawn is not just another pretty place! From proper fertilization and aeration to mowing and seeding, there's a lot that goes into improving the look and health of your grass because, after all, your lawn is the root of backyard happiness.
Heat Up Your Nights with an Outdoor Kitchen
Tired of the same old, same old around the kitchen stove? Try spicing up your cooking options. No, we aren't talking chili powder or garlic; we mean spice up the scenery.  Extend your functional living space outside and start with creating an outdoor kitchen.  An outdoor kitchen can be as simple as a grill and a table, or high-end with built-in cooking appliances and high-tech accessories like smokers, hibachi grills and pizza ovens. Outdoor kitchens add sizzle and flair and redefine eating out.
Grow a Gorgeous, Colorful Garden
Aromas and pops of color in a gorgeous garden are certainly front and center in most people's dreams of backyard perfection. There are endless options to fill your property with colorful flowers and plants. When creating a garden, choose plants based on their sunlight requirements, as well as watering and space needs. Consider plants native to your area, as they tend to require less care to thrive. If you're short on yard space, try creating container gardens with layers of texture and unique pots to bring color to your yard without taking up too much real estate.
Reduce Noise with a Calming Water Feature
Noisy roads and noisy neighbors can certainly put a damper on your backyard oasis. Adding a lively pond, trickling fountain or pondless water feature can help drown out other noises and transform your backyard into a serene sanctuary. With new technology features, various materials and unique styles to choose from, there are endless creative ways to add a water feature to your backyard. Whether your yard fits a large pond or simple fountain, water features bring zen-like energy perfect for a relaxing retreat.
Create an Oasis with Privacy Shrubs
If you are looking for the ultimate retreat from overly neighborly-neighbors or just want to bask in serene solitude, consider privacy shrubs. These "green fences" are attractive options for those who want seclusion or need help in reducing noise, and they're perfect for defining a space. With the help of elegant evergreens, vines, grasses or perennials, you can create a secluded retreat. Boxwoods and Arborvitae are go-to privacy plants because of their dense, year-round foliage, but a local landscape pro can recommend other options that grow well in your region.
Dreams do come true – and not just from wish-granting fairy tales. Find a local landscape professional to bring your backyard dream and vision to life to love your landscape.