OUTDOOR KITCHENS ARE GETTING HOT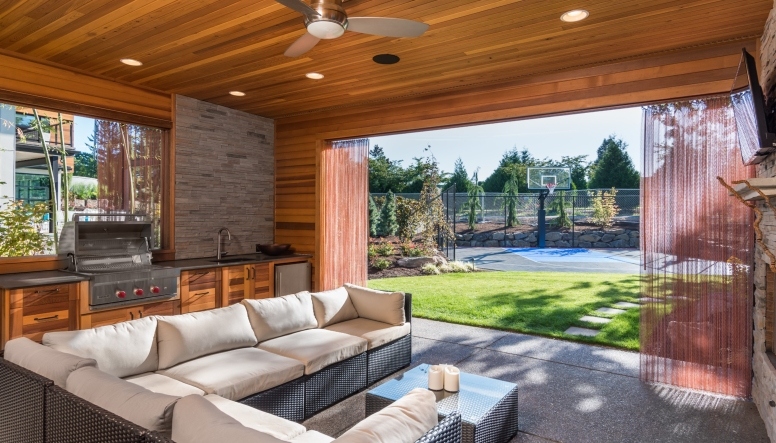 With spring around the corner, it's time to start thinking about outdoor cooking season. Before you dust off your rollaway charcoal grill this spring, reimage how you can entertain guests this season – starting with a new outdoor kitchen. In recent years, with the growing popularity of outdoor entertaining and influence of cooking programs, homeowners have traded in their cart grills for luxury built-in models. Today's outdoor kitchen options have transformed how families and friends gather and with the help of a professional, you too can create a dream outdoor space.
Create The Perfect Outdoor Kitchen
Whether you have a grand backyard or cozy space, there's an outdoor kitchen that fits your needs. As you plan your outdoor kitchen, here are three features to impress your guests.
Tech savvy accessories
High-end technology can transform how you use your outdoor kitchen. From wood-firing or hibachi grills to smokers and industrial ranges, the options are endless when it comes to choosing how to cook outdoors.
You can also amp up your outdoor kitchen with the help of lighting and sound systems. Many outdoor spaces now include wi-fi enabled smart lighting and sound technology to bring more ambiance for a romantic night or a fun evening with friends.
Smart storage solutions
Outdoor storage is top-of-mind for many homeowners. A stylish bar cart is a simple solution for your storage needs. While entertaining, a bar cart also provides flexibility when needing an extra food preparation area. Another popular trend in landscape design is multi-functional features that can serve more than one purpose in outdoor spaces. For example, built-in bench seating with storage and weatherproof cabinets can provide function and style without sacrificing space.
Lifestyle approved material
When creating a functional, long-lasting outdoor kitchen, homeowners should choose products that can withstand the elements, temperature extremes and everyday use. Native hardscape materials, including stone, brick and tile, are recommended, and durable stainless steel products are a favorite for outdoor use. For countertop surfaces, granite is a popular option, but concrete and tile are good cost-conscious options, too. With all of these options, homeowners are sure to find durable materials that fit their personal style and budget.
Your dream outdoor kitchen and entertaining space is closer than you think. Find a local landscape professional today to bring your vision into a reality.