THE 7 MOST COLORFUL ANNUALS FOR SPRING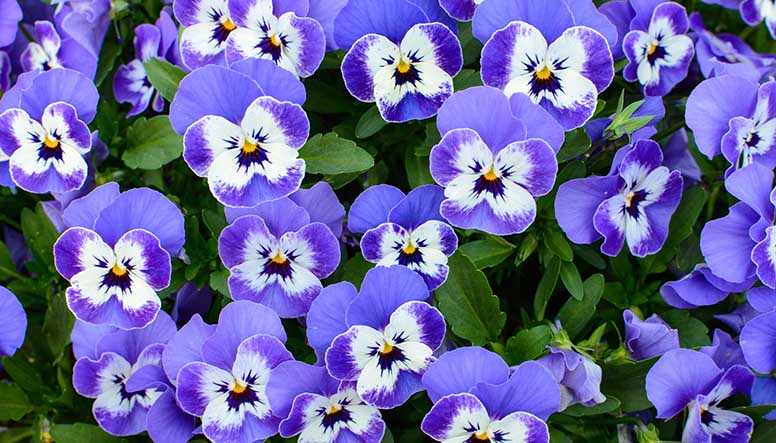 Few things bring a greater sense of joy to the gardener's heart than watching the first bright flower buds of spring burst open to transform the dull gray landscape of winter into a celebration of color.  Spring bulbs are, of course, renowned for this. But alas, it's just not practical to plant the entire garden in hyacinths and tulips. And sometimes by the time we realize the need for a patch of color in a particular spot, the fall bulb planting season is already past.
Annuals to the Rescue
One super easy solution is to turn to annual flowers to satisfy your spring flower fix. While it's true that many annuals are too tender to plant out in early spring, you might be surprised at the variety of cold-hardy annuals available at your local nursery or garden center. 
Here is a list of the best, early-season annual flowers and colorful foliage you can plant right away to bring an instant burst of color to your garden this spring:
Annual Phlox
This sweet little plant may not be easy to find but it's worth the search. Like perennial phlox, its 1" blooms come in a rainbow of colors including white, purple, pink, red, salmon, and variegated specimens. Annual phlox blooms its heart out all through the spring and early summer. Most varieties stand 6-12 inches tall and wide, but a few reach up to 20". Trailing varieties are charming in containers. Despite being a Texas native, this plant does best when kept well-watered. Some varieties are quite cold-tolerant and may even overwinter and/or re-seed themselves in milder climates.
Flowering Kale
Another beautiful foliage plant, the "flowering" types of kale are just as hardy and frost-tolerant as their vegetable counterparts. Kale is actually a biennial plant grown for its ruffled white, pink or purple heads of foliage; most gardeners pull the plants in the fall and never see the yellow flower heads. Flowering kale grows 12-18" tall and does best in rich garden soil and full sun.
Lobelia
The intense blue and purple blooms of lobelia make it one of the most popular annual flowers. These low-growing, deer resistant flowers make outstanding border and container plants and are likely to attract butterflies to your garden. Plant them in full sun to part shade. Keep in mind that while they are cold-tolerant, lobelia will not withstand frost, so wait until after last frost before planting out in the garden.
Pansy/Viola
The sweet little faces of these beloved flowers belie their tough nature; pansies and violas are remarkably frost tolerant. Even temperatures in the mid-20's will usually not kill them, although like all plants it's important to harden them off if you are setting out nursery-grown pansies. Pansies and violas are available in a huge range of colors and look great in beds and containers.
Petunia
Perhaps no annual flower is more widely planted than the petunia, and for good reason. Their big, bright blooms come in a dizzying variety of colors and make stunning displays when planted en masse. While they love sun and will happily bloom all summer long, these easy-care plants are also remarkably cold-tolerant. However, even though they will occasionally tolerate a very light frost, it's safest to wait until after your last frost date to plant them out.
Snapdragon
A perennial plant in zones 7-11, snapdragons are grown as an annual in more northern zones. They tolerate cold well and have even been known to tolerate a light frost, although it's best not to count on it. Snapdragons are well loved for their unique "dragon's mouth" blooms and rainbow presence in the garden. Varieties ranging in height from 6 inches to 3 feet are readily available in garden centers.
Dusty Miller
Ok, we threw one in that's not colorful but it helps colors pop! Grown for its distinct silvery foliage, Dusty Miller adds an interesting contrast to colorful spring blooms. Or, pair it with whites and very pale pinks, blues and violets for a frosty spring display. This plant actually does tolerate a light frost, so it's a good choice for impatient Northern and high altitude gardeners.
Looking for More Spring Flower Ideas?
With proper care, the cold-hardy annual flowers listed above will bring a quick splash of spring color to your garden no matter what part of the country you live in. However, there may be additional selections that are particularly appropriate for your region. If you are looking for something beyond the ordinary or want something especially well-suited to your local conditions, ask your landscape professional for suggestions.