BIG BACKYARD IDEAS ON A SMALL BUDGET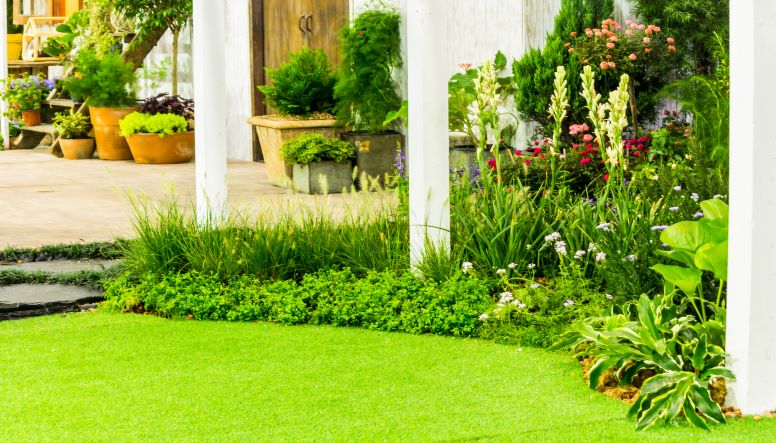 Is your backyard in need of a major upgrade? Regardless of what a "dream yard" means to you, an amazing backyard makeover is within reach without breaking the bank. Check out four budget-friendly ideas to help transform your current backyard into your dream outdoor space.
Create an outdoor entertaining space
Yards are the backdrop of lifelong memories with family and friends. Adding seasonal décor or comfortable seating to your existing yard is a small change that can make all the difference in sprucing up your entertaining space.
One of the most important yet inexpensive considerations when creating an outdoor entertaining space is lighting. If you have low tree branches or poles around your porch or deck, hanging lanterns can work well. These inexpensive lights require no wiring and provide the perfect amount of light for guests.
Build a private green oasis
Perhaps your dream backyard is more of an escape from the hustle and bustle of everyday life. Sure, you could put up a fence or a wall, but using greenery and plants to add privacy to your yard is inexpensive and attractive. While there are a variety of plants that can add the perfect amount of privacy to your backyard, large potted plants are a budget-savvy way to add coverage to your yard. Choose shrubs such as small hydrangeas, flowering perennials or bamboo to create a dense screen. Hang a few lines of twinkling string lights and sit back and relax in your own private backyard oasis.
Grow a colorful garden
A vibrant garden filled with colorful flowers can make your entire backyard come alive. In terms of types of plants and flowers to choose, the opportunities within your budget are endless; your backyard is a blank slate. While appearance is certainly a large part of a colorful garden, it's also important to consider the basics, sun and water, when selecting plants. A landscape professional or garden center can provide guidance on which flowers will thrive, and look great, in your backyard.
Of course, color is important, too. When choosing a palette for your garden, consider which colors will be displayed together alongside shrubs, trees or your home to add picture-perfect balance to your yard.
Maintain a lush lawn
Perhaps the simplest way to transform your backyard is to utilize the tools and techniques already available at your fingertips to create a lush, green lawn. The key to a beautiful lawn is to mow at the right time and right height, apply a fertilizer to supply nutrients your lawn is lacking and aerate to allow air and moisture into the soil. Work with a lawn care expert to determine the needs of your lawn and maximize your backyard budget.