USING SMALLER SIZE WATER FEATURES TO CREATE A BIG IMPACT IN YOUR LANDSCAPE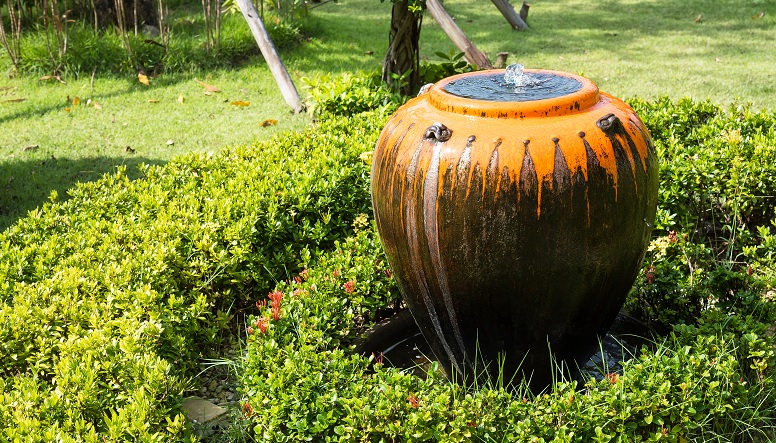 Imagine having your own personal spa space to enjoy any time you like. The soothing presence of water in your landscape can transform an ordinary backyard into a relaxing retreat where you can restore and replenish body, mind and spirit.
In the past, installing a backyard water feature was often very costly or took too much work to maintain. Now you'll be happy to know there are many exciting options for homeowners who want to add the sights and sounds of running water to their landscape without creating undue work or needing to spend a mint. In fact, you may be downright amazed at the possibilities available to you.
Landscape designers and professionals are taking water features to new – and smaller -- dimensions using unique configurations. This may be the season you decide to install a low-maintenance, smaller size water feature in your landscape.
Why Install a Backyard Water Feature?
You and your family may be surprised by the big impact and unexpected benefits even a small water feature can bring to your landscape:
Enhanced wellness – The sound of running water can help you relax, lowering blood pressure and improving mental and physical health.
Wildlife sanctuary – Almost as soon as your water feature is installed, you'll notice more wildlife visiting your property. Depending on your geographical location, you can expect to see birds, butterflies, dragonflies, and other thirsty creatures.
Create a statement – Whether it's the sound of the running or falling water, or the overall appearance and design, these small features can create a big splash in your landscape. They can also increase the value of your property (as opposed to a swimming pool or pond, which can decrease value and are more difficult to maintain).
Smaller Size Water Features to Suit Every Style
For a big impact in a small space, consider some of the popular types of water features trending right now. Which one is best for you? 
Pond-less Waterfall – Enjoy the soothing sounds of water cascading over rocks without danger to small children and pets. Falling water is captured in a reservoir and recirculated by a hidden pump with no need for a standing water collecting pond at the bottom.
Vase Fountain – A ceramic vase fountain can be installed in a space as small as 16" x 16" and is great on patios and decks. The vase itself is a work of art and becomes the focal point wherever you choose to locate it.
Retaining Wall Waterfalls – Combining a waterfall with a retaining wall is a very smart way to turn a practical landscaping solution into a showpiece. You can choose the size of the waterfall, the type of wall material, and even add LED lights for a spectacular evening display.
Bubbling Rock Fountains – Perfect when you want the sound of moving water in a space as small as 36" x 36," a single "rock" is set on a collecting basin and surrounded by stones to hide the reservoir. A pump keeps the water bubbling out of the top of the rock for a constant soothing sound. It can easily sit right on a deck or patio.
Column Fountains – This is a larger version of the bubbling rock system, needing about an 8' x 8' area to properly contain. A close-set grouping of two or three rock-like columns stand sculpturally as water splashes from the tops and cascades down the sides to the stones below. Designed to look like natural rock, they appear ancient and have an elegant aura that creates a soothing, tranquil setting.
Copper Tree Fountains – These striking fountains are truly original art pieces for your landscape. From day to night, you will be fascinated as the water dances from one metal leaf to the next while lights reflect the shimmering water droplets. You only need a space about 48" x 48" for one of these handmade, one-of-a-kind fountains. They are also great on patios and decks because the entire system is installed as one working unit.
If you've always wanted the relaxing sight and sound of water right outside your door, consider installing a smaller size fountain this season. Call a landscape professional in your area to discuss your options. You could be enjoying the benefits your own personal waterfall before you know it!