8 WAYS TO GO GREEN WITH A LIVING WALL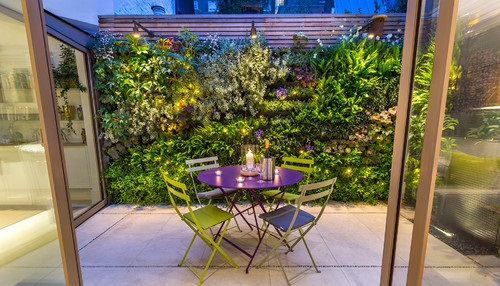 Presented by the National Association of Landscape Professionals in partnership with

Lauren Dunec Hoang
There's something about having a lush tapestry of living plants in an unexpected place — clinging to the side of a city building or growing up the wall of a living room — that gives vertical gardens a real wow factor. But living walls are not only beautiful garden features, they can also be real problem solvers. In small urban lots, vertical gardens expand the planting area without taking up floor space. They can be focal points for outdoor rooms or act as living art indoors.
Whether you're interested in adding a bit of green to your courtyard, dining room or home exterior, here are a handful of ideas for using vertical gardens to bring more green to your living space.
Increase curb appeal
A living wall that covers part of your home's exterior will ensure that your house stands out on the block — in a good way. The designers of this San Francisco Victorian home planted a living wall around the lower doorway, which the owners use as the main entry. All the plants are within arm's reach, making maintenance far more manageable than if the living wall were to extend up the entire front of the house.
Break up a white wall
A living wall dripping in foliage breaks up the monotony of white walls and also creates a lush backdrop. In this courtyard garden in New York City, a living wall creates a jungle-like backdrop for an outdoor lounge. In summer the living wall also acts as natural air conditioning, helping to absorb heat and cool the courtyard.
Create living art
Small enough to be hung just about anywhere, these mini vertical gardens made up of a mix of rooted succulents are easy to care for and highly versatile. Hang a pair next to the front door, place one at the end of a narrow city balcony or use some to decorate the side of a garden shed.
Plant a garden without losing floor space
Vertical gardens can be a space-saving solution for tight city gardens. For the small outdoor terrace in London seen here, the planted walls save space for dining outside while still giving the feeling of being in a lush garden. Illuminating the vertical garden after dark extends its use into the evening.
Create a space for calm
In this New York City meditation studio, a wall of preserved moss and ferns looks like a surprisingly realistic representation of the verdant walls of a river canyon. One could only imagine that a visitor to the studio would leave feeling refreshed and revitalized after taking time for quiet contemplation in this environment. A similar tranquil feel could be created at home with a moss wall hung in a home studio, living room or bedroom.
Spruce up the side yard
Often a neglected area, a side yard can be turned into a meditative walkway or garden destination with the addition of a living wall. Here, swaths of plants in shades of green and purple create a beautiful wave-like pattern.
​
Create a focal point
Use a wall of living plants as a focal point and enjoy the view both inside and out. Planting thick swaths of a single plant variety or foliage color in each swath creates a pattern that is bold enough to be appreciated from across a room.
A close-up of the same wall, in the backyard of a home in Richmond upon Thames, United Kingdom, shows the bands of foliage used to create a striking diagonal pattern. The wall also screens the second half of the stairway leading to an upper terrace.
Add life to an apartment
Bring the peace of the outdoors in by adding a vertical garden to your living room, dining room or bedroom. Living plants help filter the air and energize the room as they grow and change. This Slovakian apartment features golden pothos..
​
More from Houzz
See More Modern Home Designs Here
Illuminate Your Backyard With the Perfect Outdoor Lighting