BRING THE HOLIDAY SPIRIT TO YOUR YARD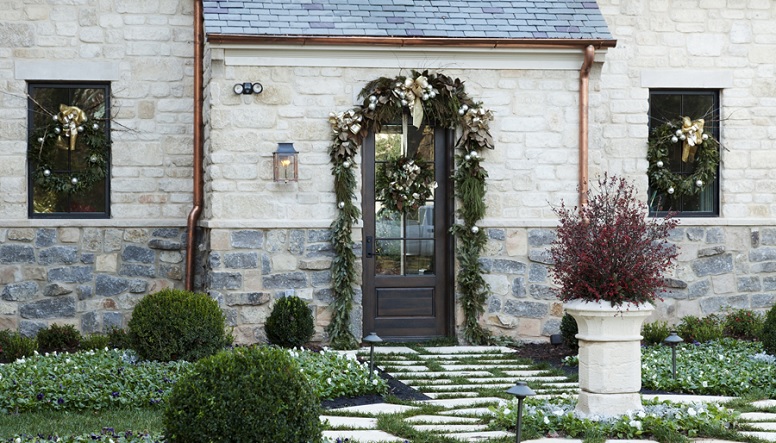 The holiday season is upon us and decorating is in full force! Many homeowners focus their decorating energy on the inside of their home, but there is so much opportunity to expand the holiday spirit to your yard with the help of a professional. Use this guide to help inspire you and make your neighbors (red and) green with décor envy.
Break Wreath Traditions

A traditional evergreen wreath can be timeless, but why not put a modern twist on a classic décor item? Some modern twists include wreaths made ofpinecones, moss, grapevine and fruits/berries.
Let There be Light

Illuminate your yard with a variety of lighting elements to create magical, whimsical looks.
Spotlights: Bring focus to your favorite decoration or light up the front of your house with spotlights
Tree Lighting: Carry the light throughout your yard by lighting up your trees. Use the classic lighting practice of wrapping your trees in a circular fashion to mimic a Christmas tree or light a tree from within by wrapping the interior branches
Creative Lighting Elements: Change up the classic lighting and line your porch or fill your lower lying trees with mason jars filled with lights
Make your Planters Year-Round Design Elements

Don't let your container gardens and window boxes go to waste during the holiday season. Deck them with natural elements like pine cones, greens, magnolia leaves, berries and Birchwood.
Fancy Front Door Fun

Natural garland is an ideal way to add festive fun and warmth to your home as it adds dimension and a festive flair to your seasonal décor. Drape garland around a door way or wrap it around pillars. Use a classic green or add some color with poinsettia garland.
Share the Ornament Wealth!

Ornaments are not just an indoor décor item. Hang them from your outdoor trees for an extra Christmas cheer touch. 
To liven up your home during the holidays, contact a local landscape professional to help you create dream decor.
Photos courtesy of Senske Services, Bloom Floralscapes LLC, and Ed Castro Landscape, members of the National Association of Landscape Professionals.