6 STEPS TO WORKING SEAMLESSLY WITH A LANDSCAPE PROFESSIONAL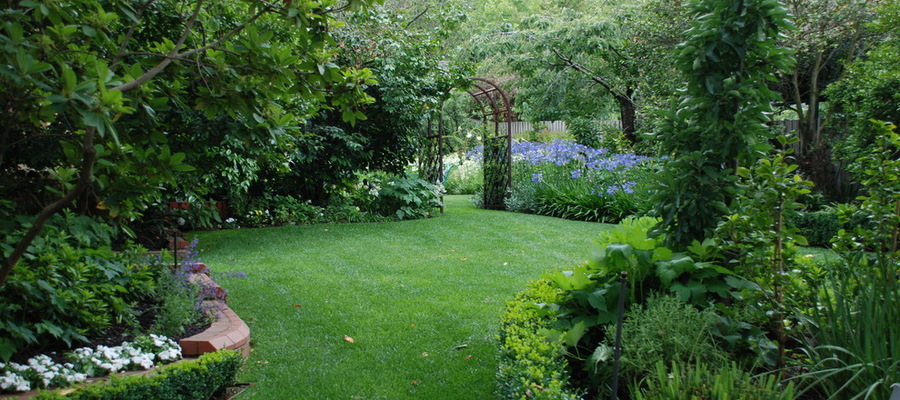 Presented by the National Association of Landscape Professionals in partnership with

By Lisa Frederick
Even if you can decorate a living area or bedeck a bedroom with the best of them, landscape design has a unique set of challenges that may leave you stumped. Not only does it require a totally different skill set from interior design, but it also changes and evolves over time — flowers wither, trees mature, shrubs grow and spread. And that's where a landscape pro can prove to be invaluable. Follow our tips for finding, hiring and working with landscapers to make your yard the envy of the neighborhood.
Determine which type of landscape pro suits your needs. Before you get started, you'll need to determine the skill set that best matches the scope of work you have in mind.
Landscape architects, who typically hold advanced degrees in their field, are trained to develop comprehensive structural and aesthetic plans that include hardscaping, water use, and drainage as well as plant selection and garden design. Plans may also include modifications to the exterior of the house as part of the overall exterior design.
Landscape designers may or may not have advanced training. They often specialize in the aesthetic and horticultural side of yard and garden planning, but many do structural work as well.
Landscape contractors implement the plans laid out by a landscape architect or designer. In some cases, a landscape contractor also provides design services. Depending on your vision for your yard, you may want to use any or all of these types of professionals.
Photo by Exteriors By Chad Robert
Set a budget. Just as with interior design and remodeling projects, have a firm idea of what you want to spend before you contact a pro. Not only will this give the landscaper a starting point and a helpful set of parameters, it will save both of you frustration down the road. You don't want to fall in love with sketches of lavish flowers and stately trees, only to find out they're beyond reach, and a pro doesn't want to waste time drawing up detailed plans that will later have to be scratched.
With a target cost in hand, a pro can also suggest creative solutions that may never have come into play otherwise, helping you stretch your budget to get the most mileage out of each dollar.
Scout out potential sources. Do you have friends whose gardens blooms with lavish color or seem to win "Yard of the Month" once a season? Ask whether they use professional help, and if so, put those pros on your short list. Local botanical gardens and homebuilders' associations are other good places to seek names.
Check licensing and references. Check for certification requirements in your area. This is especially true when it comes to elements with safety ramifications, such as decks and retaining walls. If certification is required for your job and your area, confirm licensure for every pro you consider. When you've narrowed it down to two or three finalists, get references from each and be diligent about checking them. If past clients are pleased, odds are you will be too.
Provide helpful documents. Although your landscape pro will conduct an initial site visit and walk-through at the outset of the job, he or she will most likely need a copy of your property plat in order to start work on your design, especially if there are building permits involved. You may also be asked to fill out a questionnaire or other information sheet to help the pro understand your needs and requests as thoroughly as possible.
Photo by Samuel H. Williamson Associates
Know the look you want. It helps to have at least a basic idea of your preferred style and maintenance level. Do you prefer formal gardens or a wilder, more free-form look? Do you want plants that thrive under benign neglect, or are you willing to take on specimens that need a lot of care and attention? Will you need paths, pavers or other hardscaping? How do you prefer to water? A little direction will help your pro fine-tune your options.
At the same time, allow room for creativity — your landscaper's imagination and expertise are the reason you hired him or her.
Be open to feedback and suggestion. And don't automatically nix plants you think you dislike; you may find that they gain a whole new appeal as part of the right overall scheme.
Establish a maintenance plan. Once the landscape crew has packed up their spades and shovels, you're responsible for keeping your yard in tiptop shape. If you'll be handling the upkeep of your garden once it's installed, your landscape pro should provide an outline of what tasks to prepare for, as well as when and how often to do them. If you'd rather hire a gardener to do the maintenance work, ask the landscaper for recommendations. Some companies provide both services; check whether this is the case.
More from Houzz
Fresh Ideas to Get the Deck of Your Dreams
Know What Type of Landscape You Really Want