8 FESTIVE IDEAS FOR WINTER CONTAINER GARDENS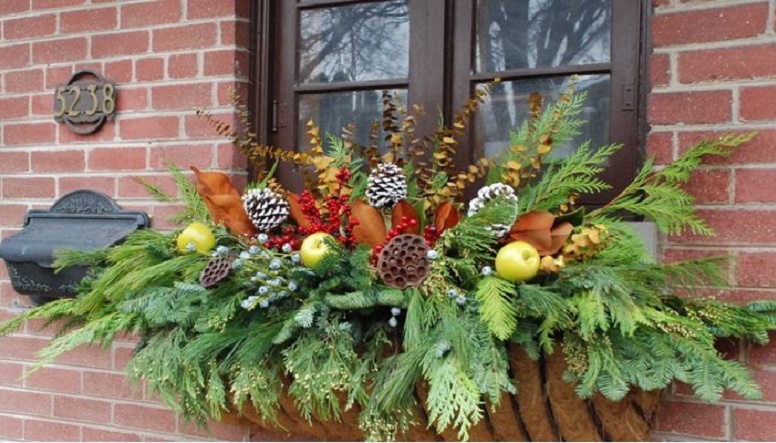 Presented by the National Association of Landscape Professionals in partnership with

Courtney Olander
With your summer container gardens no doubt long past their prime and the winter holidays fast approaching, it's the perfect time to spruce up your containers with some holiday cheer. From simple to ornate, here are 8 dazzling ways to add a touch of color and sparkle to your home's exterior this winter. To bring your idea to life, find a local landscape professional.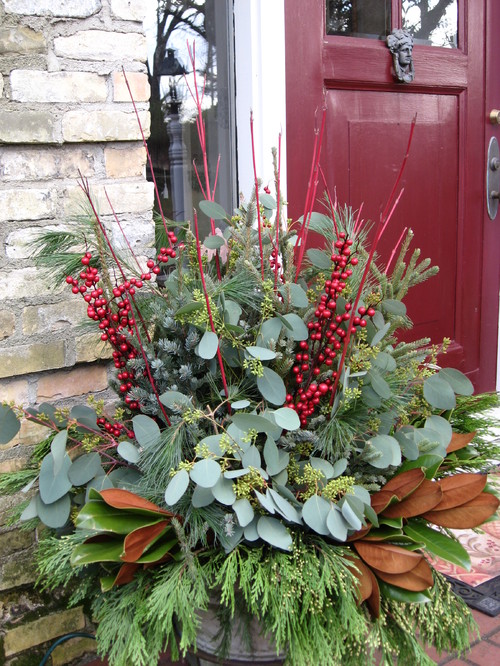 1. Seasonal branches and berries. If you live in a region where you brave months of snow and freezing temperatures, you may be thinking, "Yeah, right. I can't get anything to grow at this time of year." The beauty of a winter container design is, you don't have to. You can achieve a gorgeous container display using cut branches, twigs and sprigs of berries.
Here, we see a combination of eucalyptus, magnolia, white pine and incense cedar. The red stems of redtwig dogwood (Cornus sericea) and red winterberry (Ilex verticillata) pick up on the red door to complete a festive scene.
Tip: Tuck the twigs into the center of the design for added height and drama.
2. Festive vessels. Containers in a bright shade can also add color to winter arrangements. Here, the sprigs of winterberry and red butcher's broom (Ruscus sp.) echo the glossy red pots. White twigs accent the foliage of glaucous eastern white pine (Pinus strobus), while the leaves of bold southern magnolia (Magnolia grandiflora) and the Fraser fir (Abies fraseri) add texture and movement.
3. Oversized ornaments. If you're low on branches, or they're not your style, you can add ornaments to containers. Here, spheres in three different materials create a lively container vignette. If you're not into the red theme for the holidays, waterproof ornaments like these are a great way to use a different color scheme.
4. Architectural accessories. A metal trellis is a great way to give your container design more structure and prominence. Here, a metal sphere acts as the frame for a design that includes spruce and juniper boughs, a spray of redtwig dogwood and ornaments tucked around the base.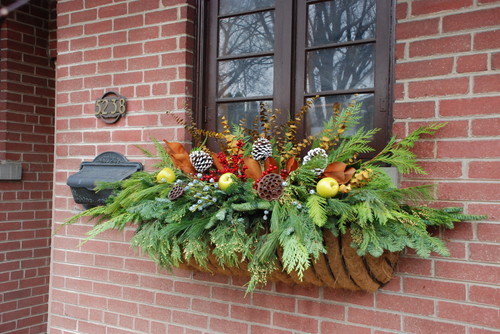 5. Tasty window boxes. You can also celebrate the bounty of the season by tucking in edible fruits. Apples (the ones here are artificial) give this window box a cornucopia feel, and natural lotus pods, pine cones and eucalyptus add interest in the center. Sprigs of eucalyptus add height. Noble fir (Abies procera), Port Orford cedar (Chamaecyparis lawsoniana), incense cedar (Calocedrus decurrens) and eastern white pine fill out the box.
6. Winter-blooming flowers. You don't have to start from scratch to create a gorgeous winter design. Here, a single juniper that can live in this container year-round is spruced up with bright red cyclamens and boughs of cedar garland, secured with irrigation spikes draped from the lip of the pot. Euphorbia 'Helena's Blush' fills out the container.
Tip: Cyclamen persicum is only winter-hardy to USDA zones 9 to 11. If your area teeters on the hardiness edge, keep the arrangement close to the house so it can benefit from the extra warmth emitted.
7. Trailing vines. Ivy is another great choice if you prefer your designs to have something living. The white birch branches bursting from the top here pick up on the variegation in this ivy variety. Pine boughs, false cypress greens, southern magnolia leaves and winterberry holly round out the arrangement.
8. Massed leaves and branches. If simple is more your style but you still want to enjoy your containers through winter, try tucking a group of magnolia boughs around three to five branches of Himalayan birch (Betula utilis var. jacquemontii). The effect is contemporary and festive, and the arrangement can last well into the new year.
More from Houzz
Photo Credit
Designing Nature Inc.

Austin Ganim Landscape Design, LLC

Adorn

Haute Botanics

Gigi McAdam Landscape Design

Burke Brothers Landscape Design/Build