15 Ideas for a Children's Discovery Garden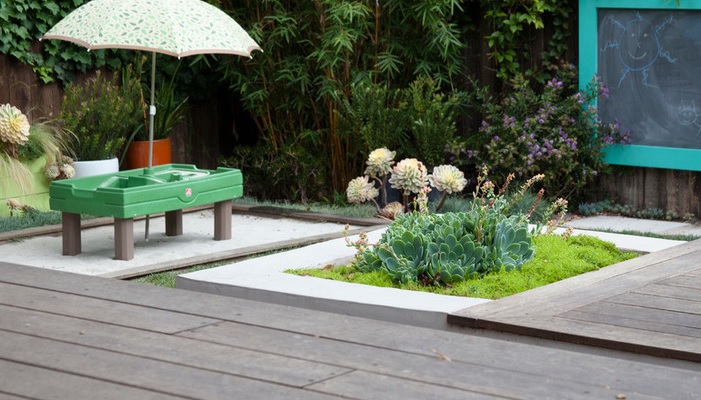 Presented by the National Association of Landscape Professionals in partnership with

By Laura Gaskill
Playing outdoors provides kids with physical activity and fresh air, encourages a love of nature and creativity, and can even help develop problem-solving skills. But the average big square of grass, while great for soccer matches, doesn't provide much inspiration for little ones looking for adventure. If you have the room, consider adding some connected nooks and crannies designed to pique curiosity and support imagination. Here are 15 ideas to get you started, from burbling brooks and play meadows to fairy homes.
1. Outdoor chalkboard. A big chalkboard hung on a fence or an exterior wall can keep kids busy. Want to try something a little different? Hang Plexiglas instead, and let kids paint on it with washable tempera and shaving cream — you can wash everything right off with a hose, so you can reuse the Plexiglas as many times as you want.
2. Sensory table with shade. If you have preschoolers, you've probably spotted a sensory table at your child's school — these kid-height tables are meant to be filled with water, sand or other materials (like dry beans) that kids will enjoy sticking their little hands into. Place the table in a shady area or use an umbrella to protect little ones from the sun as they play. On hot days try placing big chunks of ice colored with food coloring in the water table and let kids play with it as it melts.
Photo by Island Waterscape & Design Ltd
3. Burbling brook. A bit of running water can go a long way toward making your backyard feel miles away from civilization. The sound of a running stream, the feel of cool water on hot feet and curious hands pleases adults and children alike. Just remember that with young children at home, any water play must be supervised — even very shallow water, as shown here.
Photo by Helen Rose Wilson Garden Design
4. Tree-stump stepping stones. Natural tree stumps are a fabulous backyard accessory for kids. Line them up to make a meandering stepping stone path or circle them round to make a seating area. Smaller wood slices make great stepping stones for very young children.
5. Butterfly garden. Enchant children by attracting caterpillars and butterflies to your yard by planting milkweed, purple coneflower and other butterfly-friendly plants.
Photo by Ashley Camper Photography
6. Play meadow. Sure, regular grass is fine, but if you are tired of mowing, why not try something else? Some ground covers can provide a soft, springy surface that kids love running on, and they require little or no mowing.
If you do want to keep the grass, think about how much lawn your kids really use — a small patch may be fine, leaving more room for other creative elements like water, sand and edibles.
7. Outdoor chalkboard with rock climbing holds. This is no ordinary chalkboard wall — those little holes are actually holds for rock climbing. Just make sure children don't draw below while other kids climb!
8. Truck play zone. Any blank area in the garden can be quite easily turned into a "work zone" for toy trucks; simply leave a patch of dirt bare and plunk down some trucks and digging tools.
Photo by The Brickman Group, Ltd.
9. Edible beds with inviting paths. Kids get excited about eating their vegetables when they've helped grow them in their backyard. Growing a mix of fun edibles (like sugar snap peas and mint), soft and touchable plants (like lamb's ear), and fresh flowers meant for cutting means there is always something interesting to do in the garden.
Stock an area nearby with kid-size watering cans and make clearly marked paths so kids know where to walk (and where not to).
10. Garden art. Colorful sculptures and statues tucked into hidden nooks and crannies throughout the garden delight children. Kids can also get involved in decorating the garden by painting rocks and making plant markers.
11. Natural play area. A small dug-out area filled with sand and bordered with natural stones makes an inviting play area for young children. Add other found natural elements, like logs and wood slices, and plastic animals to complete the scene.
12. Sand pit now, veggie bed later. This is such a smart idea if you don't want to commit permanently to a sandbox in the backyard: Build a raised veggie bed and fill it with sand instead. When your children are older, you can have the sand hauled out and fill the bed with soil.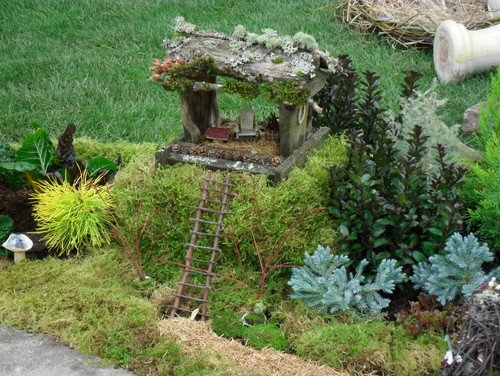 Photo by Plan-it Earth Design
13. Fairy house. Small children are enchanted by other wee things, and the idea of a garden fairy house can be especially appealing. You can buy them, but it can be more fun (and is certainly more cost effective) to make one yourself using found natural materials.
14. Swiss Family Robinson tree house. Inspire imaginative play with a rustic tree house made for outdoor adventures. This one was created using scrap wood and includes a bucket on a pulley — perfect for passing secret messages and other things up to those in the tree house.
15. Camp-style entertainment zone. A classic fire pit and picnic table are gathering areas the entire family can enjoy together. Having a casual, inviting outdoor space like this makes it more appealing to eat lunch outdoors in nice weather, or to head back outside after dinner for s'mores and songs around a blazing campfire. Just be aware that the ashes stay hot in fire pits for quite a long time — so keep kids away, even if it's been a while since the last fire.
More from Houzz
Bring Out a Kids Table for Children to Play
Fire Pits for the Whole Family to Gather Around