PICK YOUR FAVORITE: SHEDS FOR EVERY KIND OF GARDEN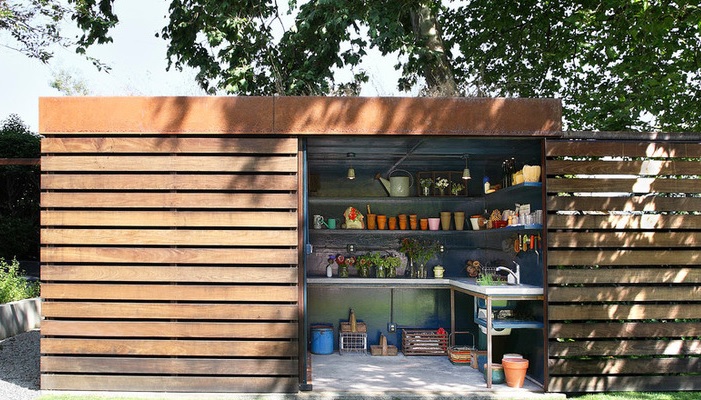 Presented by the National Association of Landscape Professionals in partnership with

By Lauren Dunec Hoang
A garden shed chosen to match your home and garden does more than just declutter your yard. It can act as a backyard focal point for your landscape, provide an opportunity to express your personal style, and create an inviting destination for repotting, starting seeds and other garden tasks. Whether you're adding a new shed or gussying up an existing one, take a look at these 10 ideas for garden sheds with real personality.
1. Classic. For most traditional and cottage-style gardens, it's hard to beat a classic chocolate-box garden shed with wood siding and a shingle roof. If you're going for a custom-made shed, select the pitch of the roof and gable details to match the home. Paint the shed the same color as the house, or get a hit of color in the garden by painting the shed a bright hue or adding a colorful bench outside. Details such as a Dutch door and potted plants surrounding the entrance make the shed all the more charming.
Photo by SHED Architecture & Design
2. Contemporary. The modular design and horizontal wood slats give this shed a more modern look that would work well for contemporary gardens. This particular structure is designed to house two side-by-side storage units, each accessed by sliding doors. In front, the door slides open to reveal a potting station and garden tools.
Around the back of the shed, the rear door opens to a unit for bikes, boat paddles and other sports equipment.
3. English Cottage Sweet as can be, this robin's-egg blue shed sits perched on a small rise and is surrounded by flowering perennial beds. Give an existing shed the English cottage garden treatment by repainting it gray-green, blue or teal, adding details such as shutters or a scalloped trim, and planting a flowering vine, such as climbing roses, clematis and honeysuckle, to ramble up the side.
4. Earth-friendly. Add a green roof to your shed to increase growing space and create an attractive focal point when viewed from above. Not all structures support green roofs. They require a sturdy structure to support the weight of soil and plants, plus a moisture barrier and drainage system. It's best to work with a specialist to help design a shed with a green roof or update an existing structure to support one.
Photo by O'Connor Brehm Design-Build
5. Dutch Colonial. Designed to match the home's front entrance, this picture-perfect shed features a hipped, shingled roof, curved arch over the entryway and a Dutch door painted the same shade of blue as the shutters on the main house. To personalize a shed kit, look for ways to add custom details that tie in with the home, such as painting it in a color to match or replicating architectural details such as shutters or window boxes on a smaller scale.
Photo by Sheds Unlimited INC
Country. Classic barn-red siding, white trim and sage-green carriage doors turn this shed into an attractive focal point in a country-style landscape. To further a rural theme in a contemporary way, plant the area surrounding the shed with swaths of native grasses and wildflowers for the look of a natural meadow.
7. Chic. To give a basic shed an upscale makeover, use building materials and architectural details that would normally be reserved for the main home. For example, this structure in a Baltimore backyard looks more like an elegant cottage than a tool shed. The architects used crisp, white board-and-batten siding, a standing-seam metal roof, a decorative cupola and windowed carriage doors to give this shed some real stature in the backyard.
Photo by Princeton Design Collaborative
8. Rustic. Keep wood siding unpainted for a more woodsy look for your shed, and position the shed where it will be partially concealed under the boughs of trees or behind shrubbery. Constructed out of cedar siding and a galvanized metal roof, this storage shed in a Pennsylvania garden looks rustic but modern. Details such as the angled notch at the back as a modern interpretation of a bay window and the use of galvanized metal for the construction give the design a contemporary edge that would work as well in a woodland setting as an urban backyard.
9. Colorful. Use a garden shed with a coat of bright paint on the sides, door, window box or trim to cheer up a plain corner of the backyard or tie in with colorful garden beds. Warm hues like red, terra cotta, orange and tawny gold look particularly inviting in colder climates or those with frequent rain and overcast skies. Vibrant blues, violets and lime green also work well as accent colors, and they can complement garden beds of almost any color.
Bring color details into the interior of the shed to make it feel warm and inviting.
10. Urban. Tucked into a side yard next to a Santa Barbara, California, home, this 90-square-foot shed acts as a combination workshop, storage space and area to store recycling bins. The space-maximizing design works to take advantage of every square inch, perfect for a small-scale suburban or city backyard. The homeowners used a mix of new building materials, such as corrugated Plexiglas, wood boards and salvaged windows to build a shed that both fits their needs and tight space.
The roof and one side are constructed from corrugated Plexiglas, allowing plenty of sunlight to shine through and illuminate the workstation. This material, or an off-the-shelf skylight, could be added to a section of the roof of an existing shed to add more natural light to the space.
Steal space-saving design tricks such as taking advantage of wall space to hang tools and having areas beneath workstations double as storage. Here, the recycling bins tuck into the nook left on the exterior by the workshop table.
More from Houzz
Shutters in Every Style to Decorate the Shed
Siding 101: Learn About the Top 9 Materials