GOODBYE MAN CAVE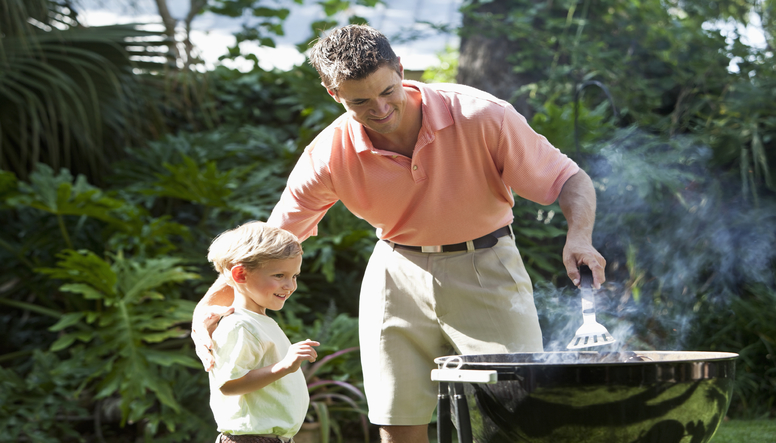 Man caves served their purpose at one time in recent years. They offered men in homes across America the chance to create their own domain, sacred spots free of chintz fabrics, flowered wallpaper, and scattered bowls of potpourri. Well these former bastions of manliness have gone the way of payphones and TV antennas. The new hot spot for men is the backyard! With increasing frequency homeowners are turning to the outdoors as extensions of their homes. So it's time to make a new man plan – and help dad fall in love with his outdoor space. 
Step up the cooking accessories. Let's face it; dads love to grill.They take to igniting charcoal briquettes and changing propane tanks like starlets take to the red carpet. Help fuel dad's passion for outdoor cooking by upgrading his cooking space. What about having a pizza oven installed?  Or an outdoor fireplace or fit pit for new styles of outdoor cooking? If you already have an outdoor kitchen, consider a new appliance he may have had his eye on.  An outdoor refrigerator for the ultimate ease of outdoor entertaining? Or a hibachi grill would be a welcome treat for sure. 
Help dad relax. Give him a little encouragement by making an outdoor oasis that helps him say "ahhhh." How about a hammock nestled in the shade of two statuesque trees or a glider that he can enjoy with a good book? Ready to take relaxation to the next level? Consider having a water feature installed so dad – and the rest of the family – can enjoy the tranquil sounds of running water or imagine the wildlife that will take up residence in small pond. 
Install a games' green. Lawns are for enjoyment and what better way to enjoy them then making them the foundation for endless family fun? If your family is known to enjoy some spirited competition from time to time, consider creating a spot dedicated toward outdoor games. Install a boccie court or carve out an area for wicked games of croquet.  If you will be croquet regulars, talk with your lawn care experts about installing special grass types, such as Zoysia and Bermuda, that will be ideal for family fun. 
Is dad a gadget guy?  If dad loves the latest technology toys, he will love an outdoor sound system or even an outdoor projection system that will allow him to enjoy a family movie night beneath the stars or host a football viewing party for his buddies this fall. Or if he might want a more functional gadget, how about a new lawn mower? Or an edger or stringer to help dad win the battle of nicest looking lawn on the block? 
Of course the best treat for any dad is time spent with his children. Don't underestimate the value of a meal as a family out on the deck or catching fireflies at dusk. This Father's Day, think about all the ways you can help dad own his role as the boss of the backyard.