UPCYCLING OLD TOYS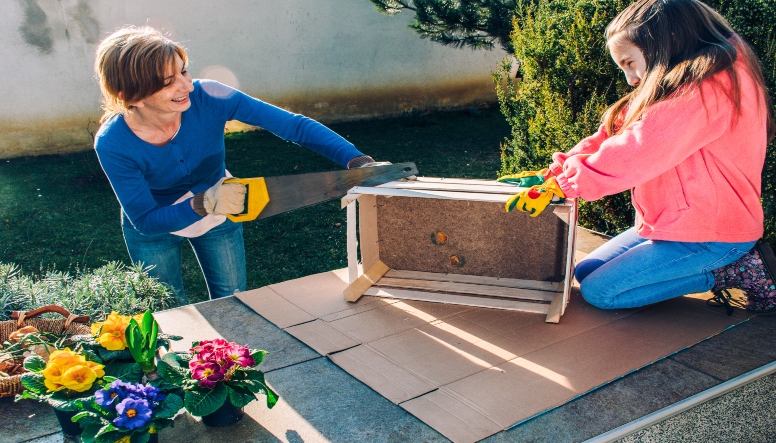 Many families have a rule when it comes to decluttering their homes and getting rid of old toys – when one toy comes in the house, another has to go. But where, exactly, should that toy be taken? The obvious options include donating the toys to a shelter or giving them to a younger friend. Another option you may want to add to the list is upcycling! Maybe your child has an extra special toy they have outgrown but just can't bear to give away or maybe one is slightly too loved to pass onto another owner – both of these are perfect candidates for upcycling to create unique props for your garden! As an added bonus, it might help your child become interested in helping out with gardening and make your yard an extra special place for your youngest family members to enjoy.
Funky Planters: Toys add a bit of whimsy everywhere they go and remind everyone of their inner child. Bringing toys into your garden in a creative way, like repurposing them as planters, serves to transform the garden into an inviting place for children and adds a touch of nostalgia and amusement for adults.
Toy trucks of all kinds, especially dump trucks and pickup trucks, can be used to plant a variety of flowers and greenery. Lay a small layer of stones at the bottom for drainage, then add soil and plant as usual! Truck bed turned flower bed in minutes!
An old red wagon can also be turned into a mini-garden or planter! Let your child help paint the wagon and plant the garden – it will be the perfect height for toddlers to watch their plants grow! (Hint: Wagons make excellent herb gardens)
Old baby dolls can even be used as planters if you're going for a slightly more macabre theme or want to see green leafy locks sprout from their heads. Simply cut off the top of a rubber doll head and fill it with dirt and the seeds or seedlings of your choice!

You can also spray paint an old doll using metallic and stone-colored paints to transform it into what looks like an old metal or stone bust!

All of those Legos you keep stepping on? Cut a Lego base into your desired shape and use the blocks to create a box to plant flowers in! They make wonderfully colorful window boxes.
Fairy Garden: If your child has enough plastic dolls, houses, and accessories to populate a small village, this is a great idea to put them to use in a creative way. Bring the toys outdoors and let your child arrange them in the garden as if they were small forest nymphs! Let your kid's creativity shine as they find new uses for natural items in conjunction with the toys – is an acorn cap a plate? Are small stones tables and chairs? The possibilities are endless!
Light Features: Lighting can take your landscaping to the next level by creating a beautiful atmosphere in your yard even once the sun goes down – and adding creative touches to lighting features can really make your yard shine (pun 100% intended).
Spilling teapot string lights – If your child fancies hosting tea parties for their favorite toys and has some extra teapots laying around, this is a beautiful way to repurpose them. All you need is solar powered wire LED string lights (often called fairy lights), craft wire, hot glue, a teapot, and shepherd's hook.

First, fold the string of lights in half until the stream of lights is your desired length.
Gather together the ends of the lights using a small piece of craft wire, and pull the craft wire through the teapot's spout.
Hot glue the wire to the inside of the teapot so that the stream of lights is positioned at the end of the spout.
Hot glue the lid on the teapot and your new light fixture is ready to hang!
Finally, hang the teapot from the shepherd's hook by its handle, and position the solar panel box behind a rock or somewhere discreet that will still get light.
If you still have some post spring cleaning toy clutter laying around (and maybe an idle, out-of-school child in need of some activities) think about how you can repurpose those items into your own outdoor showpieces!