'STAYCATION' IN YOUR OWN BACKYARD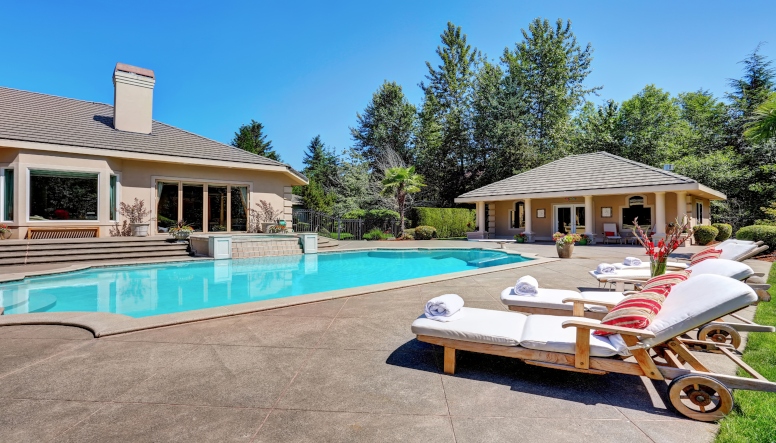 Who says you have to travel across the country to have a memorable vacation? While family vacations require months of planning, making lasting memories with your family at home can be easier on your time and your wallet. This summer, create feel-good vacation vibes in your own backyard! We've compiled a list of outdoor staycation activities to help you experience the ultimate getaway without ever leaving your home.
Watch an outdoor movie
Movies aren't just for rainy days! Consider purchasing an outdoor projection system that allows your family to kick back, relax and enjoy a movie night beneath the stars. Creating an outdoor space as cozy as your current living room doesn't have to break the budget. Based on the size of your deck or patio, you can easily, and inexpensively, build comfortable bar or bench seating options.
Go camping
Spend a night in the great outdoors without all the packing and planning. Pitch a tent in your backyard on a smooth, flat surface and add whimsy and magic to your makeshift campsite by hanging string lights. Appropriate landscape lighting will help everyone feel more comfortable sleeping outside in the dark. Camping is also a great time to whip up delicious outdoor recipes using your backyard fire pit. And, we're talking more than your average s'mores! Recreate a five-star campfire dining experience in your backyard with fun recipes like campfire popcorn or pineapple upside down cake.
Create a yoga studio
A relaxing yoga experience awaits in your yard. Lay yoga mats in a flat, private area of your backyard and embrace the serenity of the outdoors with a short backyard yoga session. If you are serious about extending your outdoor yoga practice past your staycation, consider adding a Zen garden to your property. A Japanese-style Zen garden incorporates peaceful water features and Zen-inspired accessories such as low bamboo bridges and pavilions – perfect for immersing yourself in a peaceful staycation.
Explore nature
There's no need to visit a national park or take a trip to the zoo when you can attract wildlife like birds, deer and butterflies to your home. Even the youngsters in your family can help create a backyard sanctuary to enjoy and observe during your staycation. Children will enjoy watching their backyard masterpiece come to life with local animals.   
A fun, family getaway doesn't break the bank or require months of planning. The trick to making the best of your staycation is to treat it as an actual vacation. Sure, you might be staying home, but treat your staycation as a mini-getaway from your typical responsibilities. Your backyard will serve as the perfect backdrop for lifelong staycation memories. For help in creating relaxing vibes in your own backyard, contact your local landscape professional.