GET SHADED IN STYLE THIS SUMMER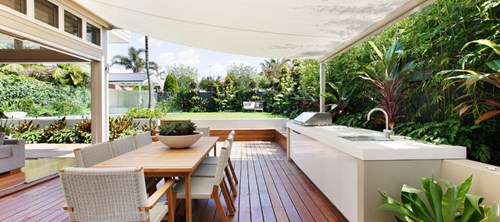 Presented by the National Association of Landscape Professionals in partnership with

By Suzanne Barker
In the middle of the day, we often need to escape from the summer sun or take shelter from tropical showers that occasionally interrupt our afternoons. So some form of shade cover makes sense in the summer months, and it can help create an outdoor living area you'll want to hang out in. Get inspired by these protective shade ideas to stay cool and sheltered in your garden.
Photo by jessop architects
1. Sail Away. In addition to adding shade, a sail can transform an ordinary outdoor area into a more interesting-looking space. Choose a sail color that works with your home; avoid bright colors that will fade quickly in the harsh sun. Look instead for tones that tie in with the rest of your landscape. This gray sail works beautifully with the concrete outdoor fireplace on this Auckland, New Zealand, deck.
Choose a sail with high UV protection, and make sure you choose one that is also large enough to give you sufficient shade on your patio or deck. An easy test to see how a potential sail throws shade is to hang some string where the edge of the sail would be and watch where the shade of the string ends up as the sun moves across the sky. Overlap several sails to add a statement and create more shade coverage.
Tip: Waterproof sails are great as a carport. But remember that waterproofing also makes it windproof, so you need much stronger anchorage to keep it in place. Check the pitch of the sail, as you'll need to design for water runoff — you don't want water to pool underneath.
Using a shade sail with four or more points allows for more curves. With more tension created, a crisp, tight look can be achieved.
While you don't need to remove a shade sail when summer's over, taking down your sail for the winter months will help extend its life. This also allows low sun to enter your home and warm it up.
2. Crank out an awning. For more flexibility, and with fickle weather to contend with, even during the summer months, a retractable waterproof awning is the best option. You can commit to your evening dinner alfresco, even if the weather looks a bit doubtful, and create a cool and inviting outdoor area during the day while still having an area that's light and bright for entertaining.
Retractable awnings can be motor controlled, or you can use a hand crank. You can also opt to have your awning protected inside a box when closed for a neater finish against the house.
3. Roll down a blind. Shelter your deck from the sun's heat with a solar shade that can be easily pulled up and down on a roller. These are particularly good for protection from the hot westerly sun in the afternoon, but they can be left open during the rest of the day to let you enjoy views.
Choose a light-filtering fabric that reduces the glare and blocks direct sunlight without darkening the deck. Allow for tie-downs to secure the shade in place at the bottom during windy days.
Photo by MAD Architecture
4. Slide out a wire shade. Known as a slide wire shade, the shade fabric slides along steel cables, much the same way as a Roman blind. You can adjust the fabric to open up at just one end to the sun, or open the whole thing using a pole to slide the fabric across. This is a great option if you want to have unlimited options for sun exposure or coverage.
Use bamboo shading to add texture. It provides all the shade you're looking for without hurting the budget. Rolls of bamboo can be purchased in both dark and light tones.
Photo by FORM garden architecture
5. Louver it. Electronically controlled roof louvers are the ultimate for regulating the elements when budget is not a concern. This free-standing louver roof designed by FORM Garden Architecture extends the use of this garden by creating an outdoor room.
With the touch of a button, you can enjoy maximum sunlight, diffused light or full shade, and the way the blades interlock gives full rain protection. Some systems have built-in rain detectors that automatically close the roof with a mere speck of rain. Louvers come in a variety of blade sizes and colors, in powder-coated aluminum or anodized.
6. Green it up. Plants are a cost-effective way to create shade, and they have the added benefit of creating a lovely light quality underneath their foliage.
Star jasmine (Trachelospermum jasminoides), which explodes with sweetly perfumed white flowers in spring, is a great climber that won't take over your garden but can be trained to thoroughly cover an overhead structure.
Photo by McKinney Photography
Or on a grander scale, reminiscent of a Tuscan retreat, this long, shaded arbor is the perfect spot for long, decadent summer lunches. Consider planting a deciduous climber, such as a wisteria (Fabaceae) or grapevine that allows sunlight to penetrate below the structure during the winter months. Both are easy to grow but can quickly overtake everything without proper pruning. Any built structure needs to be strong enough to support the weight of heavy mature vines, but during the off-season this will be a stunning promenade without the greenery.
Photo by Wolveridge Architects
7. Laser style. Combine shade protection with privacy and create an enclosure with dramatic and artistic laser-cut metal screens. The strong shapes in these screens mean that the shade being thrown around is very dynamic and distracting, so they are best suited to outdoor areas where there is lots of activity going on, such as a grilling area.
Photo by DDB Design Development & Building
8. Wooden slats. This modern style of shade protection is right at home when integrated with a sleek contemporary property. For a structure like this, choose a durable wood to ensure many years of use. Make sure it is certified by the Forest Stewardship Council to guarantee sustainable harvesting and protection of wildlife and the people whose lives depend on the forest.
While wood slats won't keep out the rain, they are effective and relatively inexpensive to create mottled shade.
Or cover the full width of a deck to protect it completely from the elements. Choose outdoor furniture that is more homey to make the space feel more like a living room, outside but protected from the elements.
9. See through it. A simple and relatively inexpensive roofing option is transparent corrugated polycarbonate roofing: It lets in the light and keeps out the wet. Opt for a tinted version if you want to keep out the harshest summer rays as well.
10. Open up an umbrella. You can't do better than an umbrella for the ultimate temporary shade. Nowadays, you can find multiple variations on the traditional garden umbrella. A large cantilevered one frees up the sitting space from posts and stands and can be tilted to create protection from the wind.
Don't expect that popping an umbrella in a table will give sufficient stability in high winds though. Instead, a solid base that attaches to the pole of your umbrella will give you all the stability and shelter you need on a particularly windy day.
Tip: The ideal umbrella size for your table provides about 2 feet overlapping on all sides.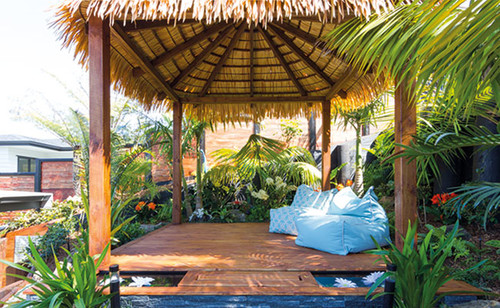 Photo by Zones Landscaping Specialists
11. Bring in the tropics. This rustic pergola retreat, created by Zones Landscaping Specialists, is made with synthetic thatch. This is a great option for a low-maintenance shade that is long-lasting and authentic looking. For an evening retreat, string outdoor lights under the pergola for romantic illumination and add outdoor lanterns to the corners with citronella candles inside to keep the bugs at bay.
Whether you choose a wooden shade or an awning, your local landscape professional can help you get shaded in style.
More from Houzz
Hang Window Treatments to Block the Sun
Dining Room Sets for Your Backyard Party