CREATIVE SPACES FOR OUTDOOR ENTERTAINING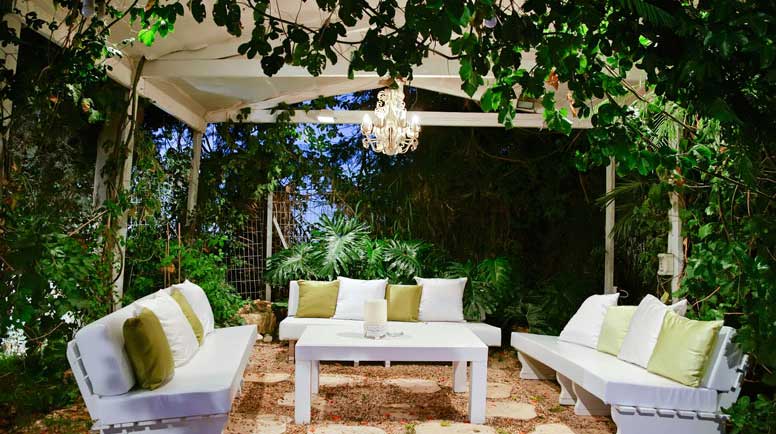 Entertaining inside your home has natural boundaries. The four walls and ceiling that surround each room impose limitations, parameters on the number of guests, the scenery, and to some extent the activities that can be enjoyed. Entertaining outside, however, opens up a world of possibilities. The backdrop for your parties becomes more beautiful; the fragrance of aromatic flowers compliment the food you have painstakingly prepared; and the lights from evening stars and fireflies outshine any recessed lighting your home may offer. Here are a few ways to consider using your outdoors for unique and memory-making entertaining. 
Lawn terraces
Lawn terraces harken back to grand estate homes of an earlier time. Though they conjure up images of days gone by, lawn terraces can also be terrifically effective in a modern residential landscape, even on a moderately sized lot. The only requirements are that the space be flat or gently pitched (so that water will drain away), and that there is some sort of visual boundary to the space. This can be a set of stone or timber steps to a lower or higher area, a seat wall or even planting beds. A lawn terrace can provide an elegant space for outdoor dining, music, or of course a competitive game of croquet.  
Pergolas
Pergolas create great outdoor entertaining spaces for two reasons. First, they define a space without being confining. Changing the patio material or pattern under a pergola can enhance this effect, but just the posts alone create the illusion of an outdoor room. Additionally, a pergola  provides a vertical support for decor. Strings of lights suspended under a pergola are magical and casual. A chandelier (electric or candle) hung from the rafters is more formal and creates a special ambiance as does a swath of fabric cascading down from the upright structure.
Pergola posts provide a spot for everything from sconces to speakers to small platforms where guests can set their drinks. If you're worried about the weather, some pergolas can be fitted with retractable covers to keep sun or light rain at bay. Pergolas add an elegant sophistication to your entertaining area but they can be dressed up or down to fit both casual and playful styles. .
Play spaces
Don't forget the kids when it comes to outdoor entertainment.  You can go elaborate, such as the addition of a splash pad to a pool installation or as a completely standalone feature. What kid (or kid-at-heart) wouldn't love jets of water coming up from a pad, creating a fun and interactive feature for warm summer days? Or perhaps a climbing wall or best-on-the-block playhouse would most appeal to the youngsters in your family. 
Or you can go basic with your entertainment options for children as creative play is some of the best play. Tree swings, sandboxes, hopscotch courts, or even a giant rock stenciled with a game board can keep kids occupied and engaged for hours.
It doesn't matter if you're hosting an intimate family birthday or a large garden party reception, having an outdoor entertaining space can make any occasion memorable for you and your guests. Let your creativity run wild and with the help of a local landscape professional, you will create magic underneath the sun's rays and the night's stars.