USING PATIO HEATERS TO STAY OUTDOORS LONGER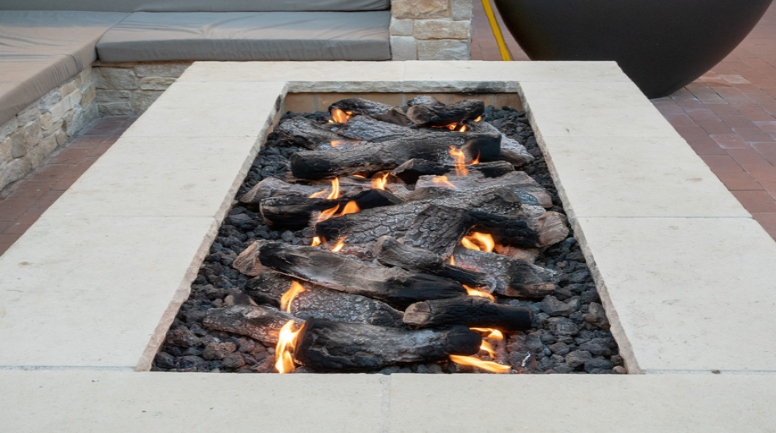 As the fall starts to roll in, you may want to hold on to every last moment you are able to be outside before the long chill of winter. Fall is a gorgeous time to be outdoors, but the chilly nights can sometimes venture into the unpleasant. Installing an outdoor heating feature will allow you to prolong the time you spend outdoors in the crisp fall air, making it as enjoyable as any summer night! Before you make the investment of purchasing an outdoor heater, you'll want to understand the different options so you are able to make the safest and best choice for your space.
Types of Heaters
Propane – Single dome propane patio heaters are the most traditional and most common type of heater you will encounter. These heaters use a type of heating known as convection heating to warm the surrounding air, which in turn warms people and objects in the area. This means they take a little longer to reach their full effect than other types of heaters, but the provide more intense heat to a larger area. Because of this, propane heaters are ideal for larger, open spaces. Propane patio heaters come in a variety of designs and price points and can be placed both in the center or corner of patios as long as they are placed at least three feet away from flammable objects.
Natural Gas – These patio heaters use the same format as propane patio heaters, but use natural gas as their fuel. They are a cheaper and more environmentally friendly alternative to their propane cousins.
Electric – Electric patio heaters are ideal for smaller or enclosed spaces because they don't rely on any type of open flame. They use a type of heating known as radiant heat, rather than convection heating. Radiant heat means that they warm the objects and people close to them, but they don't warm the air itself, so you'll need to be closer to the heater to feel its effects. Strategically placed, electric heaters can be great options for heating a small, specific area like under a table or a specific chair. Electric heaters can be placed anywhere that has an electric outlet and require a smaller clearance area than propane or gas heaters, so they are especially ideal for enclosed or partially enclosed patios. Electric heaters are also the most environmentally friendly and the cheapest models of patio heaters.
Gas Fire Pits – These low-maintenance fire pits are a newer option that provide a beautiful focal point to your outdoor living space. They emit heat using real flames that emerge from a bed of glass rock and turn on with just the flip of a switch. The tile mantel that surrounds the pit allows it to merge seamlessly into your space and can be used as a table on which to rest drinks and food. You can also use tile design and rock color to add some of your personal style into this showstopper outdoor design element. Because gas fire pits emit real flames, they are not safe for use on a covered patio.
 Style
Tabletop – Tabletop heaters are great options for smaller or covered areas. These are typically electric heaters that can look like any standard lamp rather than a more industrial standalone version. There are also propane tabletop heaters that use a smaller propane tank; however, you'll want to be careful to maintain a proper clearance zone around these heaters since the hot cone will be closer to the ground.
Standalone – Standalone heaters are some of the most common types of patio heaters and come in propane, gas, and electric varieties. If you'll be repositioning your heater frequently, many standalone heaters come on wheels (tip: electric heaters tend to weigh less than propane or gas heaters).
Wall Mounted – These are most commonly used in covered patios, balconies, and small spaces. They remain out of the way so that people can have more room and their low profile design blends well with modern spaces. They can be mounted to either the wall or the ceiling, with their infrared heating targeting a certain direction.
And More!
Heated floor – Typically thought of as an indoor feature, heated floors have begun to be installed outside by professionals much more frequently.
Hot tub – A classic staple at ski resorts, this brings a little summer splashing around into the winter months.
Heated pergola – Pergolas have been one of the hottest landscape trends of summer 2019, and a heated pergola will allow you enjoy the outdoors into the winter with built-in heating.
Now that you know about all the options out there for patio heating, you're ready to make the right decision with the help of a local professional. It's time to start enjoying your outdoor living space for many more nights this year, regardless of when fall comes!