PATIO DESIGNS TRENDING NOW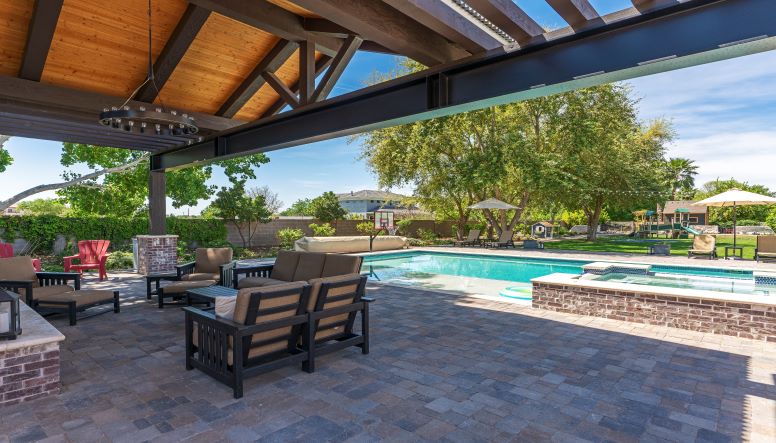 Is your patio stuck in the past and in need of a little modernization? If you haven't thought about patio design beyond which plastic or wicker furniture would be best, it may be time for an upgrade. Patios nowadays are all about bringing the indoors outside, and trends are demonstrating that from furniture styles and lighting to hardscape structures and kitchen features.
Surface Trends
Concrete has long been the most common patio flooring option, but its versatility is what has made it a popular trend in patio design as of late. Concrete can be tinted to colors both subtle (red and brick-like) to bold (blue and green) and can also be stamped or swirled to display different textures. One texture hat has been especially popular is concrete that has been shaped into a stone-like pattern. Concrete, particularly colored concrete is also an increasingly popular choice for patio edging.
Paver stones are starting to give concrete a run for its money as the most popular patio flooring. These interlocking stones are four times stronger than concrete and earthquake resistant. Further, they are easy to replace should something go wrong in the ground under the patio. One particularly popular type of paver stone is permeable pavers, which are made of porous materials that allow water to pass through. These stones do not need to be waterproofed like concrete and help to filter out pollutants from water that travels through them. Landscape designers have also seen a recent trend of homeowners opting for larger paver stones in a variety of shapes.
When it comes to patio shape, it's all about customizing the shape to your space. Many homeowners are opting to ditch the classic square or rectangular shape unless they're looking for a larger space, and instead chose a custom shape that flows with their pre-existing landscape. Others are choosing a circular or semi-circular design that shows off a focal point such as a fire place or water feature. Both of these option allow the patio to blend more with the natural elements of the landscape and blur the barriers between nature and living space.
 Furniture Trends
Outdoor furniture that looks like indoor furniture is more popular than ever because companies have begun to design materials and pieces that are almost indistinguishable from the indoor versions. Outdoor furniture frames are also being crafted from non-rusting aluminum that is made to mimic wood or wicker, and homeowners are loving weather resistant fabrics that mimic velvet or linen. Lighting features are also a favorite right now, particularly LED table and floor lamps that look like they belong in a living room.
Dual purpose furniture. 2019 is all about practicality! Choosing a dual-function piece like an ottoman that doubles as a cooler or a side table with room for storing pillows will help you feel like you're getting more bang for your buck. These pieces are also great for smaller patios, as more urban-dwellers invest in their balconies or smaller spaces.
Color! Bringing color into your patio is a way to add a touch of your personality and make the space shine. Two ways to add color that have been popular as of late: recycled plastic furniture (eco-friendly AND beautiful) and throw pillows. There are so many options now when it comes to mold and mildew resistant throw pillows that you're bound to find some that suit your personal style.
Trends in Design Elements
Once again, trending design elements are all about bringing the comfort and functionality of your indoor living space outside.
Outdoor lighting was once limited to industrial-looking lamps and bright security lights. Nowadays, patio lights can be some of the most high tech elements of your landscape and provide all of the ambiance and security you could want. When thinking about lighting your landscape, the first thing to consider is purpose – do you want path lights to safely guide guests from one place to another, uplights to highlight a focal point, specialty or atmospheric lights to create your ideal vibe? There are trendy options for all of these, and most involve the emergence of modern LED light technology. There are a variety of LED lights that can be controlled by your phone and change color and brightness for any occasion. If you don't want to install more permanent lights, such as uplights or path lights, you may want to opt for string lights or LED floor lamps. String lights create a classic ambiance of warmth and pleasantry, while LED floor lamps are popular for their indistinguishability from indoor lamps.
Patio covers can help transform your patio into an outdoor room. Based on your price point, you may want to choose a retractable awning or canopy (several hundred dollars) or a full patio sunroom (several thousand). Pergolas are also a very trendy choice and can range in price point based on the features they include. Pergolas can simply be the structure, or be upgraded to include a retractable awning and built-in heating or lighting elements.
Outdoor kitchens are becoming increasingly popular as the lines are blurred between the indoors and out. From a built-in grill to full kitchens with running water, refrigeration, and ovens, there is an outdoor kitchen option for everyone. While not solely for cooking, hardscaped outdoor fireplaces have also become popular for both their aesthetics and ability to prolong time spent outdoors thanks to the heat they emit.
Water features and fire pits have also become popular as focal points around which guests can gather, talk, and have a drink. These can help smaller patios feel larger and more inviting.
So many trends, so little time! While this list may seem overwhelming, the best thing about these trends is that there is something for every style and every price point. Hopefully some of these trends have inspired you with ways to put a little TLC into your patio this season and spend more time enjoying the outdoors!