HOW TO USE SIGHTLINES TO MAKE YOUR GARDEN FEEL BIGGER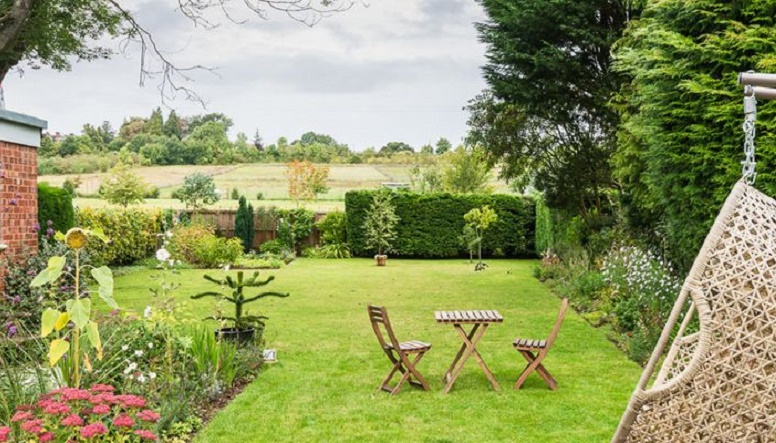 Presented by the National Association of Landscape Professionals in partnership with

Lauren Dunec Hoang, Houzz
Sightlines in landscape design are clear paths that help direct your eye to a focal point, out to an attractive view or from the inside of the house to the garden. When used intentionally as part of a garden's design, sightlines can help open views, make gardens of any size feel more expansive and connect the inside of homes to the landscape.
If you're laying plans for a new garden, or looking for ways to update your existing design, here's how to incorporate more sightlines into the design.
Photo by Scott Brinitzer Design Associates
Line up garden views with windows. Start inside the house. Take note of which rooms you spend the most time in, and pay attention to how the garden looks from those vantage points. Does a window in the living room look out onto the front yard? Place a focal point centered on where your eye falls looking out the window and keep the area between the window and the focal point a clear view.
A focal point can be anything from a shapely shrub, specimen tree or potted container to a garden element like a bench or urn set into a bed.
Emphasizing a sightline from inside the house to outside works for small gardens and apartments as well and can help these spaces feel larger. For tight city terraces or windows that open to the walls of adjacent buildings, it's even more important to match the line of sight closely with what you view from a particular window or doorway. Play with levels of potted plants and the scale of the plants and pots to create focal points where your eye falls.
Photo by Amy Martin Landscape Design
Once outside, look in every direction. Take stock of views beyond your garden and where your eye is naturally drawn to in the landscape. What counts as a "view" doesn't need to be a sweeping vista, but rather can be as simple as a mature tree canopy from an adjacent lot, an area of open sky between trees or a particular area of your garden that your eye is often drawn to.
To create sightlines that emphasize these views, define pathways, beds and open areas of the garden to direct a viewer's gaze. Cut back overgrown plants to expose expansive views, and establish sightlines within the garden by placing focal points to direct one's gaze. In this Santa Barbara garden, for example, the most dramatic view is of the hillside, and the sightline is kept clear by keeping plantings small, save for an olive tree accent. The pathway acts as a second sightline, with a pair of blue adirondack chairs placed as a focal point.
Photo by The Real Garden Company
Add linear features. Straight lines going away from you tend to draw you forward in the landscape. You can take advantage of this quality to visually stretch a space by aligning linear features along a sightline. Looking down this water rill to the spillover water fountain, for example, one's eye is drawn down and across the garden, giving the illusion that the space is larger than it is.
Pathways laid out in a straight line are easy to incorporate as linear features and capitalize on sightlines since the center of the walkway is, by default, kept clear. Remember to place an object or plant as a focal point at the end of the sightline so your eye is drawn to something.
Take advantage of expansive views. If you're lucky enough to have a garden that opens up on a vista or to open space, keep plantings low to emphasize a sightline to the view beyond the garden. You may also like to use hedges, fences and walls to help selectively frame a particular view.
Photo by Jonathan Raith Inc.
Create a pinch point to home in on a sightline. This idea works for gardens of nearly any size and isn't dependent on having a stunning vista. By narrowing the view, you can more clearly direct a viewer's gaze just where you want it and emphasize a focal point. Place a pair of midsize structural evergreen plants — like clipped boxwoods, pittosporum or privet — on either side of a sightline. You can do the same with walls, hedges or fences.
In this Mediterranean-style garden, two mature boxwoods framing the path help define the sightline to the cafe table set on the terrace.
This formal gardening technique doesn't need to be limited to parterres and large-scale classical gardens — although it's certainly gorgeous in those settings. By laying out a section of the garden along a central axis, one can create a sightline down the axis with the option for lateral sightlines as paths intersect the central axis. The clear center path and roughly symmetrical hedges placed on either side of the axis help define it as a sightline.
Photo by Mariani Landscape
In this Chicago garden the designer used an axis on a much smaller scale to define bed structure and create a sightline to the water feature focal point.
Try a tree allée. If you have the space for it, planting a line of trees on either side of a garden walkway in a classical allée can instantly define a sightline. While longer lines of trees make more dramatic allées, you can make use of this classical planting scheme to direct a view in a smaller garden.
Add a sightline appreciation spot. The start or end of a sightline — depending on your garden layout — can be a perfect spot for placing a bench or pair of chairs to pause and take in the view. For sightlines that open to expansive views, place seating at the start of the sightline where you can look out over the vista. For sightlines that rely on narrowed spaces like a garden walkway bordered by hedges or a tree allée, a bench placed at the end acts as both an invitation and as a focal point for the sightline.
More from Houzz
Stylish Outdoor Pots and Planters for Your Landscape
Pretty Pub Table Sets for Entertaining